Lily's Peanut Butter brings a healthier world at various schools in Metro Manila
A household name for more than 60 years now, Lily's Peanut Butter has been one of the favorite spreads of Filipino families, especially the kids. More than its rich, creamy peanut butter taste from its all natural ingredients, Lily's Peanut Butter has iron, natural dietary fiber, natural potassium, natural protein, and vitamin E which are all essential for kids' growth. It contains brain-boosting vitamins and minerals that develop sharp memory and help kids reach their full potential.
Serving its mission in providing a healthy daily meal for children, Lily's Peanut Butter hosted a series of event in various Metro Manila elementary schools in line with its campaign dubbed as "Let's Build a Healthier World."
Lily's Peanut Butter combined fun and nutrition for students of St. John Paul II Academy in Parañaque, Colegio De Sta. Cecilia in Valenzuela, and Philippine Christian Union Elementary School in Manila, where they searched for ten (10) "Lily's Mom and Me Health Ambassadors." Participants included pre-schoolers and grade schoolers from Grades 1 to 3 and their respective Moms.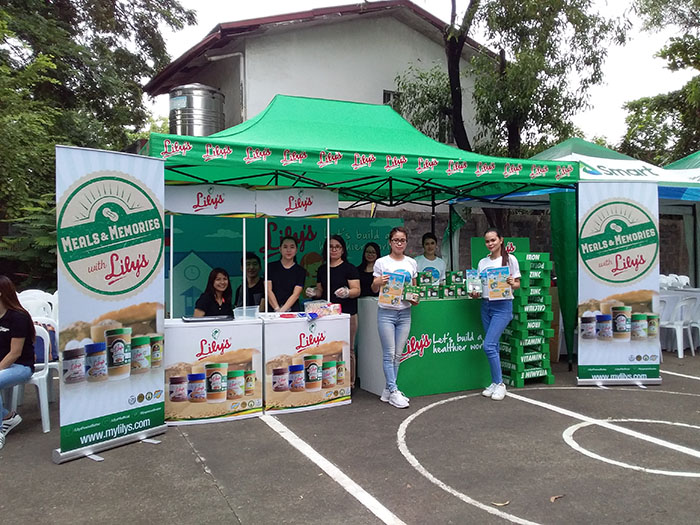 Ten lucky Lily's Peanut Butter "Mom and Me Health Ambassadors" finalists were pre-selected from the entries received by the said schools. The selected pairs each received Php 2,000 cash, plus Lily's gift packs and an educational plant tour at Lily's production plant. Aside from this, the 10 finalists also advanced to the next level called the "Healthy Baon Recipe" contest in which they were given 10 minutes to prepare a nutritious snack using Lily's Classic Peanut Butter, Lily's Choco Peanut Butter, and Lily's Crunchy Peanut Butter. The Grand winners from each school received Php 10,000 cash, plus Lily's gift packs and an educational plant tour.
Alongside its objective of bringing awareness on healthy food, the said campaign was also a great opportunity for millennial moms and kids to bond and spend time together. The students were treated with free Lily's peanut butter sandwiches. They also enjoyed the giant jenga game, and lively danced to the tune of Lily's peanut butter jingle song.
Aside from the said schools, Lily's Peanut Butter will also bring delicious and healthy snacks to more schools until early this year. To be one of Lily's Mom and Me Health Ambassadors, participants must purchase any Lily's Peanut Butter product, and submit proof of purchase inside a white envelope with the following details; name of student, grade level, mother's name and contact details. Dropboxes are placed in participating schools' designated areas. Participants must also like and share Lily's Peanut Butter Facebook page and follow Lily's Peanut Butter on Instagram.
Learn more about how you can build a healthier world with Lily's Peanut Butter through http://mylilys.com/. Lily's Peanut Butter is manufactured by Newborn Food Products Inc. with telephone number 282-3462 or 282-3482 to 83.
Hits: 174