Go Hotels Cubao Offers Accessibility for Business and Leisure Activities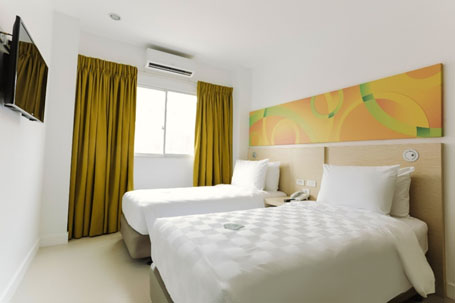 Cubao is the commercial hub of Quezon City. It is said that anywhere you want to travel by land in Luzon is accessible through this transportation hub, as it intersects across many of the access ways to the North, East and South of the Metro. There are many viable options in the area that include ever-present taxi service, the MRT and LRT lines, and the buses with city-wide and provincial destinations within easy reach. Aside from these, Cubao is also where one can find the Araneta Center – the iconic shopping, dining and entertainment mecca.
These are some of the factors that prompted a niche development group Roxaco Land Corporation to establish one of their five Go Hotel franchises along bustling Aurora Boulevard in Cubao, Quezon City.  With the opening of Go Hotels Cubao, they offer leisure and business travelers the same value propositions of all the Go Hotels branches in the country. "First and foremost, it is value for money. We have our standard rooms that offer a quiet space with comfortable beds, a good shower, a flat screen TV and the convenience of easy check-in and check-out. We strive to make their stay as hassle-free as possible with a level of hospitality that has been remarked upon by the guests," says JJ A. Montinola, AVP for Business Development, Strategic Planning and Communications at Roxas and Company Inc.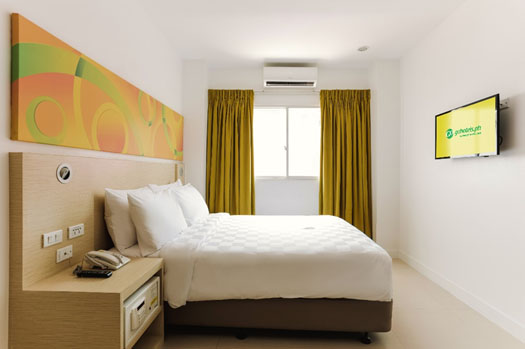 Budget brand, Big on service
"There is a boom in the tourism industry right now, not just with the influx of the international market, but also with domestic tourism. We felt that there is a demand for budget hotels to fit the needs of this segment where travelers, whether for leisure or business activities, are just looking for comfortable and clean rooms with a good shower for their stay," explains Roxaco Land Corporation President and CEO Santiago R. Elizalde.
Elizalde adds, "The introduction of budget airlines has made traveling easier for local tourists whose only other option before was taking a bus or the ferry. The opportunity is there, especially in relation to hotel rooms that were available in Metro Manila for that market. Previously, it was a choice of P500 a night mom-and-pop operations or a P10,000 a night hotel room in Makati. We felt that this segment still has a growing potential . He explains why they decided to franchise Go Hotels instead of building their own brand. "The systems are in place, and it already has a solid reputation for being consistent with their brand standards."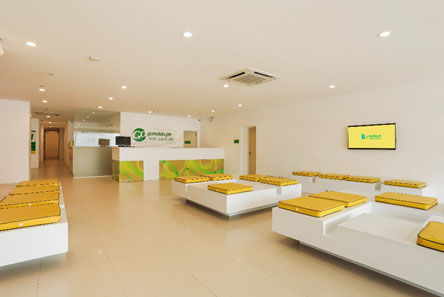 As a franchise, Roxaco works closely with the Robinsons Group in training their staff to provide good service quality. "While the guests do not expect five-star service at this segment, they are pleasantly surprised at the warm and friendly hospitality that we offer. Our differentiation is that we treat our guests like family, with service that is casual and welcoming. They do not feel intimidated when they make requests, which we try to accommodate as much as we can," Montinola shares.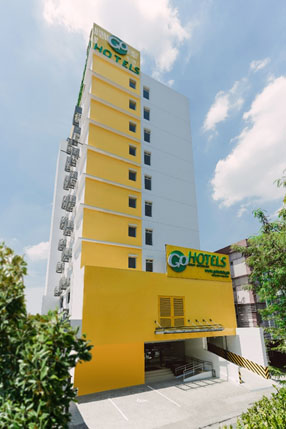 Comfort and convenience
Go Hotels Cubao – Quezon City offers a total of 159 rooms furnished with twin or queen size beds that include non-allergenic pillows, 100% cotton sheets and duvet covers. All rooms are equipped with safety and security features, hot and cold showers, 32-inch LED cable TV, and individually-controlled air conditioning units. The hotel also offers rooms for people with special needs, giving them enough space for mobility.
There are additional perks and promos available to guests who want to check-in. One of which is a tie-up with Get Go and Robinsons Rewards, where one can earn points by checking-in at any Go Hotels branch. Early bookings are also given good deals. Business and leisure travelers may enjoy amenities and experience quality service accommodation for as low as PHP 588.00 up to PHP3,088+VAT per room when booking through the Go Hotels official website.
Go Hotels Cubao – Quezon City is located at 840 Aurora Boulevard, Cubao, Quezon City. For reservations/booking information about Go Hotels Cubao, visit www.gohotels.ph or call 687-7788.
Hits: 50