#BeMoreImaginative This Valentines with Toblerone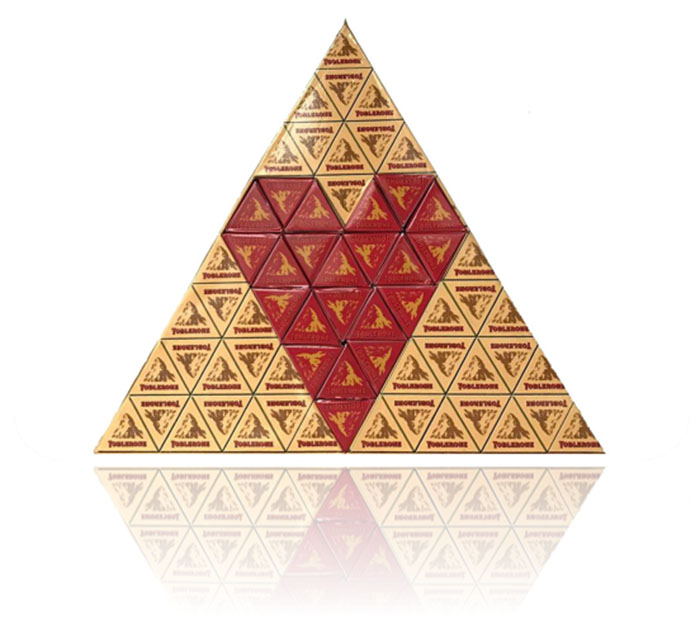 Make this Valentines your sweetest yet! If you're looking for new ways to make the occasion more special and heartfelt, Toblerone has you covered. Give your special someone a sweet, thoughtful gift as Toblerone inspires you to #BeMoreImaginative with your very own Valentines blank packs. Nothing says "I love you" more perfectly than a creative and personalized gift.
"I love you" can still be made sweeter and more imaginative
Add a sweet twist to your gift by saying "I love you" in a more unforgettable way! Toblerone inspires everyone to put his or her creativity at work on its iconic triangular sleeve with its delectable flavors – milk chocolate, dark chocolate, white chocolate and milk chocolate with crunchy almonds. Show your creative side and take personalization to an entirely new level by creating your own design on a Toblerone Valentines blank pack. With these sleeves, you can let your loved ones enjoy the richness of Toblerone while sharing your unique, artistic side.
To make it easier for you to grab the perfect gift for your special someone, Toblerone pop-up Valentines stations will be set up in leading malls in Metro Manila like SM Makati, SM North EDSA, SM Mall of Asia and Robinsons Ermita from February 01 to 14. Have fun customizing your own Toblerone Valentines blank packs which you can also do digitally at the pop-up stations. For tech-savvy chocolate lovers at home, visit www.tobleroneph.com to digitally design your Toblerone sleeves which can be printed out at any Toblerone pop-up Valentines stations.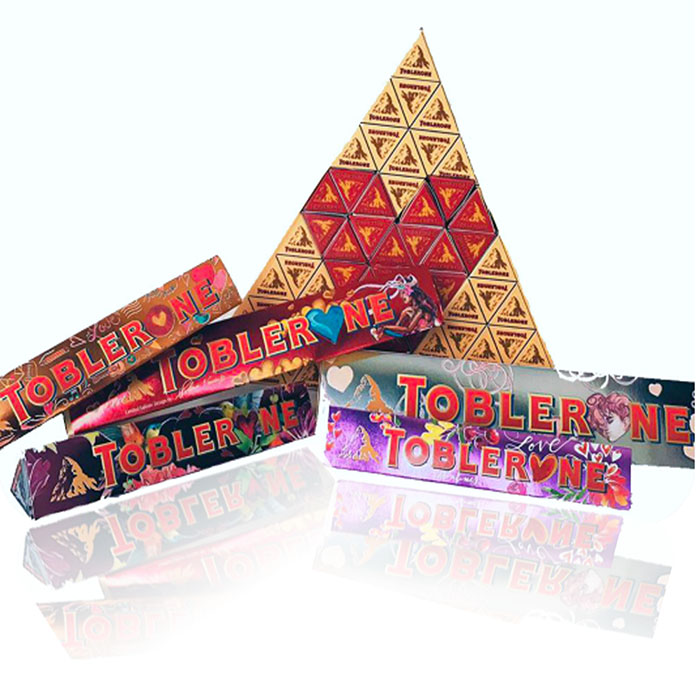 Solenn Heussaff: Artistic Lover
To make this season of love sweeter and more romantic, wife and lover Solenn Heussaff is returning as Toblerone's celebrity ambassador. Well-known for her many talents and creativity, the "It Girl" has designed a limited edition Toblerone Valentines Sleeves that will be available in leading convenient stores and supermarkets nationwide. Toblerone Valentines sleeves also come in four new designs from the country's most promising young artists, so you will have more gift options to choose from.
Toblerone has once again teamed up with some of the most sought-after calligraphers and artists in the Philippines for its limited edition Valentines sleeves. These creations will be available at Toblerone pop-up Valentines stations. You can get Toblerone with classic, refined calligraphy from Alexis Ventura for Ink Scribbler, and with quirky hand drawings from Abbey Sy. For those who appreciate colorful paintings, fashion illustrator Valerie Chua's soft, ethereal watercolors and children's book artist Tokwa Peñaflorida's whimsical art will surely make your Toblerone gifts even more charmed.
You can now say "I love you" in a more special, thoughtful, and imaginative way, thanks to Toblerone! #BeMoreImaginative this Valentines with the limited edition Valentines blank packs and sleeves. Give your special someone the most unforgettable Valentines by gifting them with Toblerone. Show them how much you care by giving them the most special gift of all — your creativity and imagination.