Time to play around the world put under threat by increasingly busy lives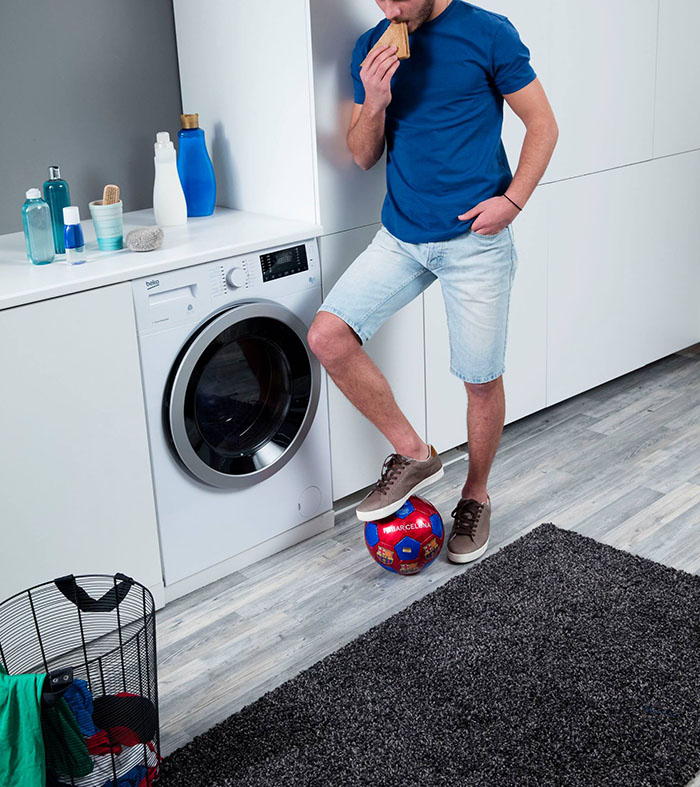 One in three adults have less than 10 hours of leisure time per week
The World Play Shortage Report is part of Beko's Official partner of play campaign
Global survey of more than 10,000 people in 22 countries shows lack of leisure time and changing attitudes to play
As everyday life becomes increasingly busy in today's society, the amount of leisure time people have is diminishing and important play time is under threat. Almost one in three (30%) adults have less than 10 hours of free time per week, and 36% have less than two hours per day, as the demands of modern life start to eat into free time.
Leading home appliance brand Beko, Premium Partner of FC Barcelona, commissioned a survey of 10,100 people of all ages and demographics in 22 countries around the world to identify trends in play and leisure time.
Children's play time is also being affected by their parents' busy lives, with 40% of parents revealing they haven't taken their child to play at a park in the past year. In an average week, children have three hours less leisure time (21 hours) these days compared to their parents' generation (24 hours), the equivalent of two full 90-minute football matches.
A staggering 70% do not rank playing sport or going to the gym/exercising as one of their favourite leisure time activities and nearly a third (30%) of people admit they never exercise.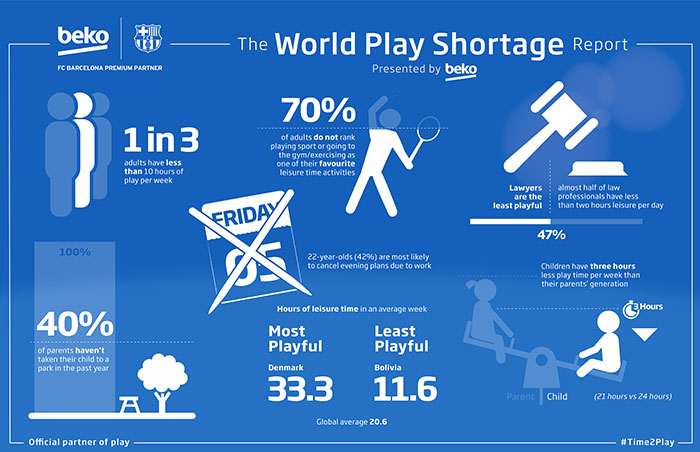 Other key global findings from The World Play Shortage Report are:
The global average of leisure time per person per week is less than 21 hours
Law is the least playful profession as almost half (47%) of law professionals have less than two hours of leisure time per day, with one in four (25%) having less than one hour per day
Women have three hours less play time per week compared to men (19 hours vs 22 hours)
Young people in the early years of their careers are particularly affected as 22-year-olds are the most likely age to cancel evening leisure plans due to work (42%)
38 years old is the age when people most crave the chance to have more play time in their lives, with nearly two thirds (63%) wishing they had more leisure time rather than more money
With leisure time increasingly under threat, spending time with family has become more important with two in three (64%) choosing this as their favourite activity, followed by relaxing at home (62%) and socialising with friends (46%)
Of the 22 countries surveyed, Denmark is the most playful with more than 33 hours of leisure time per person in an average week, whilst Bolivia is the least playful with less than 12 hours per week
Zeynep Özbil, Beko Group Head of Communications, said: "The World Play Shortage Report stands as a powerful source for how modern life shapes our well-being and highlights the lack of play time.  The report shows people lead busy and often unplanned lives and this has a critical negative impact on our leisure time. At Beko, we speak up as the Official partner of play. We understand people's everyday needs and provide meaningful time-saving solutions, so that they can simply enjoy their unpredictable, busy lives. We do hope that these findings will actually remind us all how we need 'play' to live our lives to the fullest."
The Official partner of play campaign is built on FC Barcelona's skilful, attacking football played with freedom and enjoyment both on and off the pitch, a style of play that epitomises the true spirit of football. As a brand, Beko supports people in their busy lives by giving them more freedom and time to 'play' every day.