Glowing Summer Spa Experience at Flow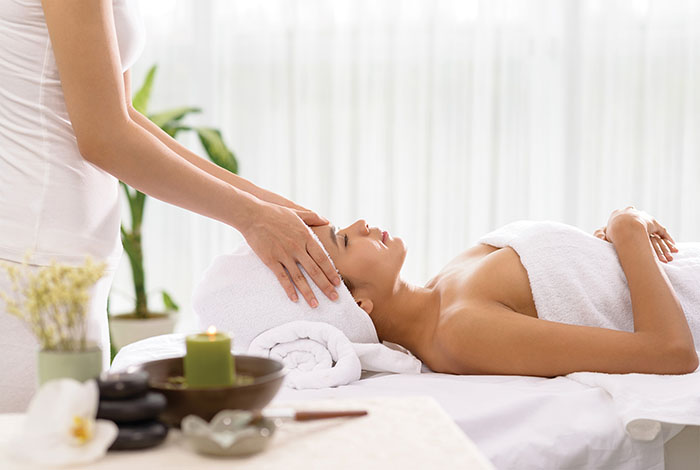 Amidst the heat that the summer brings, find a tranquil garden of serenity and relaxation as Marco Polo Ortigas Manila's Flow Spa offers a variety of treatments that helps moisturize and rejuvenate the skin.
Soothe the skin while enjoying a relaxing and nourishing treatment that helps lower skin sensitivity and redness, with a Soothing Facial using a marine-based line from France, Algotherm. Heat is always coined with dryness. Stimulate the skin circulation with a Salt and Aloe Vera Body Scrub that uses a traditional salt scrub to clean the pores and removes the dead, scaly outer layer of the skin. This scrub is followed by an application of Aloe Vera to moisturize and add conditioning nutrients.
Indulge with a soothing treat for tired and aching feet with a Pampering Foot Massage. This 60-minute treatment nourishes peppermint body butter, and is also one of the easiest ways to heighten the mood and the sense of well-being—refreshing and relaxing.
Flow Spa is located at the heart of the hotel's Flow Wellness and Recreation Center which also includes a fitness centre and an infinity pool. The spa features a welcoming reception and a relaxing lounge, two double rooms and one single room. The interiors of the spa already bring a relaxing touch as it is painted in soft neutral colours and accessorized with butterfly statement pieces around the area. All spa treatments start with a relaxing foot and body therapy with scrubs and made from the most refreshing ingredients. With therapists trained to deliver the ultimate spa experience, Marco Polo Ortigas Manila's Flow Spa promises to sustain the highest standards of hospitality, tranquility and luxury.
Find a serene relaxation at the Level 22 of Marco Polo Ortigas Manila. Flow Spa is not exclusive to the Hotel's in-house guests. Flow Spa is open daily from 09:00 AM to 12:00 MN. To know more about the hotel, visit www.marcopolohotels.com. Follow the Hotel in Facebook at facebook.com/MarcoPoloOrtigasManila or @MarcoPoloManila on Twitter or Instagram.
Hits: 52