Quezon City: Ready to become a major medical and wellness tourism hub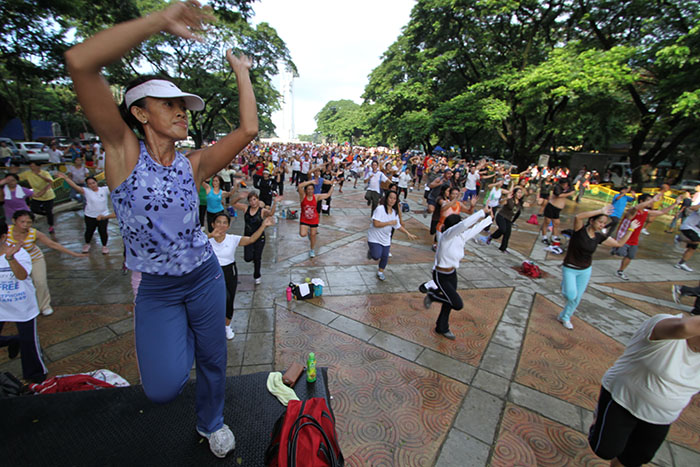 The ironic truth is that while the quality of living gets better with technology and advances in health, the lives of people, especially those in urban areas, are often in danger of sickness due to a deteriorating environment and lifestyle.
As a fast-growing developing city in Asia, Quezon City stakes its claim to be one of the most livable cities, with standards that can be at par with some of Asia's best. Recognizing that quality living is an index towards a city's progress, Quezon City highlights its potential as a major global metropolis by envisioning itself as a center for medical and wellness tourism.
Thus, the Quezon City Tourism Department (QCTD) led by its OIC Divine P. Pascua held the 1st Quezon City Medical Tourism Stakeholders Summit last June 6 at the newly-opened Seda Vertis North Hotel.  The Summit was the springboard for initiatives of Quezon City under the vision of Mayor Herbert M. Bautista, who is determined to make the city a medical and wellness destination.
"A report forecasts the World Medical Tourism market to be at US$143 Billion by 2020," revealed Mayor Bautista in his speech. "Medical Tourism is one of the so-called sunrise industries. Growth is phenomenal and the Philippines is poised to benefit because of our hospitality, skilled doctors, and world-class facilities. QC wants to be part of it and I want all you here to be also part of this success story," he added.
The summit gathered some of the city's hospital and wellness stakeholders, with the QCTD inviting some of the most credible names in the medical tourism sector, locally and internationally as resource speakers.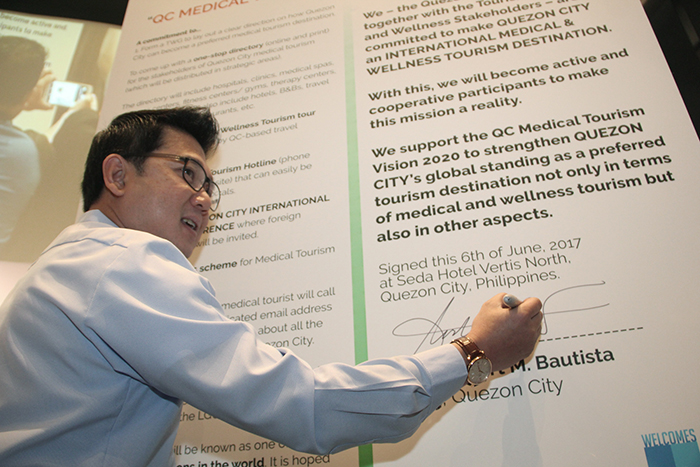 Proof of Commitment
Mayor Bautista revealed signed in front of the audience the QC Medical Tourism Vision 2020 Commitment, a masterplan to clearly map out the steps to be taken in order to achieve the goal of becoming a major medical and wellness hub.
"We invite property owners near the major hospitals to operate establishments, such as B&B accommodations, healthy restaurants, wellness centers, transport services, among others, catering to patients and their companions," he declared. "Medical tourists who seek recovery in our facilities, may bring along their families. So we have to prepare something for them, too. They have to go far to eat, shop, or be entertained — they must do it all in our city."
To showcase QC's readiness in this aspect, a group toured the city on the second day of the Summit. To showcase wellness, the group visited the Quezon Memorial Circle early in the morning to witness how residents keep fit and healthy. There are Zumba and aerobic sessions and one can freely use the exercise equipment such as the leg press, stationary bicycles, rollers and twisters.  There are also basketball, tennis and badminton courts for groups. To keep fit, one can jog, bike or walk inside the vast QMC and enjoy the fresh air and lush greens.
After the QMC tour, the group had lunch at the Hillside Café and Juice Bar located along Mother Ignacia Street.  Dishes here were prepared using farm-to-table ingredients, organically grown vegetables and fruits, and free-range poultry and healthy meat.  The restaurant also has freshly squeezed fruit juices and smoothies that soothe the body.  Beside the café is Cedar Hills Garden Center, where one can buy seedlings, potted herbs and garden implements.  Quezon City is a melting pot of cuisine and healthy eating can be attained in restaurants located in Maginhawa Street, Tomas Morato, Timog, or Visayas Avenue.
The Medical Tourism tour also brought the group to the St. Luke's Medical Center along E. Rodriguez Avenue.  The top-notch hospital now has a concierge building where patients, both local and foreign, can be assisted and given the proper avenues for their recovery.  Aside from St. Luke's, QC is home to leading government hospitals such as the Heart Center, Lung Center, National Kidney and Transplant Institute, among others. It is also where other top private hospitals are located such as the Capitol Medical Center, World Citi Medical Center, Providence Hospital, etc.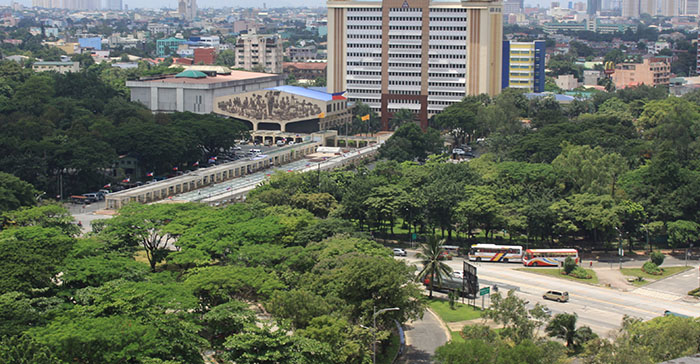 QC is also home to some of the leading aesthetic centers. Top dermatologists have clinics all over Quezon City. Some of them are located in the malls and in the Timog/ Tomas Morato areas such as Belo Medical, Calayan, Svelt-I, Ellen's Aesthetic Center, MedAsia, among others.
At the end of the day, a bit of pampering is well deserved and QC does not disappoint. Health spas offering a variety of treatments and massages are available all day at budget-friendly prices.
"The Medical and Wellness Tour around Quezon City is proof that we are ready to welcome the world when it comes to medical tourism.  We have the parks and gyms for fitness, hospitals for treatments, aesthetic clinics for beauty, and spas for relaxation.  We thank the many stakeholders for their support since the QC government can't do it alone — it needs all your cooperation," said Divine P. Pascua at the conclusion of the successful Summit.
Hits: 69