University of Leaders, JCI Manila, Executes "Oplan Damayan Marawi"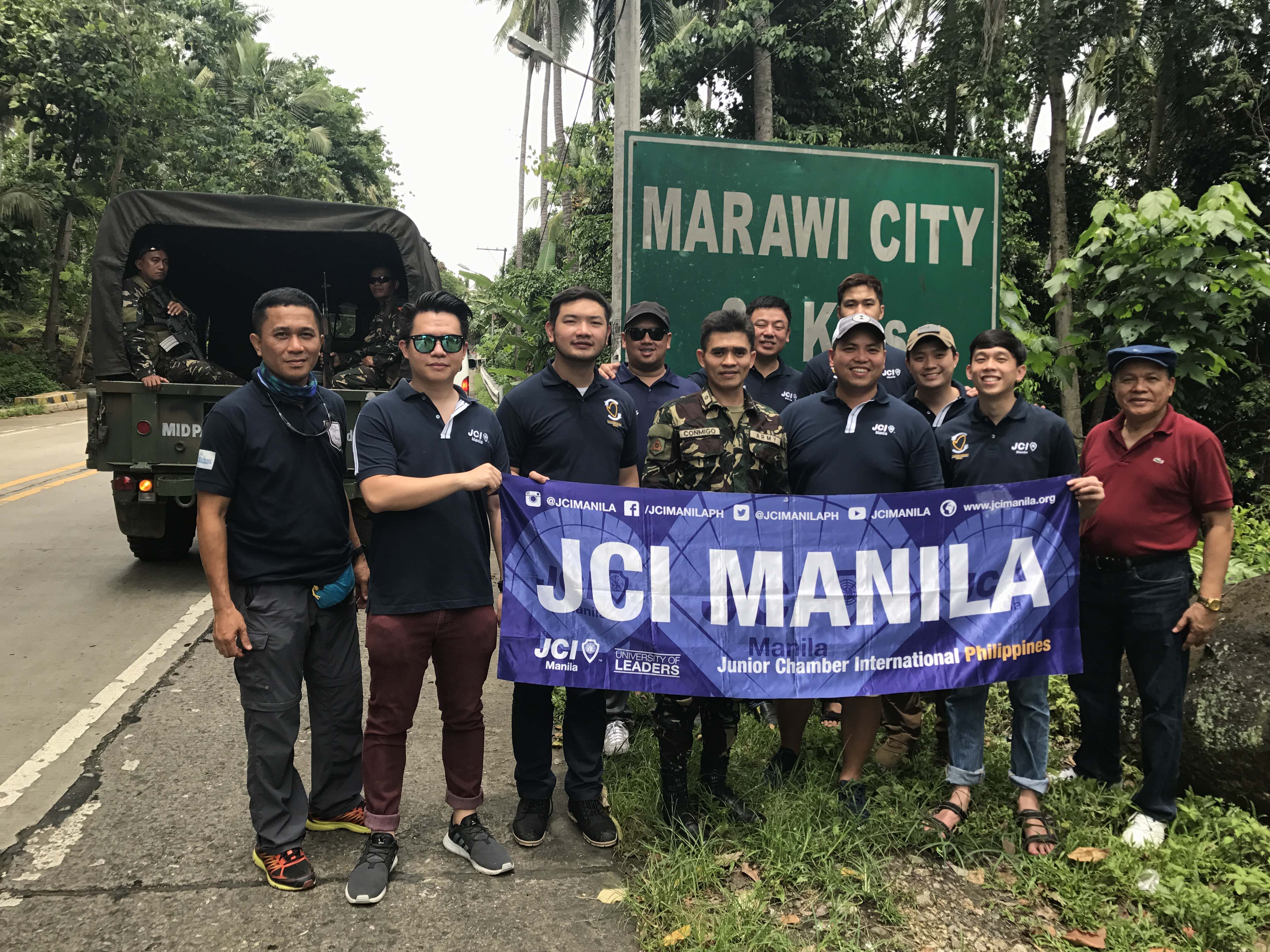 Reaching out to a small portion of refugees resulting from a conflict caused by recent spat between the government and the militants in Marawi, the aspiring leaders at JCI Manila launched a campaign dubbed "Oplan Damayan Marawi" on July 2, 2017.
The 2-day cause which ended on July 3, 2017 sought to give away survival kits across 500 evacuees who are currently displaced from their homes for fear of safety.
Half of the total number of kits were distributed in Iligan while 4,200 pcs of shampoos and another 150 kits were handed over to Mayor Elias Ali who distributed the goods out to the migrants currently seeking shelter at the neighboring region of Balo-i.
The remaining 100 Family survival kits together with 700 pcs. Of shampoos were sent to Philippine President Rodrigo Duterte's common law wife and country's First Lady, Honeylet Avanceña, which she will personally distribute in conjunction with another charitable group, Mothers for Peace.
Each kit contains a pair of tooth brush and tooth paste, a bath soap, melamine bowl and plate, drinking cup, blanket, and a mosquito net, all of which the evacuees could use during their temporary ordeal as displaced individuals.
For the brave soldiers of the government who are fighting the rebels tooth and nail in the ravaged city from the south, JCI Manila honors them with posters and letters in order to boost their needed morale.
Great support was also directed towards the wounded soldiers from skirmishes who made significant sacrifice as an address to the heating conflict in Marawi.
The letters were written by the made-conscious elementary and high school students of the University of Perpetual Help who, through their own little ways, meant to boost our soldier's team spirit that is constantly being tried by the violence of war.
In addition to the written letters, the soldiers at Marawi were also humbly incentivize by giving them kits of their own which consists of shampoos, towels, cycling shorts, and combat socks they could use throughout their perceivable stay in the conflicted region.
Spearheading the very short but successful campaign are the incumbent JCI Manila 2017 Directors and its members: Nino Namoco, JCI Manila President; LTC Richard Tamayo, JCI Manila Director for Special Projects; Lec Toribio, JCI Manila Director of National Relations; Gerry Hung, JCI Manila Commissioner for Special Projects; Paul Tan, JCI Manila OD Marawi Chairman and Jercikson Chua, JCI Manila OD Marawi Co-chairman; Denis Ragos Ty and Marc de Asis.
Known for their multifaceted charitable acts across the country, JCI Manila is a premiere leadership development organization founded in the belief that "by reaching out to others, you learn more about yourself."
Hits: 64