Add more time to moments that matter with the Samsung AddWash Front Load Washing Machine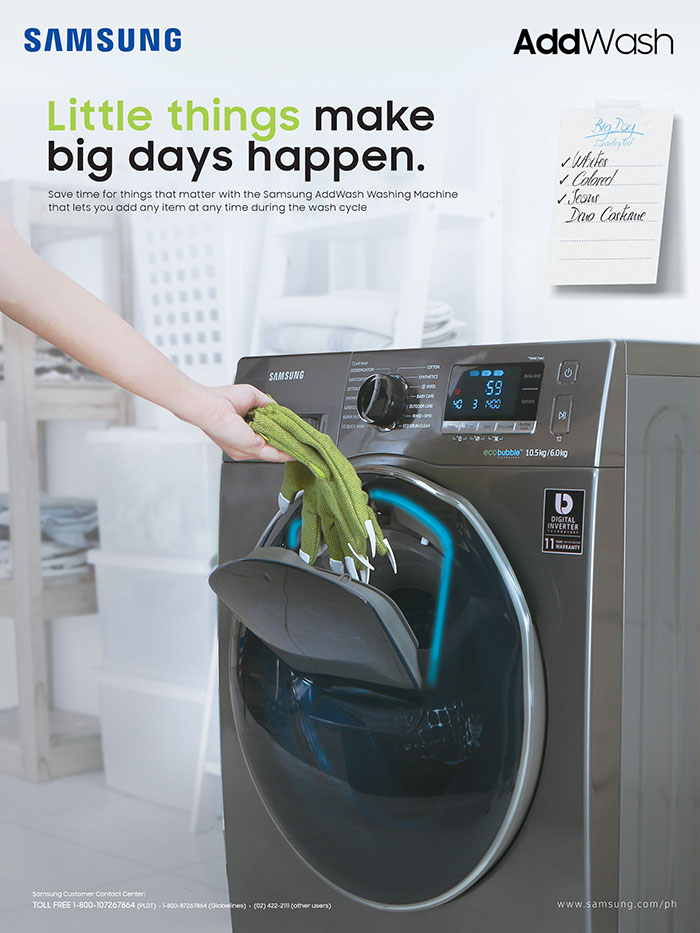 In a fast-paced, constantly moving society, time means everything. Because Samsung understands the importance of setting aside time for moments that matter, the tech giant introduces an efficient washing machine that provides homemakers the convenience needed to care for their family and help them achieve a balanced life: the Samsung AddWash Front Load Washing Machine.
With the washing machine's AddWash door, there's no need to worry if a stray sock or an essential part of a child's costume for a play is not included in the laundry the first time around. The AddWash door allows easy inclusion of extra wash items, detergent, and fabric softener, without having to wait for the current wash cycle to finish. With this feature, all needed clothes can be ready for use in no time, allowing both kids and adults to not miss out on their activities and get to enjoy them the best way possible.
The Samsung AddWash Front Load Washing Machine also features the EcoBubble Technology, which makes use of air and water to dissolve detergent, creating powerful yet gentle cleansing bubbles that penetrate clothes 40 times faster than a regular washing machine. Regardless if cold or hot water is used, the EcoBubble innovation provides superior performance and cleans clothes thoroughly while protecting fabric color and quality. With this, parents can be assured that the family's clothes are free from dirt and stains without having to resort to rigorous hand washing.
Almost everyone has experienced needing a certain piece of clothing the next day and discovering it in the laundry pile. There's no need to fret if a big family dinner or fancy party suddenly gets scheduled. The Samsung AddWash Front Load Washing Machine grants users the relief of finishing the wash cycle in 59 minutes through the Super Speed feature. Once done, users can immediately utilize the dryer function. Without having to compromise the quality of the wash, this 2-in-1 washing machine completely rinses and dries clothing fast, making them ready for use in less time than normal.
With the washing machine's ergonomic design and combined features, there is no need for homemakers to cut short their bonding moments with loved ones due to extra time spent on chores, on top of the time allotted for work. The Samsung AddWash Front Load Washing Machine gives families the convenience of balancing their responsibilities to better care for their loved ones.
Watch the AddWash TVC here: [https://www.facebook.com/SamsungPH/videos/10154997191512857/]
The Samsung AddWash Front Load Washing Machine lineup is available in all authorized Samsung dealers nationwide. For more details, visit the Samsung Facebook page or log on to ​samsung.com/ph​.
Hits: 103