Asia World Hospitality and AHLEI reaches out to international students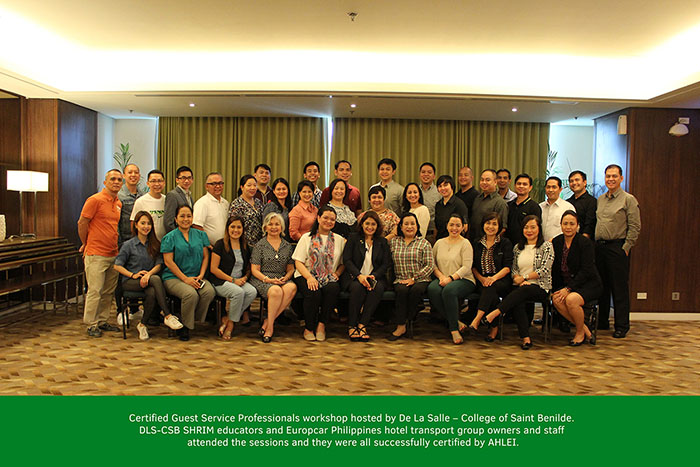 Asia World Hospitality recently concluded an AHLEI certification, Academic Certified Guest Service Professionals module at Treston International College and trained 32 international students from third year and fourth year college. Gigi Porter, a certified hospitality sales and guest service professional (CHSP, CGSP) facilitated the event.
34 participants from the De La Salle – College of Saint Benilde and Europcar Philippines also took part in the Professional Certified Guest Service Professionals led by guest service professional Marjorie June Lucero-Antonio.
The trainings are part of Asia World Hospitality's mission to equip hotels and related establishments with the necessary training programs to enhance professional services. The specialized training programs are envisioned to boost people development and support continuous learning.
In addition to the existing training modules delivered by the American Hotel and Lodging Educational Institute (AHLEI) in the Philippines through Asia World Hospitality, the AHLEI has recently added training and certification for Breakfast Attendants to its START program (Skills, Tasks, and Results Training), its premier workforce training curriculum.
This training is designed for Individual Positions series, providing flexible training and certification modules in multiple formats to meet the needs of schools, workforce agencies, and properties.
In the past few years, the role of breakfast attendant has proved to be crucial in the hospitality industry where data in the 2016 Lodging Survey indicated that 62% of properties surveyed offer complimentary breakfast service, broken down further into 80% of upper-midscale properties, 96% of midscale properties, and 81% of economy properties.
The required knowledge and skillset for a Breakfast Attendant includes displaying breakfast items, proper handling food from receiving to service, setting up side stations, professional interaction with guests during breakfast, and anticipation of guest needs. The training also includes discussion of major food allergies, foodborne illness, and sanitation regulations.
All of the START programs are available in print and online versions, with an instructor's guide for the facilitator and a study guide for the participants, as well as access to the certification exam.
For more information, you may log on to our website at asiaworldhospitality.com or please email us at info@asiaworldhospitality.com or you may call on 63 2 5567994 or +63 917 523 2128
Contact person: Margarita "Machi" B. Borja, Other social media tools: LinkedIn: Asia World Hospitality | Instagram: AsiaWorldHospitality | Twitter: AWHospitalityPH | Facebook: https://www.facebook.com/AsiaWorldHospitalityPH