JOLLY University Year 5 joins regional culinary competitions for students in Davao, Bicol and Cebu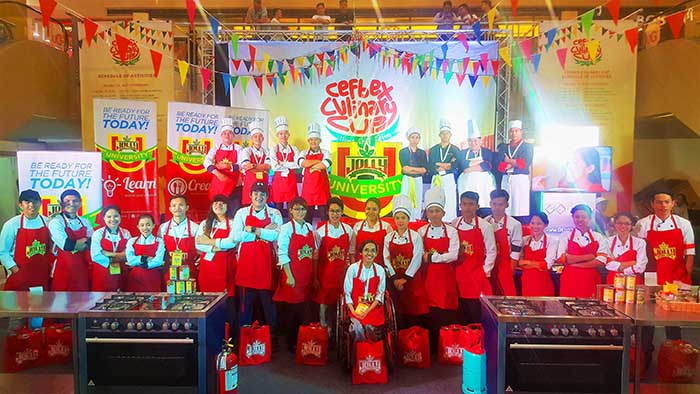 As it continues to explore new venues that will beef up its leadership training advocacy for young learners, the country's prestigious campus-wide cooking competition JOLLY University has gained solid ground in the provinces via its first major sponsorship of three regional culinary events — the Davao Culinary Cup, the Bicol Food Festival Culinary Competition, and the Cebu Food and Beverage Expo (CEFBEX).
The competitions, which proudly showcased the cooking skills and kitchen ingenuity of students from the best culinary schools in southern Luzon, Central Visayas, and Mindanao, marked JOLLY University's highly successful debut in the said regions.
In creating their best-tasting Bicolano dishes, the contenders in the Bicol Food Festival during the BITFEX 2017 held at Legazpi Boulevard, Dap-dap, Legazpi City were provided Jolly Food Line products as their essential food supplies. In Mindanao, Jolly University provided the contestants with JOLLY Food Line products as their main ingredients in the biggest Davao Cooking showdown, the Davao Culinary Cup. Jolly University also supported the Young Chef's Challenge were most students competed for the title at the SM Lanang Premier Activity Center. For its third and final regional leg at CEFBEX, Jolly University sponsored the ingredients of the young culinarians during the inter-school Student Market Basket Competition.
As for Luzon-based and Manila-based aspiring chefs, JOLLY Food Line is pleased to announce that JOLLY University Year 5 is opening its doors for applications very soon.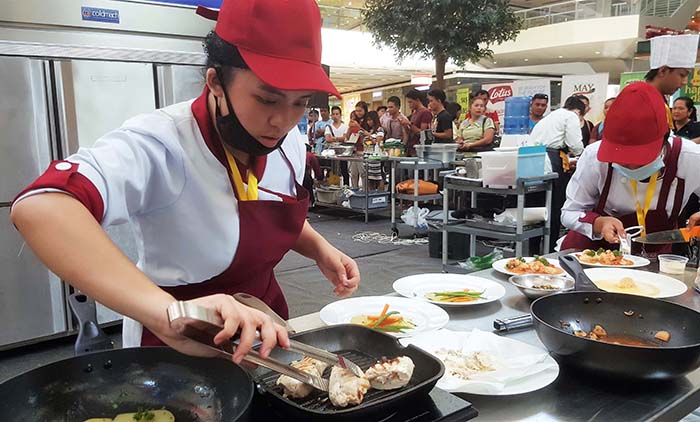 "Again, Jolly University is very much excited to meet young aspiring cooks who wish to experience beyond-the-classroom learning while pursuing their passion for culinary arts and food entrepreneurship.  While their budding talent just needs to be discovered and fully supported, we also want them to harness their gift through their personal commitment," shared AVP for Marketing of Fly Ace Corporation, Abigail Ng-Reyes.
Among the career-building opportunities set forth by JOLLY University are core training programs that include the Jolly University Boot Camp (a workshop series where select delegates get to connect and learn first-hand from industry professionals), the JOLLY Food Congress, and the main culminating activity, the Grand Cook-Off Challenge, among Jolly University finalists.
Since its pilot launch in 2013, JOLLY University has successfully evolved into one of the biggest culinary events and a pivotal learning platform for the Filipino youth.  The contest is open to all Metro Manila, South Luzon and Central Luzon college students from age 16 and up.
Complete Jolly University School Caravan schedules, application requirements, and downloadable entry forms will soon be announced and made available on Jolly Eats Facebook Page (facebook.com/jollyeats) or Jolly Food Line website (jolly.com.ph).
Hits: 64