"Say Yes to May Sparkling Juice's 6-Ingredient Mocktail Recipes to Fuel the Holiday Fun"
A fancy and family-perfect drink, serving mocktails allow a more inclusive atmosphere that are insanely satisfying but totally liquor-free. A perfect party refresher that will also put all your guests in the holiday fun and festive spirit, it's also ideal to serve for all reason or occasion.  And these almost effortless recipes will encourage you to Say Yes to May today.
Pop open a bottle and you know that it's made of fresh and fruity flavors, with an aroma that's like an autumn stroll through the vineyards and the alluring smell of winery during harvest. Made of Belgium's finest and carefully selected red and white grapes, each pour of May Sparkling Juice is a reminder of the good times and will make you more than ready to celebrate whatever life throws at you. So bring on the joy and try these recipes that will surely send a jolt of excitement in each sip!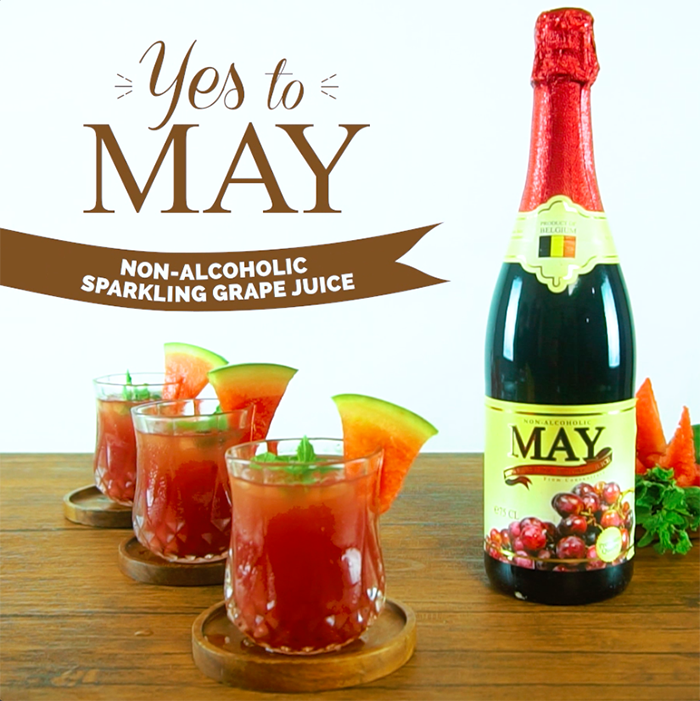 May's Watermelon Surprise
The perfect match for a rich dish, this intensely refreshing concoction will open the palate to the wonders of watermelon. The zing of lime also enhances its bright and juicy flavor that's perfect for sipping on a warm day.
Ingredients:
1 medium sliced watermelon, diced
3/4 cup fresh lime juice
4 cups chilled May Sparkling Juice (red)
Ice cubes
2 tbsps. honey
Garnish: mint sprigs
Instructions:
In a blender, puree the watermelon until smooth.
Squeeze fresh lime juice.
Strain watermelon mixture through a fine sieve into a pitcher; discard solids.
Add May Sparkling Juice.
Serve over ice and add honey to sweeten.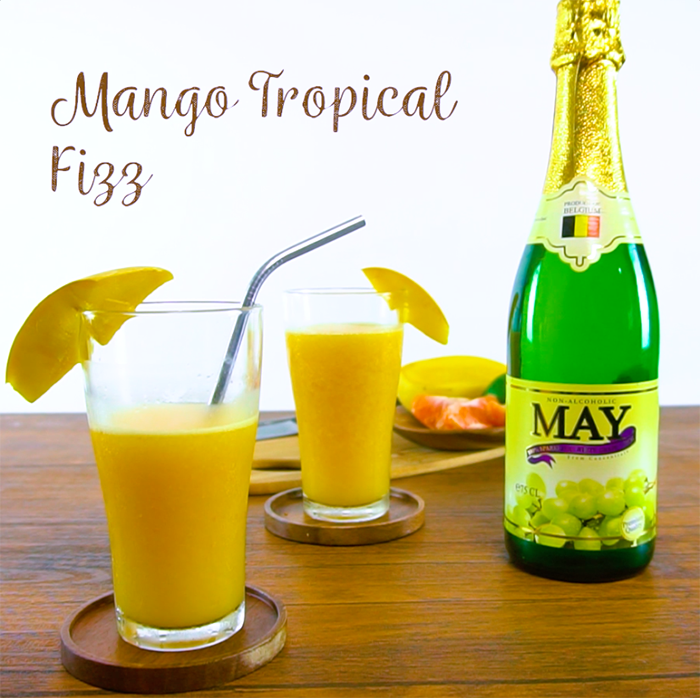 May's Mango Tropical Fizz
When life gives you lemons, serve this invigorating mango drink that's both sweet and tart. Be sure to add some fresh sprig of mint leaves for that whiff of crisp and cooling flavor!
Ingredients:
1 ¼ cup of May Sparkling Juice (white), chilled
1/2 cup fresh lime juice
½ cup of mango slices
¾ cups of orange (fruit or juice)
Ice cubes
Fresh mint (optional)
Instructions:
In a blender, puree the mangoes until smooth. Add orange fruit or juice.
Pour in May Sparkling Juice and stir once.
Add ice cubes.
Garnish with mint.
Hits: 60