Barangay Home Cook Pa More: Bigger and Better on its 2nd year
Cook Magazine, the only monthly magazine dedicated to food and cooking, just concluded another successful run of their Barangay Home Cook Pa More! events.
This is the second year in a row that Cook Magazine has staged these events to great feedback and even bigger crowds. In August Barangay Barangka, Marikina City, was their first destination followed by Barangy Juan Sumulong Elementary School in Pasay City and Barangay Estella Maris Maybunga in Pasig City in September.
In partnership with Petron Gasul and Silka, Cook Magazine livened up barangay halls with cooking demos, product promos, exciting activities, educational talks, zumba and, of course, lots of raffle prizes made possible by the following sponsors: Athena, El Real, Nissin Ramen, Fujidenzo, Biogenic Alcohol, Mega Prime, Masflex, King Sue, Hunts, Neu Bake by Gardenia, Snackeroo's Bits n' Chips, Cracker Juan, Heartsies, Khong Guan Sultana Biscuits, Iced Gem, Choco Iced Gem, Rich Garden's Cracker Juan, Mini Boy, Butter Stick, Aging's Food Delight, Fit Bar, Quaker Oats, Moringa Vita, Mangus10, Turcumin, Diana Stalder, Dermablend, Oraherb and Maxi Atletika.
Long lines of people from all walks of life are often present as early as 8 a.m. The events start with a bang with Bingo, except the columns spell  'c-o-o-k'. In between these fun games of Cook Bingo and raffle prizes are guest speakers and chefs who demonstrate recipe ideas to an enthusiastic crowd.
In the Marikina edition of Home Cook Pa More! Chef Julia Los Banos regaled everyone with her easy, but scrumptious, breakfast recipe, Spicy Omelette Sandwich. Using Gardenia's Neu Bake Super Slice bread, Chef Julia cooked up an amazing breakfast baon with volunteer moms from the crowd. Aside from a delicious sandwich recipe, Chef Julia also gave away Gardenia loot bags to the most attentive people in the crowd.
Nurse Isabel Ferrer, who spoke at all three barangay events, is from the Rhodesian Co. distributor of mangosteen and moringa herbal food supplements. She talked to moms of all ages about the benefits of malunggay. As a mom herself, Nurse Isabel spoke about the importance of malunggay in breastfeeding and in the health of both mother and child.
Petron Gasul's Safety Engr. Ric Alvin Estacio showed the crowds in Marikina, Pasay and Pasig how to properly assemble an LPG tank. He also shared home safety tips on how to properly handle LPG tanks and the differences between deroscas (screw on) and desalpak (snap on) tanks.
Chef PepeEspenida prepared Picadillo, Tuna Burger and AglioOglio using Mega products for all the barangays. Chef Pepe's enthusiastic vibe and informative approach in preparing the dishes found the crowds laughing and learning along while making the recipe. For his picadillo, Chef Pepe used Mega Prime Green Peas and Mega Prime Mushroom. The tuna burger is a mix of Mega Prime Tuna's various flavors. Mega Creations's Spanish Style Sardines are already appetizing, but elevates itself  in the AglioOglio, which makes for a delectable serving fit for celebrations. Chef Pepe's menu proved just how flexible Mega's products are turning simple meals into memorable ones.
In between demos and raffle prizes, Brian Sanipa also leads a Zumba dance-off for moms, which ups the energy of the crowd.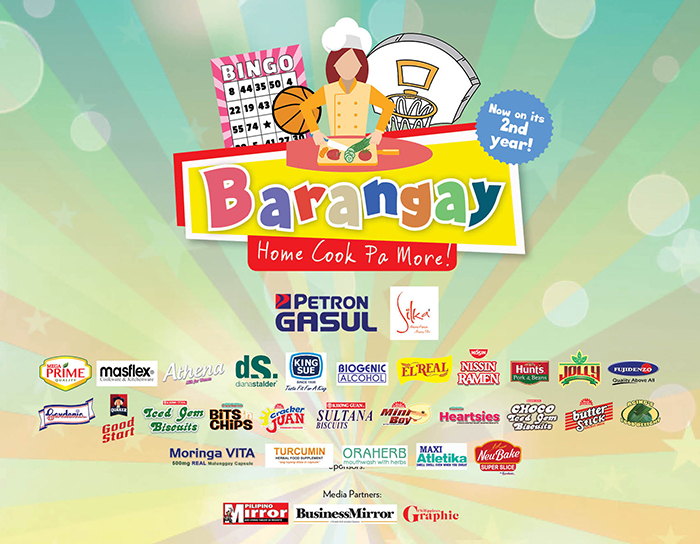 Chef Greggie of Aging's Food Delight would chose three volunteers from the  crowds to recreate his carbonara and empanada recipes. The three volunteers would cook these recipes with King Sue's Meat Products using Masflex's kitchenware over Petron Gasul'sgasulette. While each contestant would have their own process of cooking the dish and their own signature style, Chef Greggie always guided them in the step-by-step process, and taught them how to plate the dishes.
A blackout Cook Bingo closes off the event and the crowd really gets into it, especially as the final numbers are blacked out and a winner is announced. It's always a day of fun and prizes, and almost everyone goes home with a loot bag of food, kitchen and some beauty products.
Barangay Home Cook Pa More! will return next year with even bigger surprises for everyone.
Hits: 154