Three Waterfront Manila Pavilion Hotel peers are now AHLEI Certified Professionals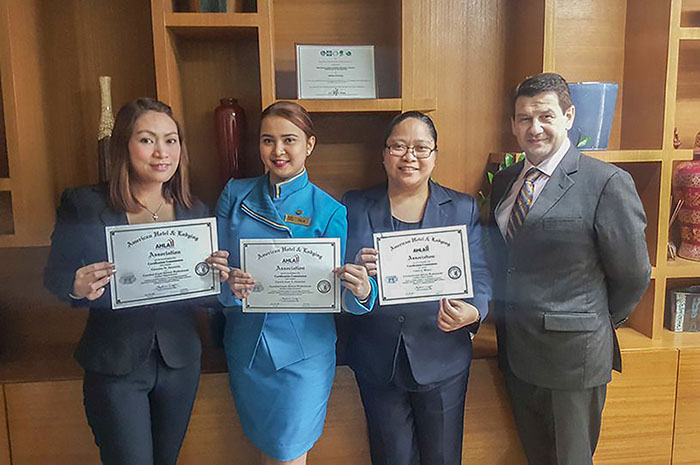 Waterfront Manila Pavilion Hotel's supervisors and managers once again proved that excellent service comes with continuous learning and improvements.
Last December 6, 2017, three outstanding employees from Waterfront Manila Pavilion Hotel & Casino were awarded with Certificates of Recognition and CGSP gold label pins for being one of the newest American Hotel & Lodging Educational Institute's (AHLEI) Certified Guest Service Professionals (CGSP). They were recognized by Waterfront Hotels and Casinos Group Peers' Training and Development Manager, Ms. Shyrra Lou Martina Jadulco, and Waterfront Manila Pavilion Hotel's General Manager, Mr. Jean Francois Asimus.
Cherry J. Mejica (Executive Housekeeper), Christine N. Asuncion (Duty Manager), and Crystal Anne Gonzales (Guest Services Supervisor) not only just passed but also got commendable scores from the two-day workshop and examination held last July 27-28, 2017 at the Waterfront Cebu City Hotel & Casino.
The AHLEI CGSP title is recognized worldwide and is considered as the highest form of acknowledgment in guest services for employees in the hospitality industry. This is given to those individuals who know how to provide outstanding service by exceeding the expectations of guests and turning it into a memorable experience as well.
Waterfront Hotels and Casinos will continue its plans to equip their employees with trainings and workshops to ensure the highest ideal of quality service.
Hits: 52