Diamond Hotel Philippines Partners with Ovation Productions for Sister Act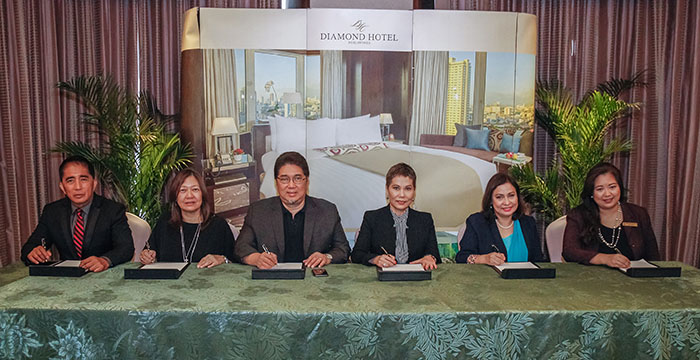 Diamond Hotel Philippines recently forged a partnership with Ovation Productions,  producer of successful international concerts and musical shows in the country, making the hotel the official residence of the cast and crew of the highly acclaimed film-adapted comedy musical Sister Act.  Photo shows the contract signing from left: Diamond Hotel Philippines (DHP) business development manager Edgar Berin, Ovation Productions' Cel de Guia and Renen de Guia,  DHP general manager Vanessa Suatengco, DHP director of sales and marketing and DHP public relations manager Melanie Pallorina.
Diamond Hotel Philippines is located at Roxas Boulevard corner Dr. J. Quintos Street, Manila. For inquiries, please call (632) 528-3000 or email guestservices@diamondhotel.com. For more information on Diamond Hotel Philippines, please visit www.diamondhotel.com. For hotel updates and special offerings, follow the hotel on Facebook, YouTube and Google+ at Diamond Hotel Philippines, and Instagram and Twitter at DiamondHotelPh.
Hits: 82