Catch great deals on premium Samsung Digital Appliances until March 31!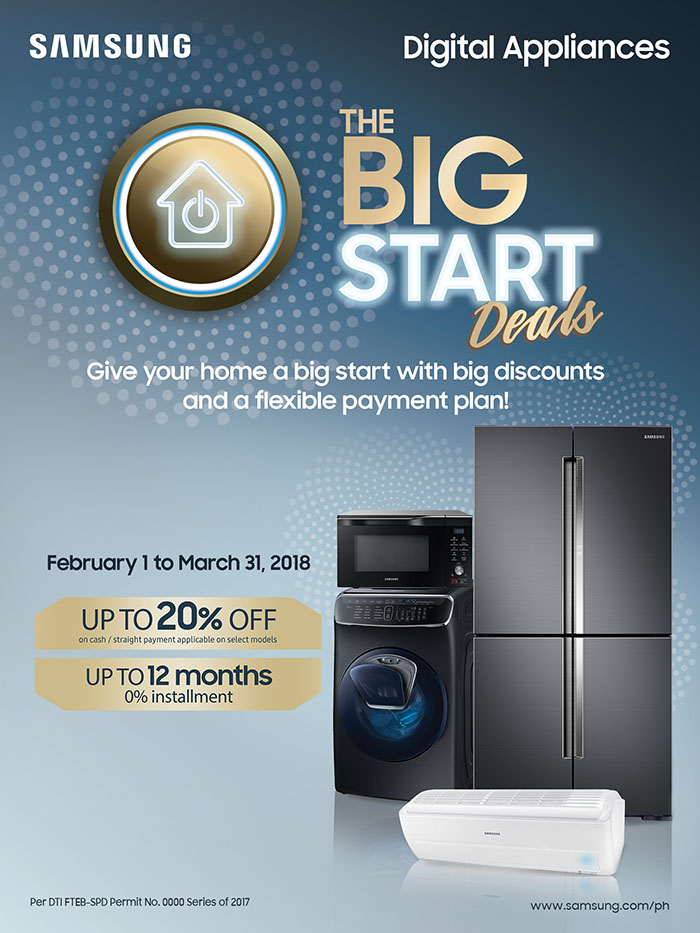 Have you started working toward your family goals yet for 2018? If you haven't, hurry and head on over to any authorized Samsung dealer before March 31 to score amazing discounts on premium products from Samsung Digital Appliances, the worldwide leader in technology and innovation.
Samsung Digital Appliances are equipped with groundbreaking features that help you provide the best care for your loved ones—and now, you can easily upgrade your home with your very own through The Big Start Deals. Enjoy up to 20% off markdowns and/or 0% installment for 12 months on select models.
The Samsung Wind-Free™ Air Conditioner evenly distributes cool air in any room without the unpleasant feeling of direct air blow, so your family stays comfortably cool every day. This mechanism can also reduce your energy bill by up to 72%. Meanwhile, the FlexWash Washing Machine allows you to run two laundry cycles for different fabrics simultaneously, without ruining their quality, so you can focus less on clothes-washing and more on creating memorable moments at home.
The Samsung Twin Cooling Refrigerator retains up to 70% humidity level, providing the ideal temperature to keep your food fresh for longer. This can minimize food wastage and help you prepare better-tasting meals for your loved ones. The Samsung Smart Oven, on the other hand, ensures evenly-cooked meals with the Hot Blast™ technology, which blows hot air onto food via multiple air-holes to keep your food crisp on the outside, and juicy on the inside.
Seize this unique chance to own these state-of-the-art appliances without putting a dent in your budget. Catch The Big Start Deals before it ends. Drop by the nearest authorized Samsung dealer today! For more promo details, visit samsung.com/ph/offer/thebigstartdeals.
Hits: 65