Compliments from the chef: Nicco Santos' top picks for Singaporean cuisine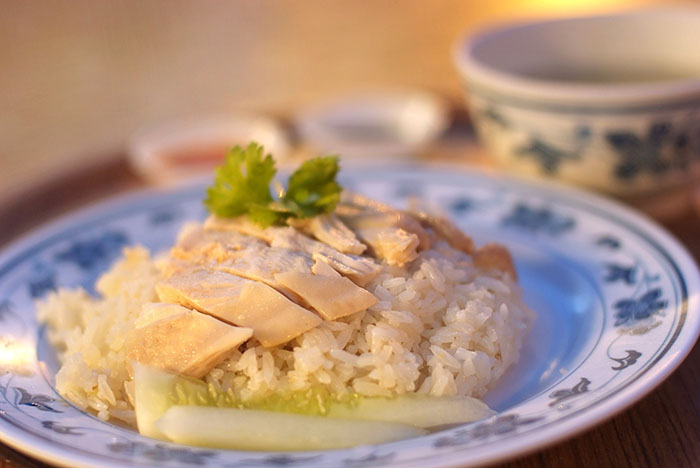 Sometimes all it takes to ignite a simmering life-long passion is the right time, place and ingredients. For renowned young chef, Nicco Santos, the right place was Singapore and the perfect ingredients were its passionate people, diverse culture and delicious food.
Nicco's first bite of Chicken Rice was something else. His two years in culinary school left him uninspired, but when he tried the iconic Singaporean dish, his passion was refueled and he ventured into his own culinary journey. He then trained with his mentor in Pulau Ubin, an island not far from mainland Singapore, to study how to cook Laksa. His passion didn't stop there as he even stayed with Singaporean families to learn different recipes and dishes in a way that no book could teach.
Now, after picking up inspiration by learning the ways of Singaporean and Southeast Asian cuisine, the acclaimed young chef has put up three successful restaurants – Your Local, Hey Handsome and Any Any – all of which serve up Asian fusion or Singaporean and Malaysian comfort food.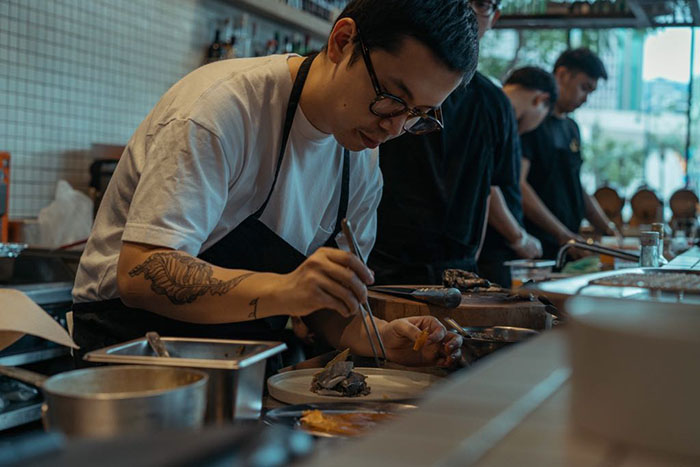 Experiencing the hawker culture
More than just flavors, ingredients and spices, there's always a story behind every food. For Nicco Santos, the best way to immerse oneself into Singaporean food is to hear the stories behind them from the passionate aunties and uncles at the country's hawker centers.
In his frequent visits to these hawker centers, a number of dishes have made it to his recommendation list. Chicken Rice, the dish that started it all for the chef, is a melt-in-your-mouth dish of tender, blanched or roasted chicken with fragrant rice and chili and ginger paste on the side. He also swears by Nyona Laksa which is a creamy and spicy coconut-based noodle soup, Satay or skewered grilled meat with sweet and spicy peanut gravy, and Carrot Cake, white carrot rice cakes fried with garlic and eggs, and sometimes seasoned with sweet dark soya sauce.
To find these delectable dishes, food-lovers can head to the many hawker centers all over the city. Chomp Chomp Hawker Center is a small open food center in a quiet residential neighborhood in Serangoon with some mouth-watering food options including Fried Hokkien Mee from Ah Hock Fried Hokkien Noodles and Sambal Sting Ray from Lucy BBQ Seafood. Nicco also mentions hawker centers that need no introduction, the Maxwell Food Center and the Tiong Bahru Market and Food Center. Two of the country's most notable hawker centers, they are home to many famous stalls that serve the best of the best local delicacies, including Michelin Bib Gourmand Tian Tian Chicken Rice.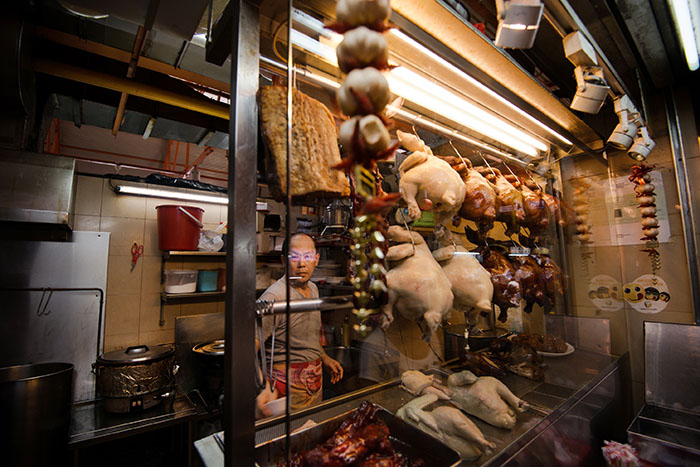 Flavors stewing in a cultural melting pot
The country's diverse culture is reflected especially in its food, with influences from all over the region contributing to its cuisine as seen in its ingredients and recipes.
A unique Peranakan dish approved by chef Nicco is Ayam Buah Leluak. Its main ingredient is the Buah Keluak, a black nut native to Indonesia. The flavorful dish is made with a spicy and tangy gravy of tamarind and pounded spices, kernels from Buah Keluak, and chicken or beef.
Another notable dish is Bah Kut Teh or Pork Ribs Tea, commonly found in Singapore and Malaysia. The Singaporean variation is a hearty, herbal soup made from Pork Ribs simmered in a clear broth seasoned with pepper and garlic. Nicco's top spot to grab this simple and wholesome dish is at Ng Sio Ah, where it is served with chili and dark soya sauce accompanied with Kung Fu tea.
Chinese influences can easily be seen in the country as many locals love their fair share of zhi car or Chinese home-style comfort food. The city is filled with multiple, simple zhi char eateries, some of which come highly recommended such as Kok Sen known for their Big Prawns Bee Hoon Soup and the Por Kee Eating House with their famous Champagne Pork Ribs and Homemade Bean Curd.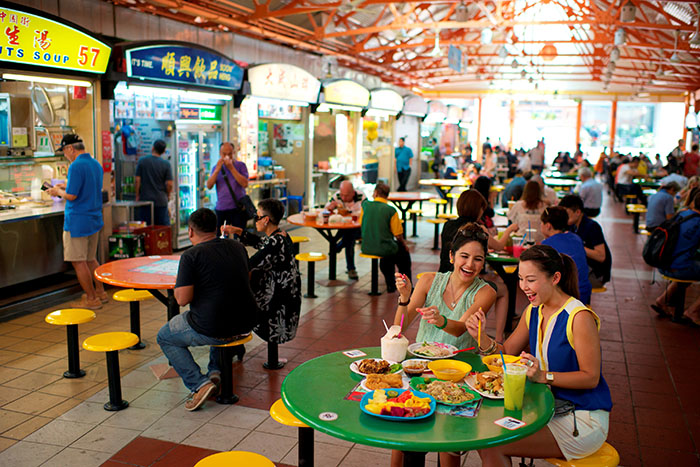 Along with borrowed ingredients and dishes, there are also dishes which are fusions of different ethnicities like Fish Head Curry. The dish was created by a small Indian restaurant in the city-state to cater to the tastes of Chinese customers by using Fish Head, a Chinese delicacy. Prepared with a variety of south Indian spices with variations including tamarind paste or coconut milk, the meal is completed with the head of the Red Snapper and mixed vegetables.
Aside from the recommendations of the trusty connoisseur on Singaporean cuisine, there are lots of different ways to baptize your palate to different local dishes, like going on fun food tours such as the Makan Bus Tour or attending food festivals with specially-curated food joints like the Michelin Guide Street Food Festival from March 30 to April 1, 2018, the World Gourmet Summit from April 2 to 29, 2018 and the Singapore Food Festival happening from July 13 to 29, 2018.
"When I taste Singaporean food, I get different cultures and stories all in one bite, and what's most amazing about it is that it fuses perfectly," shared Nicco. Take it from the expert and visit Singapore to savor the culture, stories and the passion of its people!
Hits: 42