F1 Hotel Manila LUZVIMINDA 6: Timeless Flavors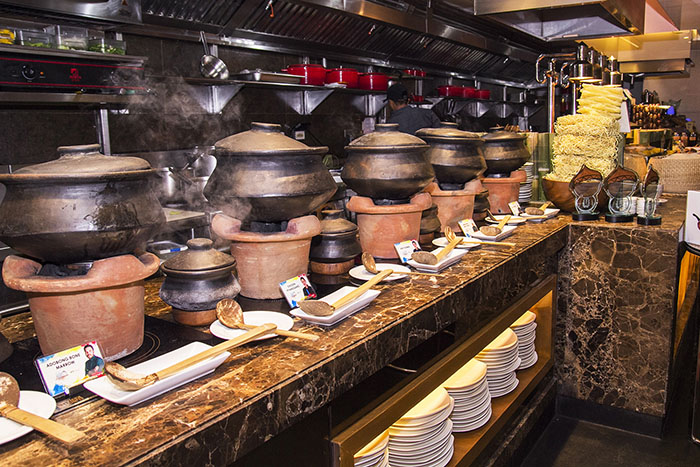 F1 Hotel Manila celebrated its 6th annual Filipino food festival, Luzviminda 6: Timeless Flavors, last June 7, 2018 at the hotel's renowned restaurant, F All-Day Dining.
This year's celebration was led by F1 Hotel's executive chef, Angelo "Chubby" Timban, who, together with guest chefs, AJ Reyes and Zhe Jacinto, created a memorable feast for the guests. Luzviminda is the culmination of our chefs' talents and collaboration, bringing their skills and personal recipes to the fore to create the kind of authentic Filipino cuisine that would set your palate on a journey around the Philippines.
Each chef have their own highlighted dishes during the festivity. Each chef exhibited their own highlight dishes; Chef Chubby's delightful centerpieces were Insarabasab and Kalabasa Flan from Luzon; other regional dishes were Bulcachong and Pocherong Baka ni Tatay Ipeng in which dishes supplemented Chef Chubby's flexibility in both creation and presentation of his expertise.
Meanwhile, Vizayas was showcased with Chef AJ's appetizing Kinilaw na Lobster and Sinuglaw while also serving Adlai and Smoked Corn Salad and Tamales Blanca that stemmed from various regions of the country where Chef AJ familiarized himself with to craft such delectable recipes.
And of course, the feast wouldn't be as satisfying without Mindanao's Chicken Piyanggang and Beef Korma by Chef Zhe and her genuine Grilled Bicol Express and Raspberry Piaya that she effectively developed through diverse culinary aspects that can only be found in our country's rich and beloved customs.
The event commenced with the ribbon cutting ceremony graced by our guests of honor: Roberto Francisco, Chairman of Hotel and Restaurant Chef's Association of the Philippines; Sharwin Tee, host of Curiosity Got Chef; and award winning TV and movie actress Jacyln Jose. They were also joined by Department of Tourism NCR Director Cynthia Lazo, Attorney Jeff Martinez and F1 Hotel Manila's Hotel Director Cindy Brual.
A spectacular performance from the Philippine Barangay Folk Dancers added even more color and verve to the already heightened festivities.
Luzviminda 6 stands tall and proud for bringing such a delectable tradition, passed on from one generation to the next, to the public. Luzviminda 6: Timeless Flavors will be available starting June 8-30, 2018 for only Php 1,699 nett per person at F All-Day Dining Restaurant. Satisfy your Pinoy cravings by having a taste of original Filipino flavors.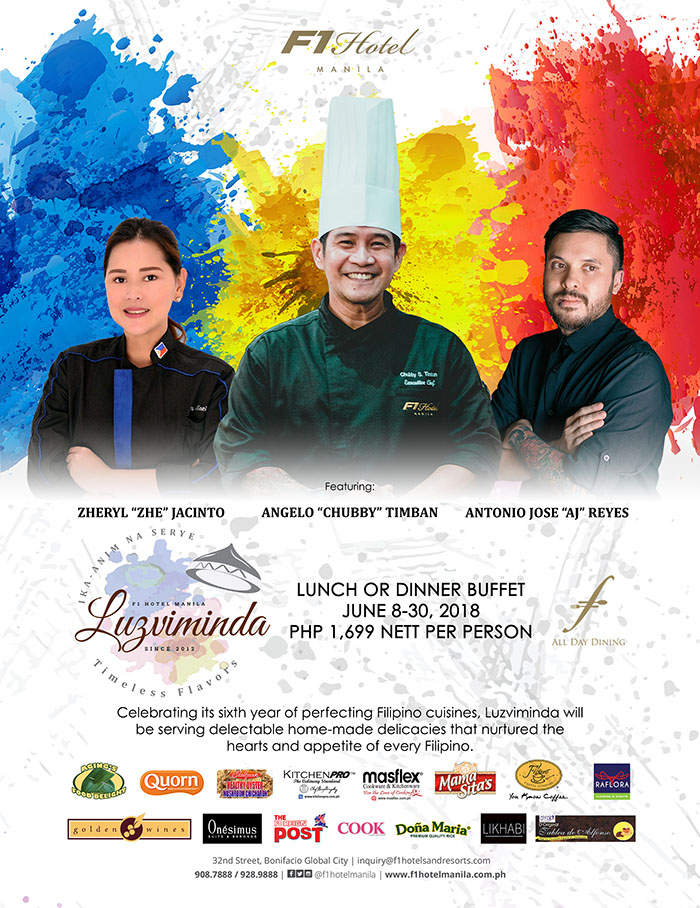 This magnificent event wouldn't be possible without our partners: Quorn, Mama Sita's, Aging's Food Delight, Doña Maria, Doña Elena, Charlynne Chicharon, Golden Wines, Ramesh Trading, La Filipina, Alfonso Tablea, JC Seafood, Hogsmith, Figaro, Titana, Onesimus, SSP Ego Traiding, Bread Commissary, Donnis Choice, Mountain Garden, Dessert Station, DIMAX, Mondelez, together with Balaw balaw, Likhabi, Seagull Manila, Foreign Post, and Cook Magazine.
Embrace the essence of Filipino cuisine by checking out our Timeless Filipino Spread for this month of June. For inquiries and reservations, please call (02) 908-7888 or visit the website www.f1hotelmanila.com.
Hits: 94