Treat Yourself to Enchanted Kingdom's Treat-To-Suki Promo!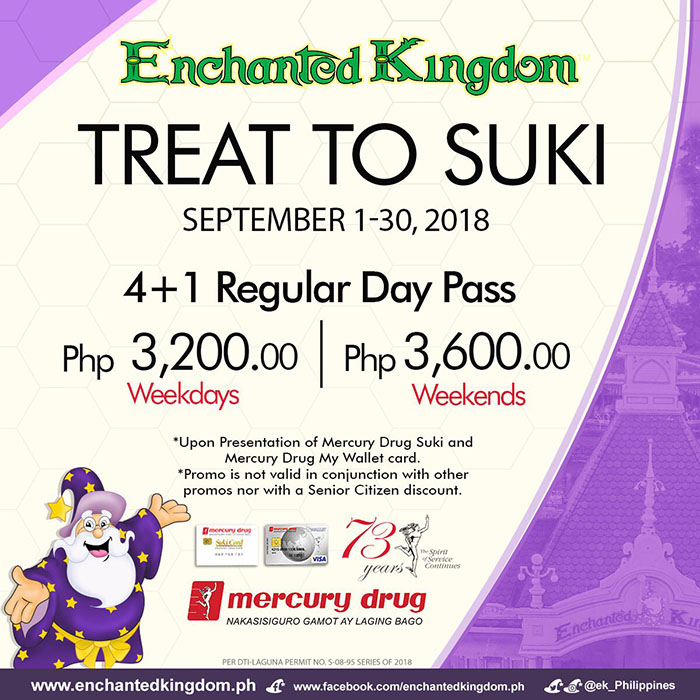 Enchanted Kingdom and Mercury Drug collaborate to bring you another enchanting promo! In line with the celebration of Enchanted Kingdom's upcoming 23rd anniversary this October, Mercury Drug Suki Card cardholders and Mercury Drug My Wallet members may purchase the 4 + 1 promo, available from September 1 to September 30, 2018 only.
Think of your Mercury Drug cards as your key to enter the magical land of Enchanted Kingdom! Experience and share the magic with your friends and family when you avail the promo and get 4 + 1 Regular Day Passes, inclusive of Agila The EKsperience, for only P3,200 on weekdays and P3,600 on weekends.
Tickets may be purchased at the Front Gate, Group Sales Office, and Makati Sales Office. Tickets purchased at the Front Gate and Group Sales Office will be good-same-day tickets, while tickets purchased at the Makati Sales Office will be good-any-day tickets valid until the end of promo period. Take note! All tickets cannot be rebooked nor be used in conjunction with any other promos, the Junior rates and Senior Citizen/PWD discount. Your Mercury Drug Suki Card or Mercury Drug My Wallet card must be presented to avail of the 4 + 1 promo.
For more information, log on to www.enchantedkingdom.ph or call (02) 584-3535/(02) 830-3535. For announcements and updates, visit our official Facebook page at www.facebook.com/enchantedkingdom.ph.
Hits: 143