Barangay Home Cook Pa More: The Best in San Andres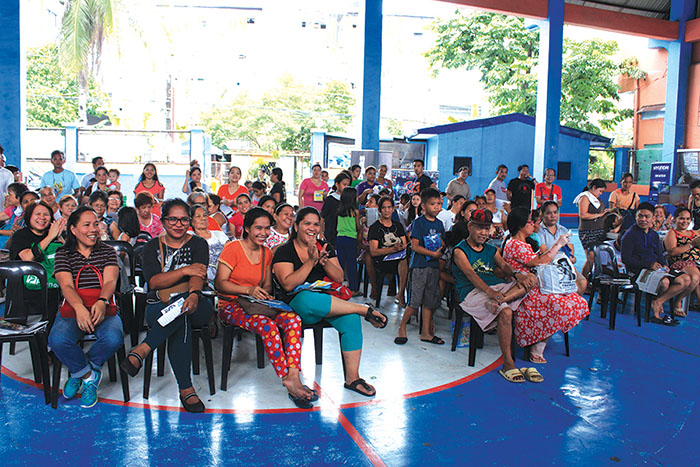 It's a wrap! Barangay Home Cook Pa More capped off its 3rd season with its fourth run at San Andres, Manila. The jam-packed venue was filled with surprises and high energy as informative talks, cooking demos, product promotions, fun games, raffle draws, and an exciting COOK bingo comprised the whole-day event.
Petron Gasul started the program with a discussion on the attributes and unique characteristics of the brand's LPG tanks. Home safety tips and ways of properly handling the LPG tanks were also tackled. Petron Gasul's LPGs are known for its Sakto, Sulit at Safe features. Check if your Petron Gasul LPG has a laser printed safety seal. They also challenged the crowd with a simple pop quiz about the discussion and gave away prizes to the lucky winners.
Marketing representatives from Hyundai Home Appliances followed with a product promotion and livened up the place with team games that gave warm smiles not only to the crowd, but especially to the winners who received gifts from the brand.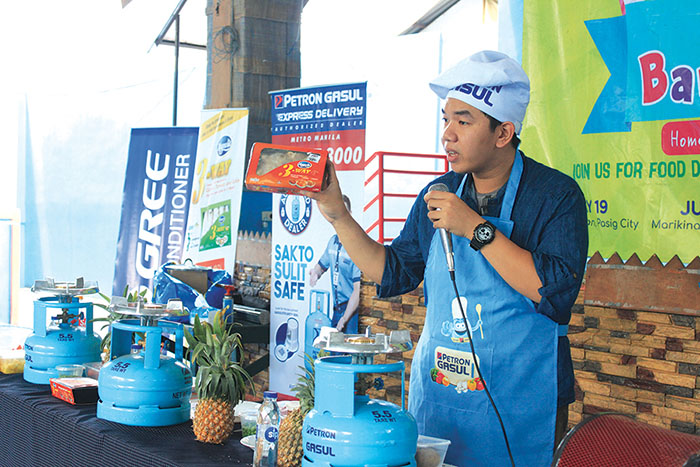 Skin care experts from Diana Stalder by Dermablend sustained the crowd's energy with a game of bato-bato-pick with a twist (the players had to do it facing each other's back). The winner took home heaps of skin care goodies, while those who participated were not left emptyhanded as everybody took home beauty products from the Diana Stalder and Dermablend line.
A cooking demo was conducted by Chef Greggie Mercado of Aging's Food Delight, who demonstrated his recipe for Espasol with Pinipig and Chicken Afritada Gratin with Pineapple using Magnolia Chicken 3-Way Tomato. The later recipe was recreated by three participants from the audience.
In between the talks and demos were raffle draws with prizes from Mega Global Corporation, King Sue, Magnolia 3-Way Chicken, Masflex, Petron Gasul, Diana Stalder, Oreo, belVita, Fujidenzo, Aging's Food Delight, and Rhodesian Sales Corp. A game of COOK Bingo "blackout" was the most-awaited closing activity, which hailed four lucky winners, three of which were runners-up, and one a grand winner. The third runner-up won gift bags from King Sue, Mega Global Corporation, Diana Stalder, Oreo, and belVita; the second runner-up won a Petron Gasulette care of Petron Gasul; the first runner-up won a gift certificate from F1 Hotel Manila; and the grand winner took home prizes from Petron Gasul, Fujidenzo, Masflex, Mega Global Corporation, King Sue, Oreo, and belVita.
All of these were made possible by COOK Magazine's co-presentor Petron Gasul, in cooperation with Magnolia, and sponsors: Mega Global Corporation, Athena, Fujidenzo, Tecnogas, Whirlpool, Diana Stalder, Rhodesian Sales Corp., F1 Hotel Manila, Hyundai Home Appliances, Magnolia 3-Way Chicken, King Sue, Gree, Oraherb, Maxi Atletika, Masflex, Robinsons Supermarket, belVita, Oreo, and Aging's Food Delight. Special thanks also go to the media partners: BusinessMirror, Philippines Graphic, Pilipino Mirror, 97.9 Home Radio, and DWIZ Manila.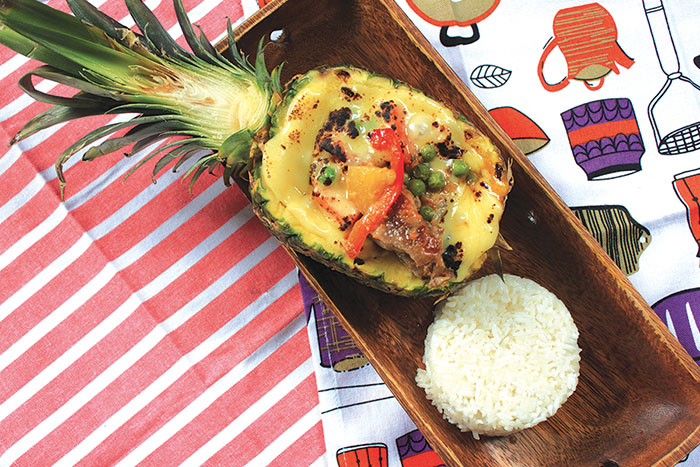 Chicken Afritada Gratin with Pineapple 
By: Chef Greggie Mercado
Ingredients:
1 pack Magnolia Chicken 3-way in Tomato
1 pc red onion
1 pc bell pepper
1 can pineapple tidbits, drained
1/2 cup peas
1 pc carrot
1 pc potato 
1 tbsp fish sauce
1 1/2 cup water
salt and pepper, to taste
quick melt cheese, grated
1 pc whole pineapple, flesh carved out (to be used as a bowl)
Procedure:
Sauté the onion, add the Magnolia Chicken 3-way in Tomato and let it brown a bit.
Add the peas, carrots, potatoes and water. Let it simmer until it's cooked.
Add the fish sauce and season with salt and pepper. Add the pineapple tidbits and bell pepper.
In the prepared pineapple bowl, pour the afritada. Add the grated quick melt cheese on top; you may torch it or place it in the oven for a few minutes. Enjoy! Best served while hot.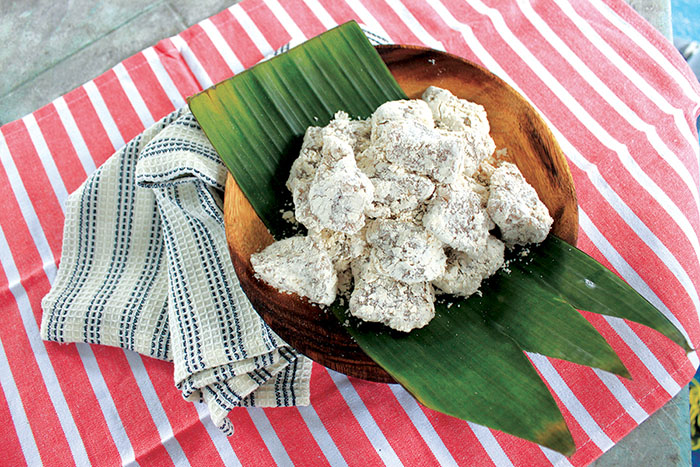 Espasol with Pinipig
Ingredients:
3 cups toasted glutinous rice flour
1/2 cup sugar
3 cups coconut milk
1/4 cup pinipig
1/2 cup toasted glutinous rice flour for dusting
Procedure:
In a non-stick pan, pour in the coconut milk and bring to a boil.
Add the sugar and a pinch of salt. Stir continuously for 10 minutes.
Add toasted glutinous rice flour and cook for 30 minutes until the mixture becomes really thick and oil from the coconut milk releases.
Transfer it in a bilao lined with some banana leaves. Let it cool, then dust it with the remaining toasted glutinous rice flour.
You may add some nuts, too. Enjoy!
Hits: 139