COOK Magazine Marks 18th Year with a Slumber Ball
For the past 8 years, COOK Magazine has been holding an annual thanksgiving party for its advertisers, columnists and friends. This year's celebration, "Slumber Ball – A High Gloss Pajama Party", was conceptualized by the COOK team to provide our guests with a relaxed and fun-filled atmosphere. The theme reflects the working environment at COOK – laid-back, filled with dreamy food and recipes, and lots of fun and laughter. While publishing a monthly magazine isn't a walk in the park, 18 years in the industry is proof that when you do what you love, it won't ever feel like work.
This yearly celebration is an opportunity to personally thank all of our advertisers for their continued support of COOK through the years and the highlight of the evening is the awarding of all the top advertisers.  It also gives the COOK team a chance to introduce ourselves, along with our columnists and contributors – everyone involved in making COOK Magazine what it is. As the longest running and only monthly culinary magazine in the country today, we've outlasted the trends, the ups and downs, even the shift to other platforms. We're very proud of this achievement but we know that without all the support from advertisers and friends in the industry, COOK Magazine wouldn't exist – so thank you!
As a simple way of showing our gratitude, we're sharing with you the very thing that has fueled COOK Magazine's 18 years – the love for food. What else could we do better than feed the ones we love?
We would like to thank House Manila, for again providing us with an awesome venue. COOK's very own Editor-in-Chief, Chef Dino Datu has prepared something for our guests, courtesy of Canadian Beef. We would also like to thank our caterers, our friends from Chefwix Catering who prepared a spread of Buttered Vegetables, Creamy Pesto Chicken and Indonesian Pork BBQ Spareribs. Cowboy Grill prepared some Pork Sisig, Beef Caldereta Adobo, Chicken Teriyaki, Steamed Veggies and Coffee Jelly for dessert. Kitchen Seventy-One owned by Chef Jhic De Guzman Dimagiba prepared Beef Caldereta, Thai Grilled Porkchop, Cajun Chicken and Baked Mac. Pedro 'N Coi presents their specialty Filipino dishes like Pansit, Pakbet, Sisig, Bistek, Roast Chicken and their famous Pinoy street food, Tunog Kalye (fish ball). Since no celebration is complete without lechon, no less than the famous crispy lechon from Lydia's Lechon is present. For sweet endings, there's the Cheese Bar, Inutak, Assorted Kakanin, Pastillas Pops, Suman Cake, Pastillas Cake and Latik Fondue served by Aging's Food Delight and delectable desserts from Sweetilicious Homemade Goodies by Chef Jojo Cuesta-Javier. Our friends generously provided us drinks too! Fill your glasses with drinks from: Lick Iced Tea, Coffee from the Illy booth, Gato Negro Wines and the Open Bar of House Manila.
Lucky guests took home major prizes such as the Bosch Fully Automatic Espresso Machine, Whirlpool Refrigerator, Bosch Mum Kitchen Machine (All in one food processor and mixer), Bosch Universal Slicer, Tecnogas Oven, and two sets of a seven piece induction cookware from Masflex. Other prizes raffled off included hotel accommodations, round trip ticket, gift certificates for buffets and spas, water filter, skin care products, and a whole lot more.
As per tradition, guests wearing the most dazzling sleepwear had a fashion parade with a prize awarded to the one with the best outfit. Mayda Chua provided the night's entertainment by serenading the crowd. The event was hosted Choi Soriano and COOK Magazine's Advertising Manager Marlon Aldenese.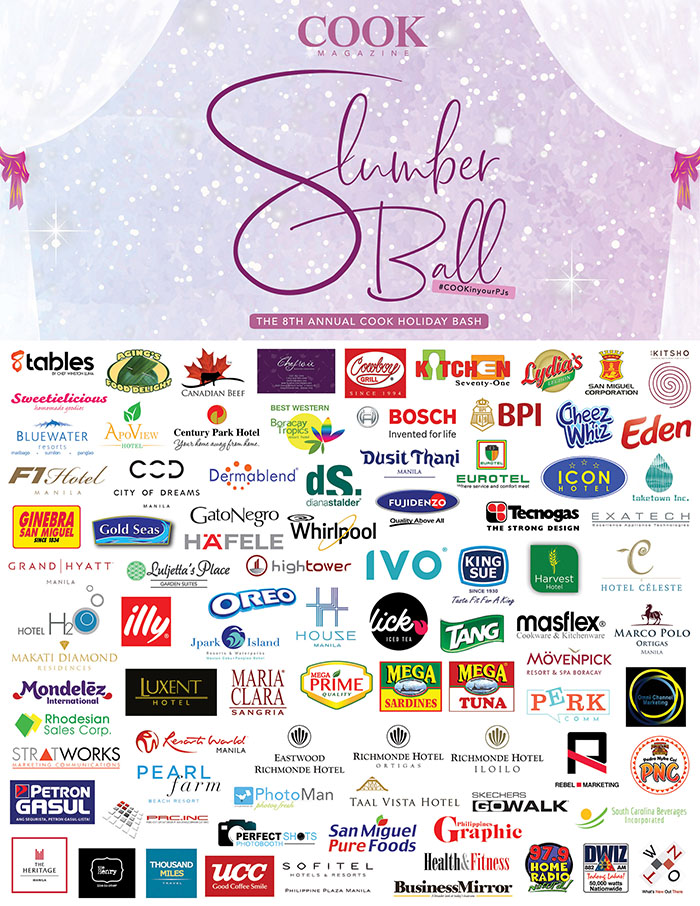 Cook Magazine's would again like to convey our sincerest gratitude to House Manila, our official venue partner. A million thanks to the following for supporting our 18th anniversary and 8th Holiday Bash: Apo View Hotel, Bank of the Philippine Islands, Bluewater Resorts, Boracay Tropics, Bosch Appliances, Century Park Hotel, Cheez Whiz, City of Dreams, Dermablend, Diana Stalder, Dusit Thani Manila, Eastwood Richmonde Hotel, Eden, Eurotel, Excellence Appliance Technologies, F1 Hotel Manila, Fujidenzo Appliances, Gato Negro, Ginebra San Miguel, Gold Seas, Grand Hyatt Manila, Häfele Philippines, Harvest Hotel, High Tower, Hotel Celeste, Hotel H2O, Icon Hotel, Illy, Ivo, Jpark Island Resort & Waterparks, King Sue, Kitsho, Laketown Inc., Lick Iced Tea, Luljetta's Place Garden Suites, Luxent Hotel, Makati Diamond Residences, Marco Polo Ortigas Manila, Maria Clara Sangria, Masflex Cookware & Kitchen, Mega Prime, Mega Sardines, Mega Tuna, Mondelez International, Movenpick Resort & Spa Boracay, New World Hotel Makati, Omni Channel Marketing, Oreo, Pearl Farm Beach Resort, Perfect Shots Photobooth, Perk Communications, Petron Gasul, Photoman, PRC Inc., Rebel Marketing, Resorts World Manila, Rhodesian Sales Corp., Richmonde Hotel Iloilo, Richmonde Hotel Ortigas, San Miguel Corporation, San Miguel Purefoods Culinary Center, Skechers Go Walk, Sofitel Philippine Plaza, South Carolina Beverages Incorporated, Stratworks Marketing Communications, Taal Vista Hotel, Tang, Tecnogas Appliances, The Henry Hotel, The Heritage Manila, Thousand Miles Travel, UCC, and Whirlpool Appliances.
We want to also thank our media partners: Business Mirror, Philippines Graphic, Health & Fitness, WNOT What's New Out There, DWIZ 882 and Home Radio 97.9.
Hits: 44