Look forward to better and healthier days with Vitasoy Plus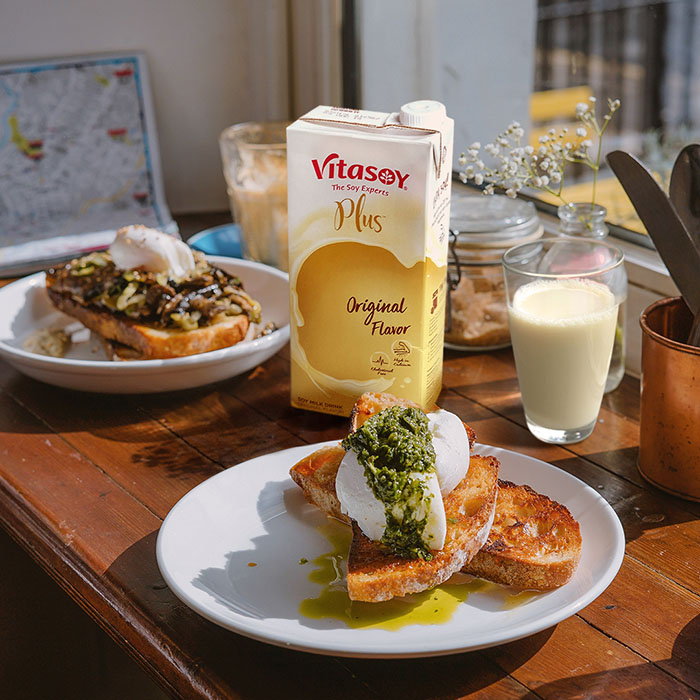 A nutrient-rich breakfast can help power you up, keep you energized and focused throughout a busy day. So, make sure you start your day on the right track with a healthy meal partnered with the wholesome goodness of VITASOY PLUS.
VITASOY PLUS is a delicious soy milk that offers the Calcium benefits of regular milk with additional nutrients. It has high amounts of Vitamin D which is important in building and maintaining stronger bones. Each serving (glass) of VITASOY PLUS provides 50% of your daily Calcium and Vitamin D requirement. It's also an ideal companion of fitness and wellness enthusiasts as it has zero cholesterol and is low in fat.
Filipinos who are lactose intolerant yet still want to get a taste and enjoy the benefits of milk can treat themselves to VITASOY PLUS. It is lactose-free, made from high quality non-GMO soybeans and has no added preservatives which makes it the ideal breakfast partner to keep you strong and healthy.
Incorporate a cold glass or warm cup of VITASOY PLUS in your active routine now. With its delightful taste and nutrients, this plant-based drink can help build stronger immune systems so you can do more and live more.
Everyone can enjoy the healthy goodness of VITASOY PLUS soy milk in Original and Oat flavors. It is available in 1-liter packs at groceries and supermarkets nationwide.
VITASOY PLUS is produced by Universal Robina Corporation (URC) in partnership with Hong Kong-based VITASOY International Holdings Ltd. Since 1940, VITASOY has been producing healthy and tasty plant-based products for consumers worldwide.
For more information about the brand, visit its Facebook page and Instagram account at @VitasoyPH.
Hits: 41