Cadbury Dairy Milk Donates Milk from its Bars to Help Nourish Kids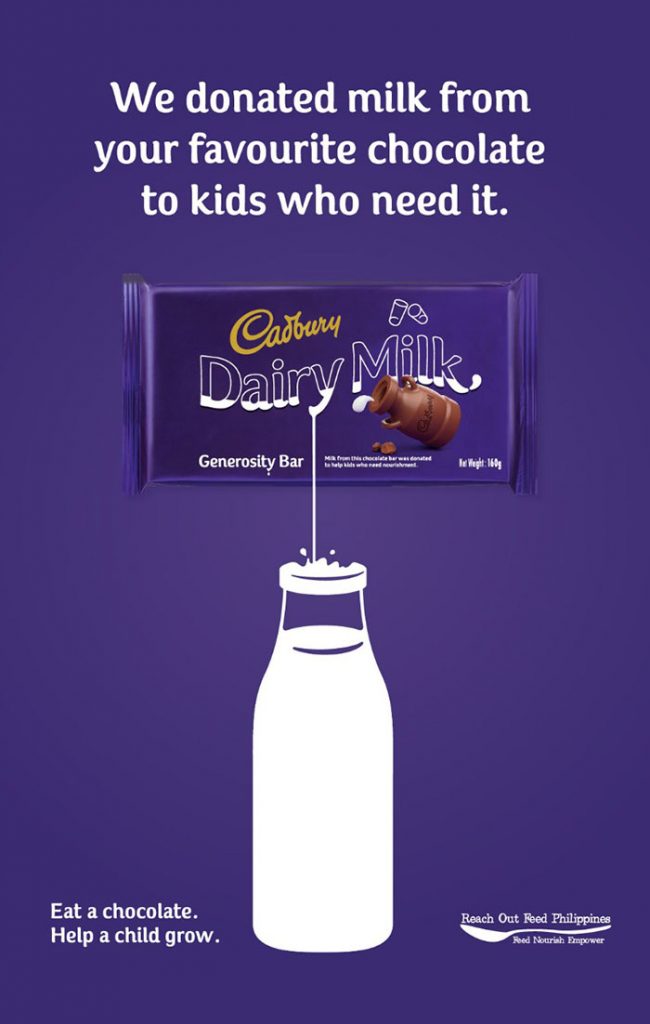 Did you know that more than four million children in the Philippines suffer from malnutrition? In an effort to help alleviate this pressing situation, snacks company Mondelez Philippines is launching the Cadbury Dairy Milk Generosity Bar. The Cadbury Dairy Milk Generosity Bar donates the milk content from its bar to help nourish kids in need. Essentially, with every purchase of the Cadbury Dairy Milk Generosity Bar, a glass of milk will be donated to a child in need for nutrition with the help of the organization Feed Philippines.
Through the Cadbury Dairy Milk Generosity Bar, everyone has the opportunity to donate the milk from their favourite chocolate bar to those who need it the most. Every Cadbury Dairy Milk Generosity Bar contains less milky goodness because it has been removed to share with a child in need of nourishment. But worry not, because every Cadbury Dairy Milk Generosity Bar will contain Cadbury's delectable dark milk chocolate, a less milky but still delicious chocolate bar.
"We at Cadbury Dairy Milk believe that every child deserves to be provided with the right nutrition in order to grow up healthy and strong," Arlene Amante, Brand Manager of Mondelez Philippines, the snacks company behind Cadbury Dairy Milk and other well-loved brands such as Toblerone, Oreo and Tang.
The brand is hoping to provide the nourishment of a glass of milk to the children being aided by Feed Philippines. You can be part of this! The Cadbury Dairy Milk Generosity Bar will be available in Cadbury Generosity Pop-Up located in Glorietta 2 Activity Center, Palm Drive. It retails at Php 155 for 160g.
This campaign is in partnership with Feed Philippines, a non-profit organization with a mission to feed and nourish the Filipino children, regardless of religion, ethnicity or gender. Giving has never tasted this good, so grab a Cadbury Dairy Milk Generosity Bar today!
To know more, like Cadbury Dairy Milk on Facebook (www.facebook.com/cadburyph)  and follow @CadburyPhl on Twitter and Instagram.
Hits: 309