Manille Liqueur de Calamansi Launches New Campaign, Flagship Cocktails and Signature Serve
Already considered by many as one of the country's proudly Filipino premium brands, Manille Liqueur is looking to bring the product closer to the consumer. The product, launched by Destileria Limtuaco & Co., Inc. in 2014, has always championed the the Filipino. From its embroidery inspired design to its exclusive sourcing of calamansi from Mindoro calamansi farmers, Manille Liqueur has always looked to providing the best Filipino experience in a bottle. Through dedication and innovation, this unique product was created.
Through its new campaign – "This is Manille, #WelcomeHome", the brand focuses on product applications that are home tested and easily recreated. It also features a signature serve that everyone can follow.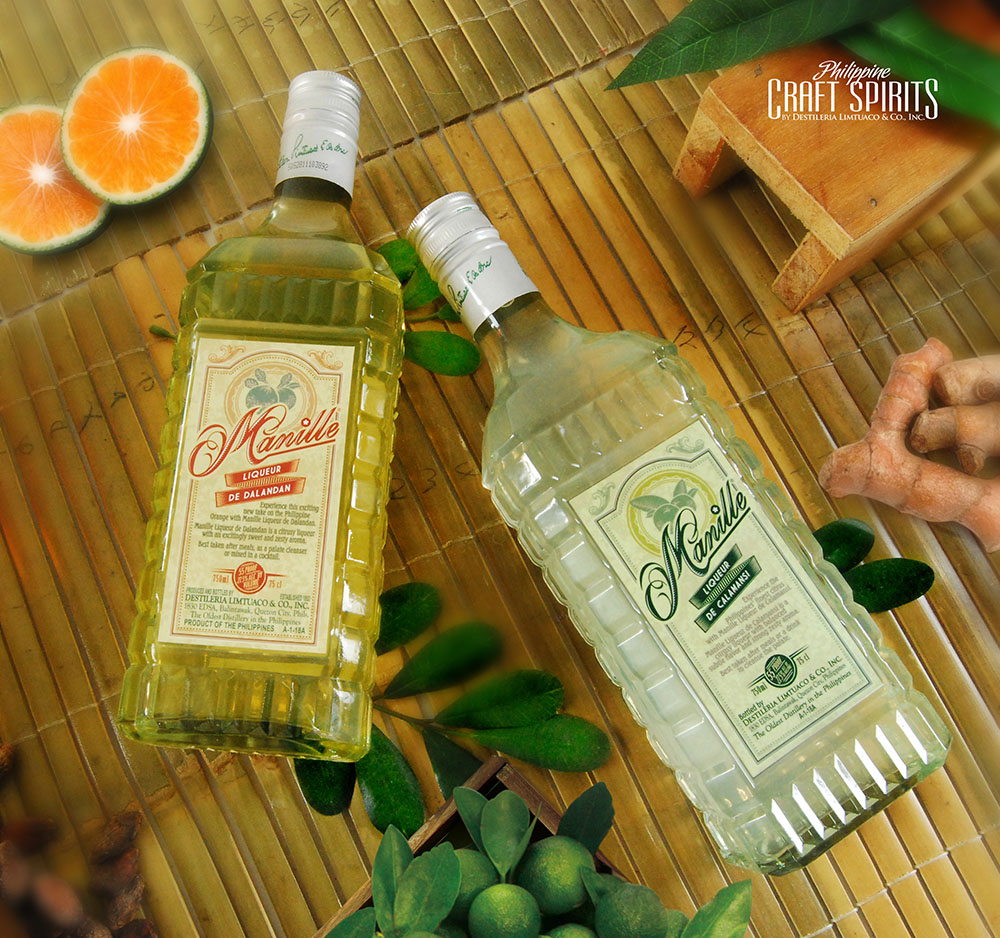 During the April 2019 edition of Manila Fame, Manille Liqueur co-presented the Fame Bar, a cocktail bar built into the Manila Fame Exhibition area. Here the brand launched its 3 home tested flagship cocktails. The bar also featured a cold room set at below 0 degree temperatures. In this venue, Manille Liquer featured their new signature serve.
The production process of Manille Liqueur is also advocates sustainable manufacturing. In an effort to reduce our carbon footprint we have started to develop a line of soaps using the waste products from the production of Manille Liqueur. The left over rinds (together with some pulp and seeds) and ground into a calamansi mud which is used to create Si Handcrafted Face & Body Soap
Flagship Cocktails
During the duration of the 3 day expo, Manille Liqueur served up their new flagship cocktails created by 3 of Manila's top bartenders and the company's ambassadors: Clayton Munar, Larry Guevara and Kalel Demetrio.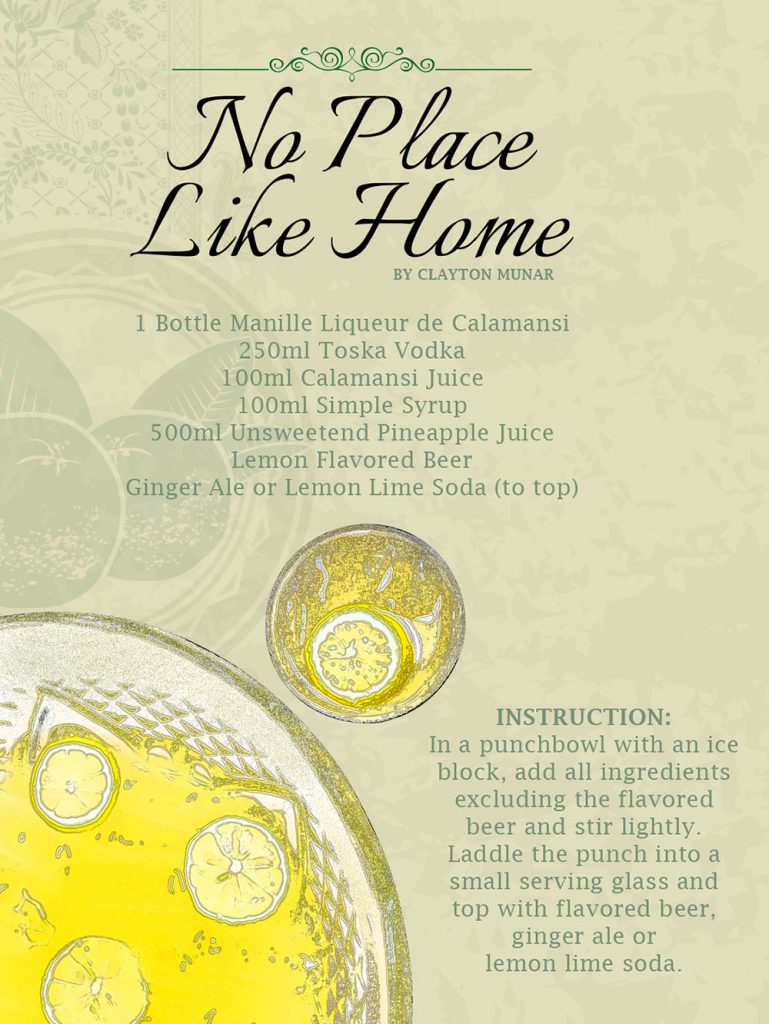 No Place Like Home – by Clayton Munar
1 bottle Manille Liqueur de Calamansi
250ml Toska Vodka
100ml calamansi juice
100ml simple syrup
500ml Unsweetend pineapple juice
lemon flavored beer, ginger ale or lemon lime soda (to top)
In a punchbowl with an ice block, add all ingredients excluding the flavored beer and stir lightly. Laddle the punch into a small serving glass and top with flavored beer, ginger ale or lemon lime soda.
Clayton Munar was born and raised in Baguio City. After graduating and working for a while in his hometown, he made the decision to move to Dubai to further his craft. He returned to the Philippines in 2015, bringing home knowledge and experience from his work abroad. He is currently working on uplifting the quality of local brands like Manille Liqueur.
Home is the people you share it with. For Clayton, the best only way to feel at home is with his family. As such, No Place Like Home is meant to be shared with friends and family. This crowd pleaser can be made with simple ingredients and the punch topping can vary depending on what's available, because your get togethers shouldn't be dependent on the availability of certain ingredients.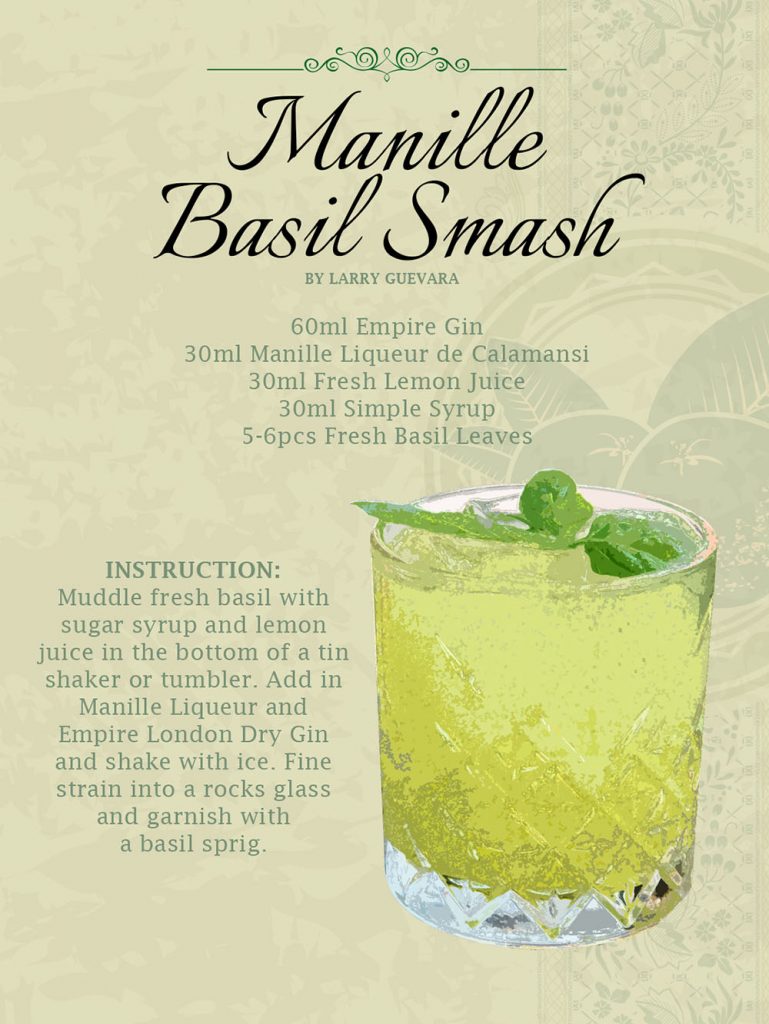 Manille Basil Smash – by Larry Guevara
60ml Empire London Dry Gin
30ml Manille Liqueur de Calamansi
30ml fresh lemon juice
30ml 1:1 sugar syrup
5-6 pcs basil leaves
Muddle fresh basil with sugar syrup and lemon juice in the bottom of a tin shaker or tumbler. Add in Manille Liqueur and Empire London Dry Gin and shake with ice. Fine strain into a rocks glass and garnish with a basil sprig.
Larry Guevara is a veteran in the industry. Starting as one of the premier flair artists in the country, he took his talents around the world about cruise ships. He returned home with a mission to improve the local bartending scene through local flavors. He is currently working on his mission in the Manille Beach Bar, El Nido, Palawan.
For Larry, home is wherever he's comfortable. Having travelled all over the world for his work, a lasting sense of home was hard to come by. By adding Manille Liqueur de Calamansi to his favorite cocktail, the Gin Basil Smash, he was able to find a bit of the Philippines through every drink. The cocktail adds a unique and zesty twist to the classic gin basil smash.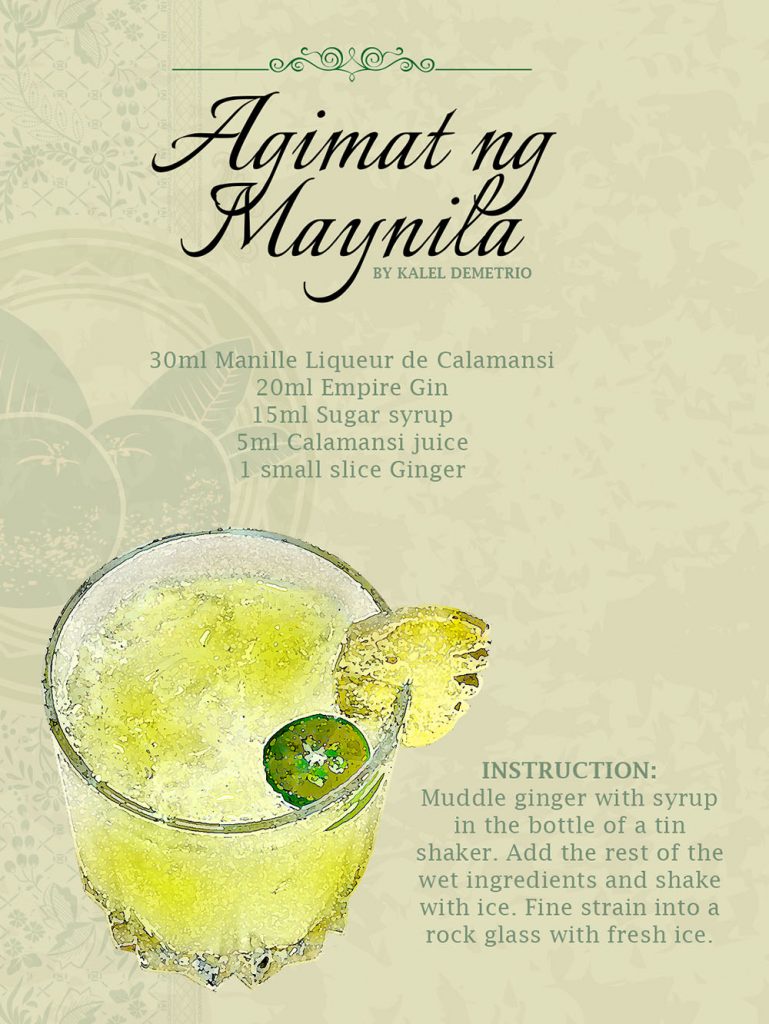 Agimat ng Maynila – by Kalel Demetrio
30ml Manille Liqueur de Calamansi
20ml Empire London Dry Gin
15ml Sugar Syrup
5ml Calamansi Juice
1 small knob of Ginger
Muddle ginger with syrup in the bottle of a tin shaker. Add the rest of the wet ingredients and shake with ice. Fine strain into a rock glass with fresh ice.
Kalel Demetrio is a celebrity mixologist if there was such. He is at the forefront of searching for and utilizing hard-to-find and endemic produce in the country. Through his foraging trips, he has found a lot multiple ingredients that were previously underutilized in the bar industry. Through his Agimat Foraging Bar concept he is able to showcase his travels, farm to glass.
For Kalel, a #WelcomeHome cocktail is one that people can relate to. Agimat ng Maynila is named such because it is inspired by "salabat", a drink that people always drink when they aren't feeling well or if the weather is bad. They also drink salabat to improve their voice (even for singing). For him, salabat has become sort of an "agimat" or charm for Filipinos. This drink takes ginger, the main ingredients in salabat and mixes it with calamansi in juice and liqueur form (Manille) to create a mildy spicy and citrusy drink perfect for the wet and hot climate of the Philippines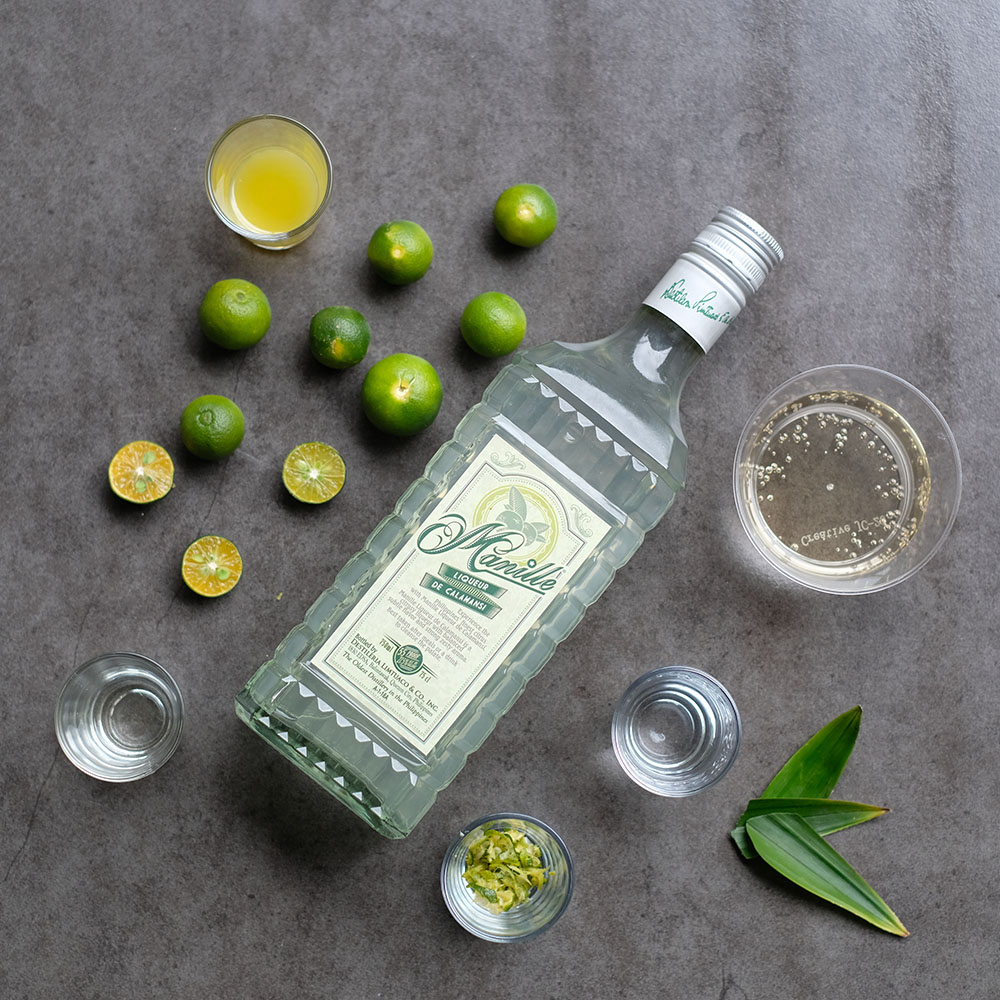 Signature Serve
During Manila Fame April 2019, CITEM together with Manille Liqueur also featured a cold room bar set at -5 degress celcius. This room, isn't just a gimmick. This below 0 temperature is now the suggested way to serve Manille Liqueur.
The cold room, able to fit 20 people, is affixed with a bar area where ice cold shots of Manille Liqueur are served to guests in liqueur glasses. As a perfect pairing for the ice cold liqueur shots, fresh tuna sashimi was sliced and served on the spot.
Patrons of Manille Liqueur can now replicate this signature serve by leaving their Manille Liqueur bottles in the freezer and pouring out 30-50ml shots at a time once the bottles are fully frosted.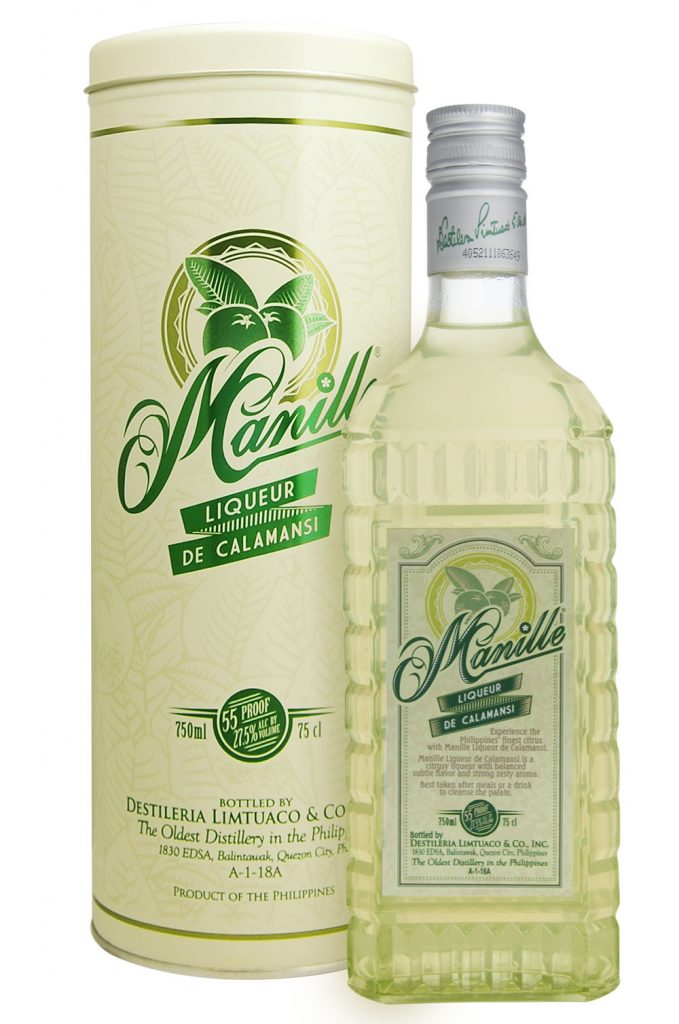 Take a bottle home with you and experience any of these Manille Liqueur recipes. Order online through www.liquorexpress.ph and have the bottle delivered right to your doorstep.
Hits: 2182