Introducing Full Circle Craft Distillers Co. and ARC Botanical Gin The Spirit of the Philippines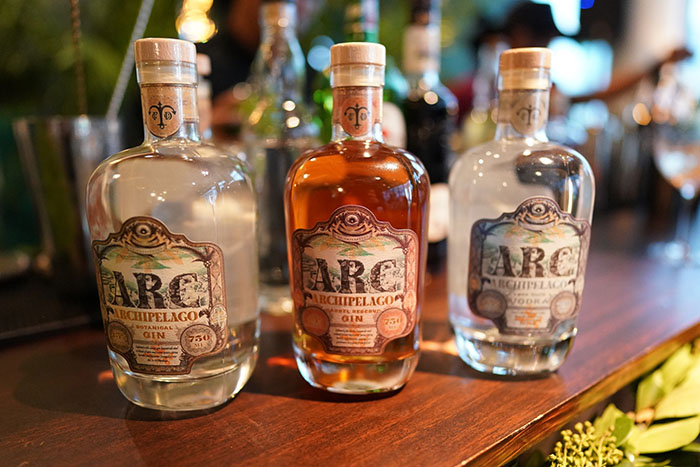 Authentic Craft Spirits
Located on the foothills of Mount Makiling in the lush, tropical province of Laguna, Philippines, the country's first authentic craft distillery, Full Circle Craft Distillers Co., established to promote the very best of the Philippines and place the country on the global spirits map, is proving to be a game changer in the craft spirits industry.
Just 10 months out the gate, ARC Botanical Gin and its sister spirits have garnered international recognition and medals, including two Gold medals at the prestigious World Gin Awards in London in January 2019, two Gold medals at the SIP Awards in March 2019 in California, USA, and two Silvers at the highly-competitive World Spirits Awards in Austria, the first Philippine entrant in the event's history.
These industry accolades come on the heels of Full Circle being recognized as "Philippines Distillery of the Year" at the Hong Kong International Spirits Competition in 2018, and Silver medals bestowed by the Cathay Pacific International Wine & Spirit Competition.
Co-founded by husband-and-wife team Matthew and Laurie Westfall, the inspiration for this entrepreneurial start-up project of passion can be traced back to Matthew's grandfather, a Russified German who first arrived in Manila in 1918 to work at the famed San Miguel Brewery. In a sense, Full Circle Craft Distillers is a family legacy 100 years in the making.
Focused on precision, excellence and authenticity, Full Circle's state-of-the-art, PEZA-registered distillery in Calamba features a fully-automated, state-of-the-art 450-liter CARL copper pot still from Germany, considered the Rolls Royce of distilling. The 5,000-square meter distillery complex, slated to open to the public in August, will be the first distillery in the Philippines to proudly share its distilling processes and techniques in a fully transparent and honest way.
Why gin, some ask? It's a startling statistic: The Philippines consumes 46% of global gin production, or 22 million cases per annum. But within this $3 billion global gin market, the Philippines constitutes just 3%, which means our countrymen drinking some pretty cheap stuff. A lot of it is compounded and flavored, with not a juniper berry in sight.
Full Circle aims to shift this narrative, by educating and uplifting the state of the local spirits industry through the promotion of true craft and artisanal processes.
Crafting the Best Philippine Gin Possible
Magmayon

Oakey Doaky

Mountini
From the beginning, the idea behind Full Circle was to use its flagship spirit, ARC Botanical Gin, as a way to promote and highlight the beauty of the Philippines, and its wondrous array of botanicals, from citrus to mango to exotic flowers.
Award-winning ARC Botanical Gin is handcrafted from 28 botanicals, 22 of which are sourced and foraged from across the Philippines. This citrus-forward, botanically-rich gin highlights supply chains of native botanicals to illustrate the incredible beauty of the Philippines—from pomelos from Davao to freshly–foraged Benguet pine buds from Sagada, to dalandan oranges from Quezon Province. Full Circle also uses fresh mango in their recipe, sourced from their family farm in Dasol, Pangasinan.
Each native botanical sourced from a different province in the Philippines has a story to tell. In a sense, ARC Botanical Gin tells the story of the Philippines, and with each refreshing sip, you are enjoying an exquisite taste of the archipelago.
Origins and Coming Full Circle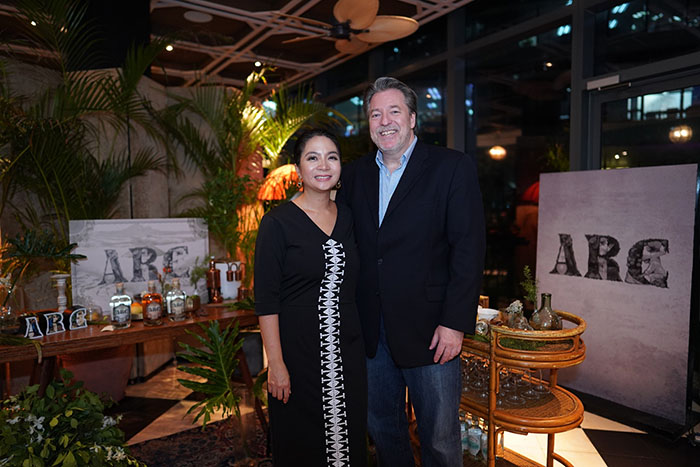 The origins of Full Circle Craft Distillers Co. can be traced to Matthew and Laurie's own personal experiences in the Philippines and a desire to give something back; the family narrative of Matthew's grandfather, who took on Filipino citizenship in 1926 while working as a distiller and chemist on extracting tropical fruits and flavors for a line of soft drinks; and the co-founders love for the rich history of the Philippines and a fascination with its wondrous array of exotic botanicals, first documented by the Spaniard Augustinian priest, Father Blanco, in his seminal thesis Flora de Filipinas, published in 1837.
Pulling these three threads together—a deep love of the Philippines, an enduring family legacy, and the country's rich history and flora from which to tap—their idea was to introduce a world-class line of artisanal spirits to the global spirits stage, and demonstrate that the Philippines can compete, world-wide, with the very best brands.
It was the Westfalls several years in Europe, where their love of great cuisine, fine wines and rare spirits led them to explore some of the many artisanal distilleries across the continent, learning about traditional techniques and processes, and meeting master distillers behind some of the finest brands. In southern Germany alone 27,000 small-scale distillers create everything from eaux de vie (clear fruit brandies known as schnapps and edelbrand) to dry gin to fine whiskies.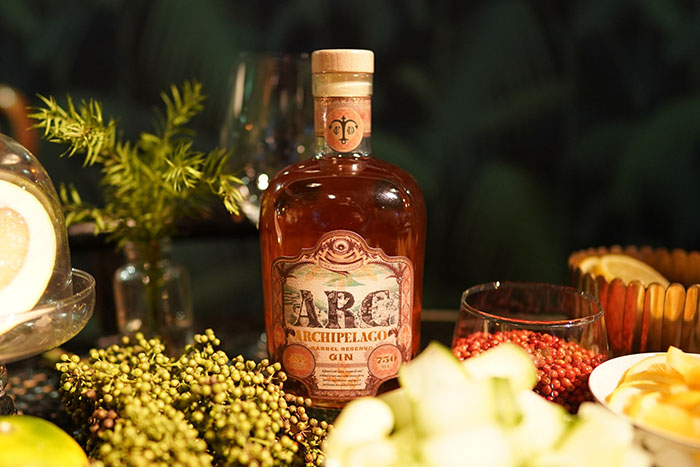 Triangulating all these ideas would come to underpin the concept behind Full Circle—a passion project that would highlight a commitment to craft, precision and excellence, using time-honored techniques and processes on state-of-the-art equipment.
At the same time, the Westfalls wanted a project that would be developmental in perspective – one that would promote inclusive development, help connect farmers to supply chains, create local opportunities for employment to uplift the Philippines.
Commitment to True Craft
On a philosophical level, Full Circle is simply not about the production of alcohol. Rather, these artisanal craft distillers work with the rich flora from across the Philippines in order to transform their essence, their character, into a single magical moment of sensory enlightenment. In doing so, they strive to evoke memories and create experiences that awaken a genuine awareness of nature and creation. God's work, one may argue.
Full Circle's a one-of-a-kind, state-of-the-art, automated 450-liter still made by CARL in Germany allows for a slow distilling process, carefully-managed over an 8-hour run. Few craft distilleries enjoy this level of control, and quality, which they achieve through state-of-the-art automation, a custom-designed copper whiskey helmet, and 7 controllable copper plates in the column.
Steam heat is carefully controlled as well, while the pot still is equipped with an automated agitator, which together allows the distilling team to manage a steady and calculated distillation where they can sensitively pull off the best essential oils of their botanicals, which in turn gives their award-winning gin its incredible range of aromas and flavors.
Full Circle spent over 4 years perfecting their gin recipe, working closely with Europe's leading Master Distiller, Dr. Klaus Hagmann, the creative genius behind some of the world's best craft gin brands. Initially working together at his distillery outside Stuttgart, Germany, Matthew would carry in maletas of fresh Philippine botanicals, and they would concoct variations of Full Circle's gin recipe—pulling out the flavor of our citrus, like pomelo, calamansi and dalandan, refining the aroma of cinnamon, ensuring the all-important juniper came through, to make it a balanced gin in terms of nose, mouthfeel and finish. Matthew would then hand-carry these bottles home to Manila, and hold tastings with trusted friends and family to gain their candid feedback.
The team worked through some 35 variations of their flagship gin recipe, with a year of test distilling on their 25-liter pilot still at the plant in Calamba, until they achieved near perfection. They then scaled the recipe up to the newly-commissioned CARL still, and the results were incredible—achieving all the flavor and aroma notes they hoped to hit, and then some.
Unparalleled Quality Assurance
As a Philippine Economic Zone Authority (PEZA)-registered export-oriented entity, Full Circle is fully licensed and certified by the FDA, and has been granted a License to Operate and Certificates of Product Registration for each of their artisanal spirits. The company is registered with the BIR with a license to manufacture alcohol, and with the Bureau of Customs for export and import activities.
To craft their spirits, Full Circle sources its premium base alcohol from Europe's leading premium beverage alcohol supplier, Cristalco in France, which is GMP-certified and operates at the highest standards in the industry. Derived from French winter wheat grown by local farmers in the fertile Champagne region, and distilled from the whole kernel, the base alcohol provides a crisp, clean mouth feel that one cannot achieve with a local cane distillate.
Moreover, the base alcohol comes with detailed gas chromatography lab analysis, shipped in UN-certified food-approved packaging, from HACCP-certified warehouses in Antwerp, Belgium. This ensures that a key raw input in Full Circle's artisanal spirits is of the highest quality, exceeding EU standards for beverage alcohol, and offering the smoothest and cleanest taste, aroma and mouthfeel.
In addition to investing in a state-of-the-art CARL hybrid copper pot still from Germany—the same equipment used by many leading gin brands such as Sipsmiths in the UK, Four Pillars in Australia and Spiritworks in the US—Full Circle has coupled their distilling vision with 4 years of training and product development with a leading German master distiller, training in Europe at craft distilleries, and further certified distiller training in the US.
Full Circle's copper pot still features controllable plates and a best-practice programmable logic controller that carefully monitors temps and alcohol by volume during distilling, which ensures consistent and generous heads and tails cuts that guarantee the ultra-premium quality of their final distillate, while extracting the highest-quality flavors and oils from their botanicals. With their CARL system, managed by a fully trained and knowledgeable team, Full Circle achieves a perfectly consistent and clean final product, each and every time, with zero methanol or other undesirable congeners.
As an export-oriented operation registered with PEZA, Full Circle currently exports to Singapore, where its spirits can be found in leading bars, hotels and resorts, and to the United States, and the United Kingdom.
Award Winning Spirits and International Recognition
Full Circle's commitment to quality is also reinforced in part by the medals their spirits have won from a number of leading international spirits competitions in Hong Kong, the US, Austria and the UK.
A number of influential online reviews have lauded ARC Botanical Gin, including the leading gin blog site in Germany, Ginvasion.de, which ranked ARC 9.9 out of 10, the highest score on its global leader-board, and named the spirit "one of the best Gins of the world." The industry-leading, Singapore based The Bar Awards also just named Full Circle as one of the "2019 Asian Gin makers to Watch," the first-ever Philippine distillery to make the list.
A Game Changer in the Spirits Industry
When the distillery doors open in Calamba, Laguna this August, the distillers at Full Circle will proudly put their traditional distilling techniques and processes on display. No smoke. No mirrors.
The distillery will host a museum, tasting room, and private events space, where Full Circle will host public tours, industry events, food and spirit pairings with leading chefs, gin masterclasses, and educational events an trainings. The distillery will be both a destination to build a cadre of brand ambassadors for ARC Botanical Gin, and a venue to celebrate the best the Philippines has to offer. A range of other artisanal spirits are in development, each featuring the flavors of the Philippines.
Full Circle was established to put the best foot forward for the Philippines, through a line of spirits handcrafted with both passion and authenticity, and which demonstrate pride of place in every drop. At this early juncture, we can easily say they are well on their way.
For more information, contact Susan Joven of Visions and Expressions or Full Circle Craft Distillers Co. at hello@fullcircledistillers.com. Full Circle's artisanal spirits are available online @boozy.ph, in select Kultura and Tesoro's branches, and in Duty Free Philippines. Follow us! @fullcircledistillers