Inspiring, Leading, and making a difference: Jollibee honors exemplary families in 9th Jollibee Family Values Awards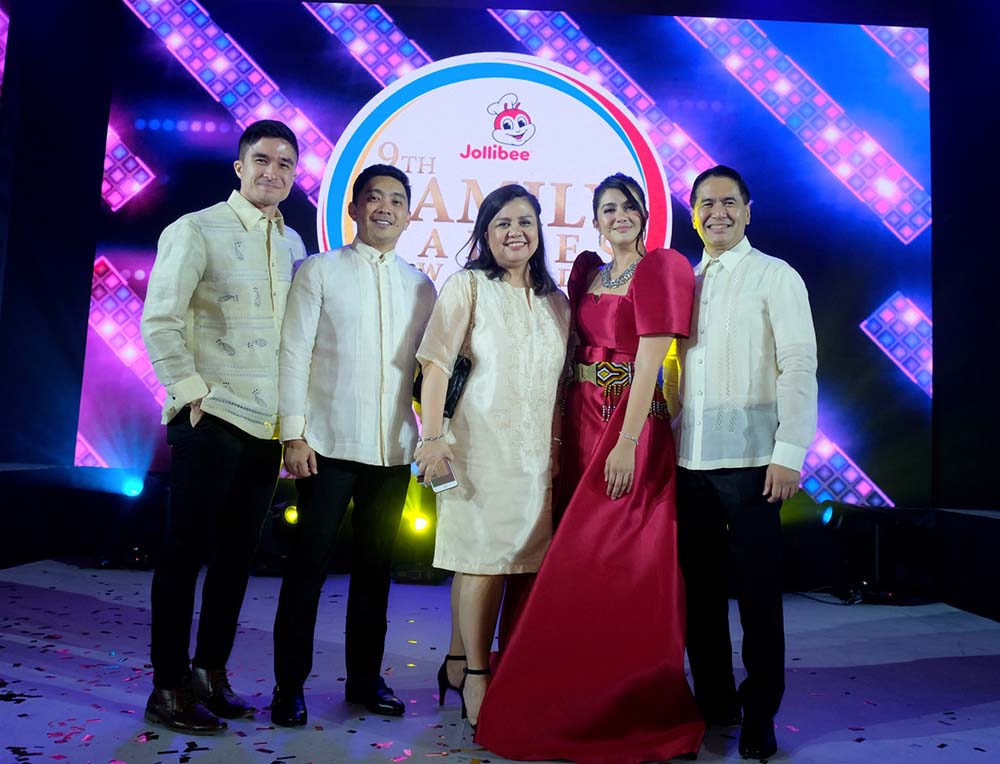 Jollibee remains steadfast in honoring exemplary families—whose values resonate in their communities through their selfless initiatives—in the 9th Jollibee Family Values Awards. Their inspiring stories and advocacies again took front and center during the Gabi ng Parangal para sa Pamilyang Pilipino held at Crowne Plaza Manila Galleria in Ortigas.
Recognized for their family values-driven advocacies that fostered meaningful change in their respective communities, the 9th JFVA winning families include: Mrs. Dorotea Mansing and family of Dumaguete City, Negros Oriental, for donating children's books to public schools; Mr. Jerome and Mrs. Zenaida Paler and family of Maasin City, Southern Leyte, for starting a drug rehabilitation and recovery program; Mr. Alvin and Sandra Montano and family of Quezon City for conducting outreach and disaster training programs stressing capacity and resiliency building; Mr. Rey and Mrs. Mary Grace Bufi and family of Taguig City, for teaching literacy and bringing the joy of reading to far-flung communities with scarce resources; Mr. Jeson and Mrs. Fretzel Anne Viñas and family of Quezon City, for giving free eye examinations to deprived and neglected school children; and Mr. Virigilio and Mrs. Ana Maria Bacudio and family of Malate, Manila, who received a Special Citation for Education last year, but is now a main winner for further expanding their advocacy of providing libraries and other material donations to communities in Mindoro.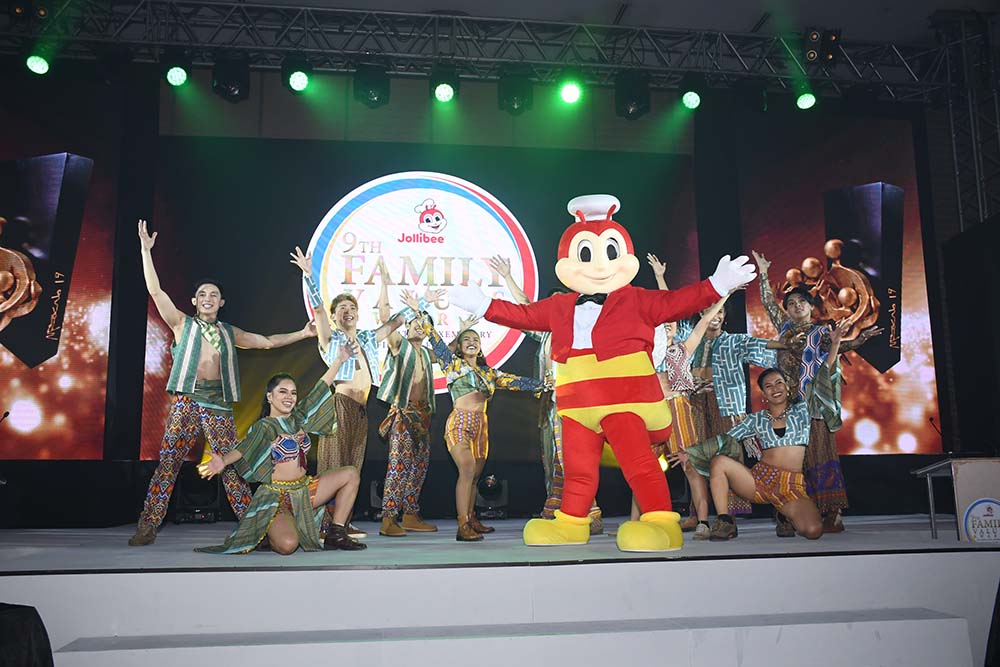 Jollibee also conferred special citations to families who are focused on specific advocacies. The Special Citation for Education was presented to Mr. Edielon and Mrs. Leticia Manuel and family of Solana, Cagayan Province, for their I-Saved (Saving Vulnerable, Education, and Dreams) that offers programs to alleviate hunger and other household problems to Aeta Communities and severely wasted children in Cagayan; Mrs. Norma Plaza and family of Mati City, Davao Oriental who, through their Amihan sa Dahican, sends underprivileged children to school while spearheading projects to protect and serve the marine wildlife of Dahican. Mrs. Julieta Elago and family of Cabadbaran City, Agusan Del Norte helps underprivileged students study college through Project Scholar while Project ADAMMS (Adopt a Mamanwa, a Manobo Student) provides scholarship support and other needs to indigenous people throughout high school; and Mr. Rhamley and Mrs. Natalia Sali of Hagonoy, Bulacan and London, UK, supports environmental projects and tree planting programs through their One Child One Tree movement.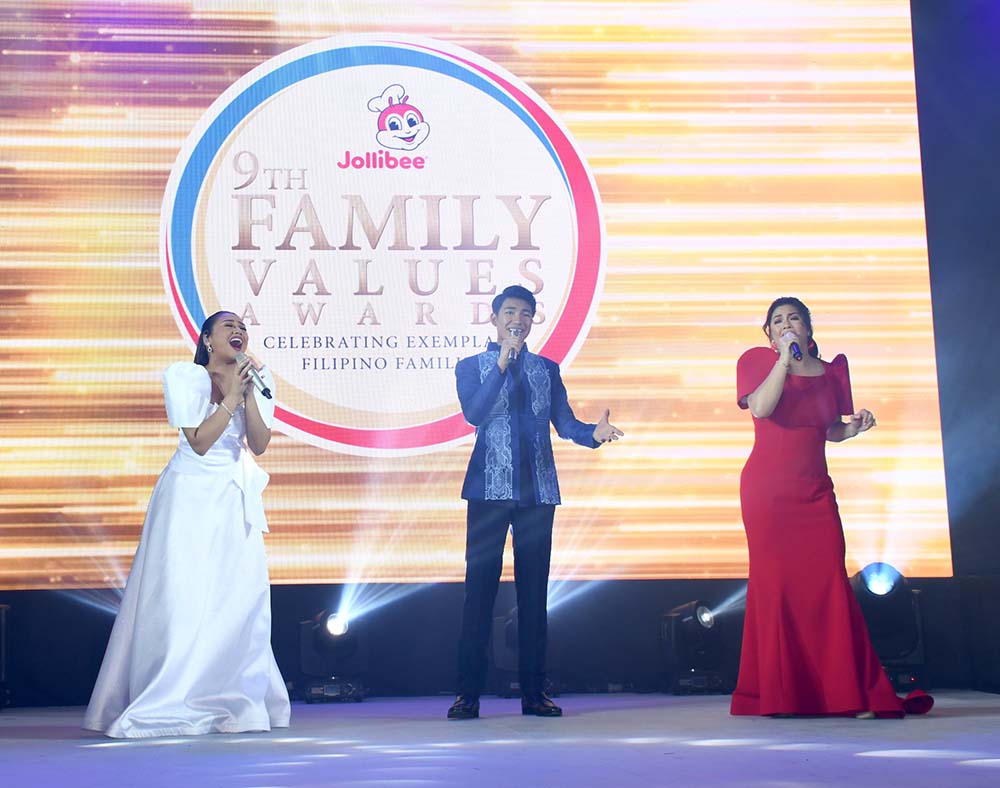 The six winning families each received a P300,000 cash prize, a brass trophy designed by renowned sculptor Michael Cacnio, and P10,000 worth of Jollibee gift certificates. The special citation recipients were each given P100,000 in cash, a plaque of recognition, and P3,000 worth of Jollibee gift certificates.
"It is an honor and privilege once again to pay tribute to our latest JFVA winners who bring inspiring stories of hope and positivity through their selfless advocacies," said JJ Alano, Jollibee Philippines President. "Jollibee has always been championing positive Filipino values throughout the years and to know that there are more Filipino families all over the country and abroad who exemplify this is truly heartening. Through the Jollibee Family Values Awards, it is our desire to give encouragement and support to these outstanding families who have done nothing but spread love, light, and joy to others through their respective community endeavors that are truly life changing, meaningful, and impactful."
The 9th Gabi ng Parangal sa Pamilyang Pilipino centered on the theme of Katha, as the Jollibee Family Values Awards turns the page to the next chapter–one filled with even more inspiring and touching stories, always chronicling stories of goodwill and kindness from Filipino family heroes.

The task of sifting through volumes of submitted entries was taken on by a selection committee composed mainly of veteran JFVA judges: Assistant Vice President and Head of Brand Communications, PR, and Digital Marketing of Jollibee Philippines Arline Adeva, representing Jollibee Global Brand CMO and JFC Philippines Country Business Group and Jollibee PH Marketing Head Francis Flores, Jollibee Group Foundation Executive Director Gisela Tiongson, parenting and relationship consultant Maribel Dionisio, Chairman of Homeschool Global Learning, Inc., Edric Mendoza, lifestyle columnist and children's advocate Audrey Tan-Zubiri, actress Dimples Romana, and Jollibee HR Head Jazel Mendoza. Other judges include Coca-Cola Public Affairs, Communications and Sustainability Director Jonah de Lumen-Pernia, and Arabelle Magallona, Head of Sustainability of HOUSE Foundation, representing Messy Bessy CEO and Founder Krie Reyes-Lopez.
The 9th JFVA is made possible with the support of Co-Presenter Coca-Cola, Official airline and Special Citation for the Environment Partner Cebu Pacific, Official Residence Partner Crowne Plaza and Holiday Inn, Jollibee Group Foundation, and campaign sponsors Hisense, Vanguard Screening Solutions, 2KK (Tulong sa Kapwa Kapatid Foundation), AD/HD Society of the Philippines and JFC Brands – Burger King, Chowking, Greenwich, Mang Inasal and Red Ribbon.
Hits: 119