Mimi & Bros launches feel-good, party-ready Happy Boxes
Perfect for your next celebration at home!
With a strong realization that people's cravings for comfort food will grow stronger
as the uncertainty from the pandemic arises, restaurant-bar Mimi & Bros packs
their signature dishes and drinks in a convenient and Instagram-worthy Happy Box
that will get any party started.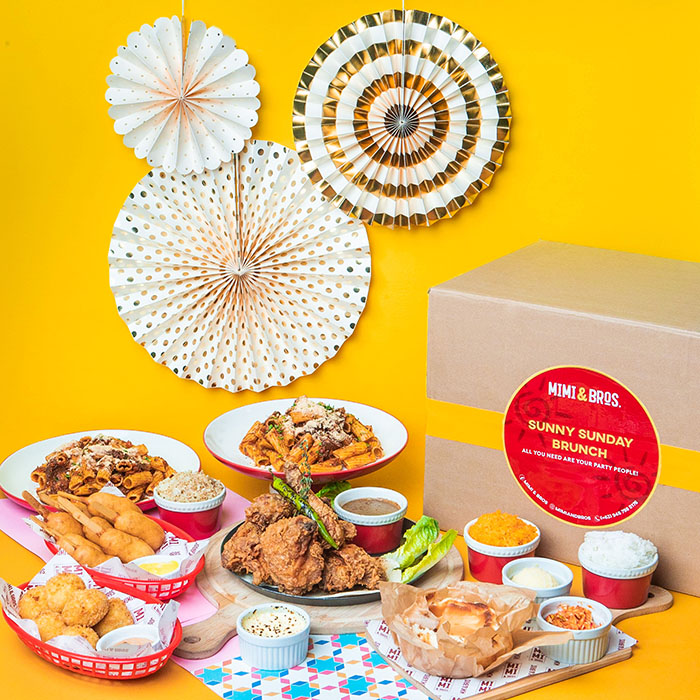 Known as a watering hole for young professionals and urbanites in Bonifacio Global City looking to unwind after work hours, Mimi & Bros takes pride in offering happy-inducing comfort food and cocktails. The restaurant takes serving "Happy" seriously, with a name sake lit-signage as the highlight of their restaurant interior. With the restrictions brought by the pandemic at full force, restaurant partner and celebrity chef Edward Bugia realizes that people are still finding ways to celebrate personal milestones
and small wins at home.
Bugia says, "With the seemingly non-stop roll of bad news and all the uncertainty that stems from the pandemic, we thought people need a serving of 'Happy' now more than ever. We all turn to comfort food, whether we're shaking off a bad day or celebrating a great day. Happy Box is our new way of serving 'Happy' straight to our customers' home with added fun and flair to kick off any party. "
Curated with celebrations in mind and inspired by the warm and fuzzy feeling brought by comfort food, Happy Box is perfect for parties at home as well as gifts for occasions you miss due to the safety protocols but still want your presence felt. Each Happy Box includes signature items from the menu of Mimi & Bros as well as minimal party decors to help you get your (or your loved one's) party started. Happy Box is available in four unique variants: The New Vacay, Thirsty Thursday on 32nd St., Girls' Night In, and Sunny Sunday Brunch . Bugia shares, "The names were inspired by the things our team is nostalgic for. Our Happy Box lets you relive these feel-good experiences." Curious? Choose your Happy Box here! There's definitely one for every celebration and what's even better is Mimi & Bros only requires 1-day lead time to order, perfect for last minute hurrahs.
The New Vacay – Php 1500
Vacation in an instant with no passport needed. Perfect for gifting or for personal stash. And no judgment, everyone could use a vacation right now! Includes 5 bottles of signature Cocktails and cocktail parasols.
Thirsty Thursday on 32nd St – Php 990 Perfect for 2 – 3 pax (or party people)
Recreate the notorious, fun-filled Thursdays at Mimi & Bros with this box. Includes Croquettes, Corn Dogs, half Signature Mimi's Fried Chicken, your choice of two side,
dishes, and one set of party fan decors.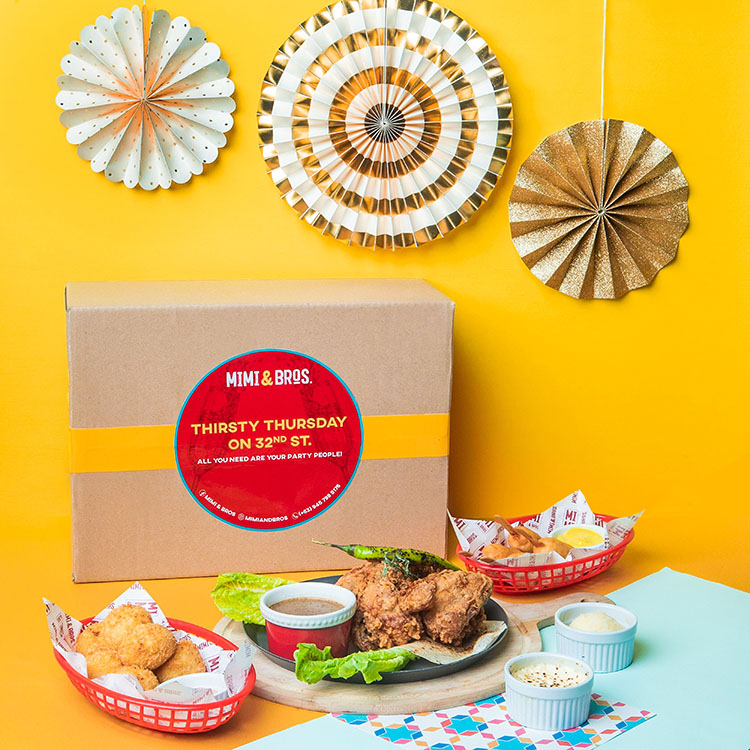 Mimi's Girls Night In – Php 2600 Perfect for 3- 4 pax (or party people)
Let your hair down, indulge and catch up on all the deets! No drama, just drumsticks.
Includes Corn Dogs, Lola's Ragu, whole Mimi's Fried Chicken, Burnt Basque Cheesecake, your choice of four side dishes, and one set of party fan decors.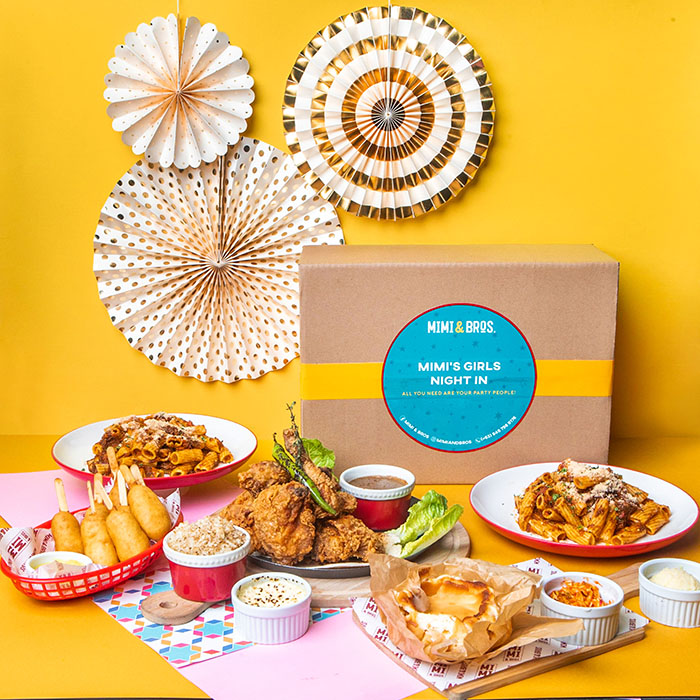 Sunny Sunday Brunch – Php 3000 Perfect for 5- 6 pax (or party people)
There's nothing like a glorious Sunday in the Metro. Recreate the brunch life you love with this box and any day will feel like a Sunday! Includes: Croquettes, Corn Dogs, Lola's Ragu, whole Mimi's Fried Chicken, Burnt Basque Cheesecake, your choice of six side dishes, and two sets of party fan decors.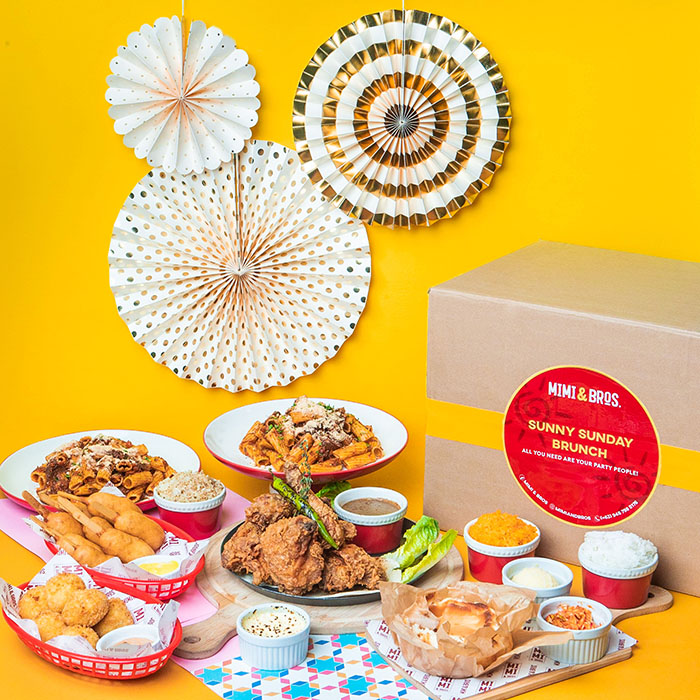 So gather your party people—albeit virtually—and let these curated boxes put you
in a happy mood with your favorite cocktails and food. Relive the pre-pandemic
days with the Happy Box, a party set solution curated for your homes to remain
sane and safe. Mimi & Bros. is located at the 32nd St, Taguig, Metro Manila. To order your Happy Boxes, message them at fb.com/mimiandbros, instagram.com/mimiandbros or
through Viber at + 63 945 798 5176.