An Indigenously Inspired Nawwtys Thanksgiving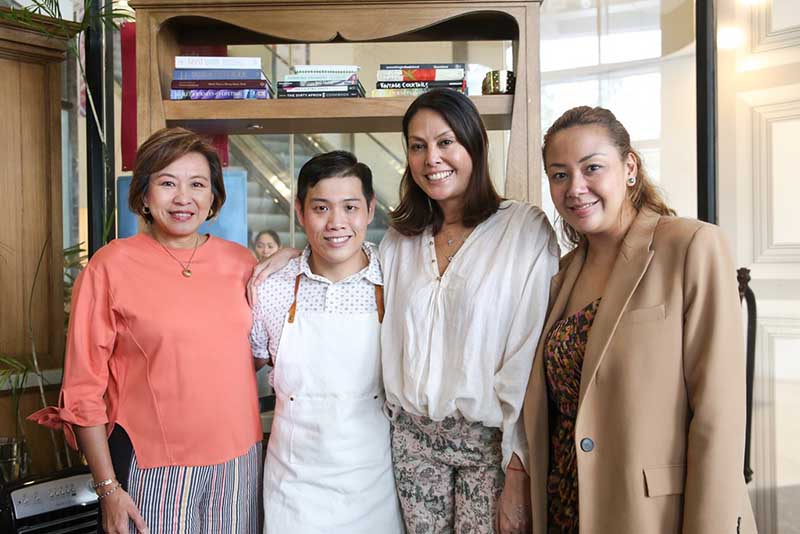 This Thanksgiving, Mulberry Door and nawwTys kitchen's Trish Panlilio weaves together Filipino flavors as she embraces indigenous peoples heritage in partnership with GreatWomen, a platform that supports women enterprises and economic empowerment.
The culinary collaboration which will run from October 17 until the end of December 2019 will be the restaurateur's show of support for indigenous women weavers through an inspired menu using everything home-grown.
"We are happy to be partnering with the GREAT Women platform, because our rich indigenous Filipino culture is something to be proud of and its preservation is something that we openly ought to support," Trish shares.
New Year, New Beginnings
This third collaboration is not only the entrepreneur's way to celebrate a year full of support from patrons who have enjoyed her fresh, home-cooked comfort food at Mulberry Door and nawwTy's Kitchen, but also serves as an opportunity for her to share the great news that with the success of nawwTy Gives Back this year, a second installment is in the works for 2020.

"We have so much to be grateful for, with continued support from our patrons who have helped us grow from my home kitchen in turn to custom catering business and eventually our first restaurant. We are inspired to continue offering quality dining experience with luxe comfort comfort food and new dishes that we will develop to continue to delight our guests," says Trish.

As her way of paying it forward through the GREAT Women platform, the partnership will be closer to heart as diners can show support by purchasing a select dish from the existing menu of Mulberry Door where 20% will be donated to GREAT Women Platform to help fund for eyeglasses or spools of thread for the Bagobo Tagabaw (in the south) and Ibaloi (from the north) community weavers.

The selected menu from Mulberry Door includes Chipirones, Bone Marrow Onion Soup, Mushroom Chicken Asiago served with Sourdough Bread, Callos with Garlic Baguette, Luca's Chicken Kiev with Mashed Potatoes, Eggplant Parmigiana with Ciabatta, and Lemon Carbonara.
Lunch for Locals
Putting their own spin to a full four-course meal inspired by indigenous cuisine, a special lunch menu will be prepared including
Kalabasa Soup with Coconut Cream & Bagnet Chicharon
Tomato and Arugula Salad with Salted Egg Vinaigrette
with Chicken Skin
and lastly,
Roasted Turkey Adobo with Kamote, Haricot Verts & Sampinit, &
Adlai Paella
The special luncheon will be capped off with a delightful Ube Cupcake made by Joey Dyhianto of Doughmestic Botanicakes who has been collaborating with Trish Panlilio at numerous events this year.
Weaving Its Way To Filipino Cuisine
Jeannie Javelosa, who leads GREAT Women says, "Mulberry Door is a woman-owned business we are happy to partner with. We can help enhance the productivity of our weavers by having their eyes checked and giving them new eyeglasses. We had wondered why our GREAT Women weavers were so slow and realized it was because many of the older weavers could not see anymore. The handloom weaving process is so intricate that they need eyeglasses to see". Any additional funds we can get from this partnership with Mulberry will also go to purchase spools of threads for the indigenous weavers.

GREAT Women is a brand platform dedicated to the economic empowerment of women. As a brand platform, it merges capacity development and enterprise collaborations to create access to markets. In the Philippines, its focus is on the sustainable supply chain of yarns, textiles, lifestyle apparel and gifts. The platform works with close to 40 weaving communities, many of them indigenous peoples around the Philippines.
Indeed, a great way to celebrate blessings and a year full of support, Trish Panlilio continues to serve luxe comfort food in a homely ambiance while continuously giving back and showing her love for all things local.
Mulberry Door
Mulberry Door is open daily from 11:00 AM to 11:00 PM at 8 Forbestown Road, Bonifacio Global City, Taguig. For more information and reservations, call (8) 810 5427, (0918) 9987474, or (0977) 4128002. For bookings and private events, email mulberrydoor@gmail.com, or send a message via Facebook (https://facebook.com/mulberrydoor) or Instagram (https://instagram.com/mulberrydoor).

nawwTy's kitchen
nawwTy's kitchen offers a la carte food orders and custom catering services for private and corporate dining for all occasions. For reservations, call (0918) 9987474, (0906) 2176497 or (8) 845-1407; email nawwtyskitchen@gmail.com; or send a message on Facebook (https://www.facebook.com/nawwtyskitchen) or Instagram (https://instagram.com/nawwTy).
GREATWomen
The Gender-Responsive Economic Actions for the Transformation of Women (GREAT Women) Project is a governance and capacity development project that aims to promote and support a gender-responsive enabling environment for women's economic empowerment, particularly those in microenterprises.
Hits: 106