Brooklyn's New York Pizza Parties Continue Into the New Year!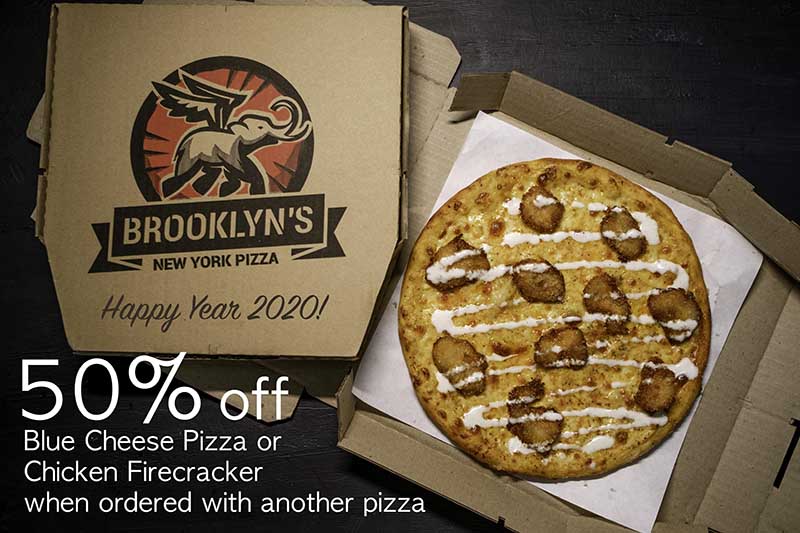 Pizza lovers, you have good reason to rejoice! You see, Brooklyn's New York Pizza continues to give you holiday cheer well into 2020 with its pizza gifts that keep on giving which they extended till January 31, 2020.
If you recall, the first gift goes like this: for every order of any of our pizzas, you'll get 50% off on either of our two new pizza flavors: Chicken Firecracker, which is topped with chicken fillet coated in our awesome Buffalo Wing Sauce and drizzled with our home-made Ranch Dressing, giving the pizza a memorable flavor profile. Or Blue Cheese Pizza, which pairs blue cheese with caramelized onions to elevate its earthy aroma and bring you back to nature. Isn't this a very exciting, easy-on-the-pocket offer?
What's more, you can still enjoy our second gift, which is the Chicken Firecracker Pizza and Blue Cheese Pizza in sets that come with Buffalo Wings, The Real Carbonara, and 1.75 L soda. Priced at Php 1,199 for the 10-inch pizza set and Php 1,499 for the 14-inch pizza set, that gives you as much as Php 600 in savings! Such great savings and truly the answer to potlucks to satisfy appetites of family and friends.
Brooklyn's New York Pizza branches are located at Ayala Town Center Alabang – 8850-9999, Ayala Malls Feliz Pasig – 8288-3004, Chino Roces Makati – 8896-9696, Madison Galeries Alabang Hills – 8788-9935, Robinsons Place Ermita – 8405-0505, Robinsons Las Piñas – 8553-3555, Tomas Morato Quezon City – 8405-0505. For more information about Brooklyn's New York Pizza, check out: FB: http://Facebook.com/BrooklynPizza IG: http://Instagram.com/BrooklynsNewYorkPizza
Hits: 54