Welcome an Auspicious Lunar New Year at Crimson Hotel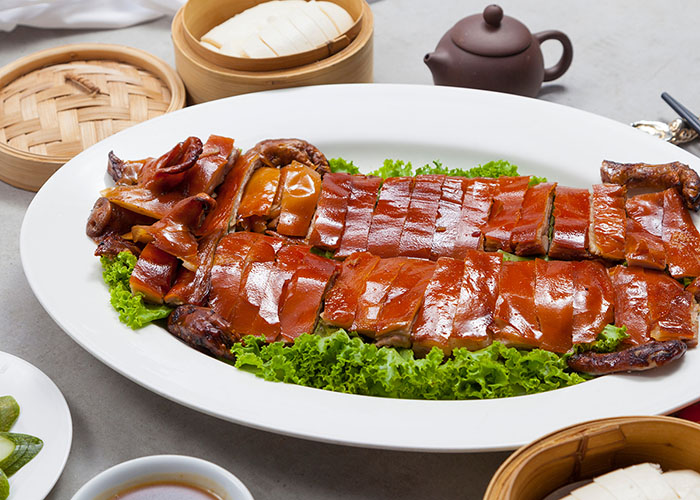 Bring your family and friends together to celebrate the Lunar New Year at Crimson Hotel Filinvest City, Manila with prosperous feasts and festive activities.
One can start their countdown to the Year of the Rat with a Chinese-inspired dinner feast at Café Eight. Diners will be served with diversified colors and aromatic flavors such as Pickled Black Fungus, Shanghai Smoked Fish, Peking duck, Hainanese Chicken, dim sum and desserts. The rate per person is P2,150 net inclusive of unlimited juices, sodas, local beers and wines. The Feast for Prosperity Dinner Buffet promotion is available at Café Eight until January 25, from 6:00 – 10:00 pm daily.
As the red decorations and loud music from the lion and dragon dance attracts fortune, guests are invited to put on their luckiest outfit and head to Café Eight to complete the festivities. Nothing like ringing in the Lunar New Year than with excellent flavors from the land of the red dragon. Crimson Hotel's culinary team will prepare a bounteous Sunday brunch on January 26 with Tofu with Century Egg and Pork Floss, Buddha Soup, Xiao long Bao, Suckling Pig, Tikoy (Nian Gao), Tangyuan, and more.
There will be a Lion and Dragon dance, kids' activity area with their buffet, and free Calligraphy for the participants. The rate per person for the Taste of Luck Sunday Brunch at Café Eight is P2,100 net inclusive of unlimited juices, sodas, local beers and wines.
Get in the spirit of Chinese New Year with the Deck Bar's auspicious "Huat's up? Pool party" on January 24. Crimson will light up the guests' Friday night with an overflowing of Engkanto craft beer and red cocktails, live DJ, bar games, and snacks to give them a prosperous vibe. The rate per person is P799 net where entrance fee and unlimited craft beer and red cocktails are included.
The Lobby Lounge is blooming with flavors that promise possibilities. Its CNY-themed afternoon tea set with savory and sweet portions such as Duck Spring Roll, Shrimp Toast, Buchi, Oolong Crème Brulee, Pork Buns, and Salted Egg Yolk Cookies offers surprises to one's palate. The Spring Surprise Afternoon Tea is available until January 31, from 3:00 pm to 5:00 pm.
For more information or dining reservations, please visit the official website at http://www.crimsonhotel.com/manila/ or call 8863-2222.
Hits: 77