You #GataTry These Coco Mama Fresh Gata Twists!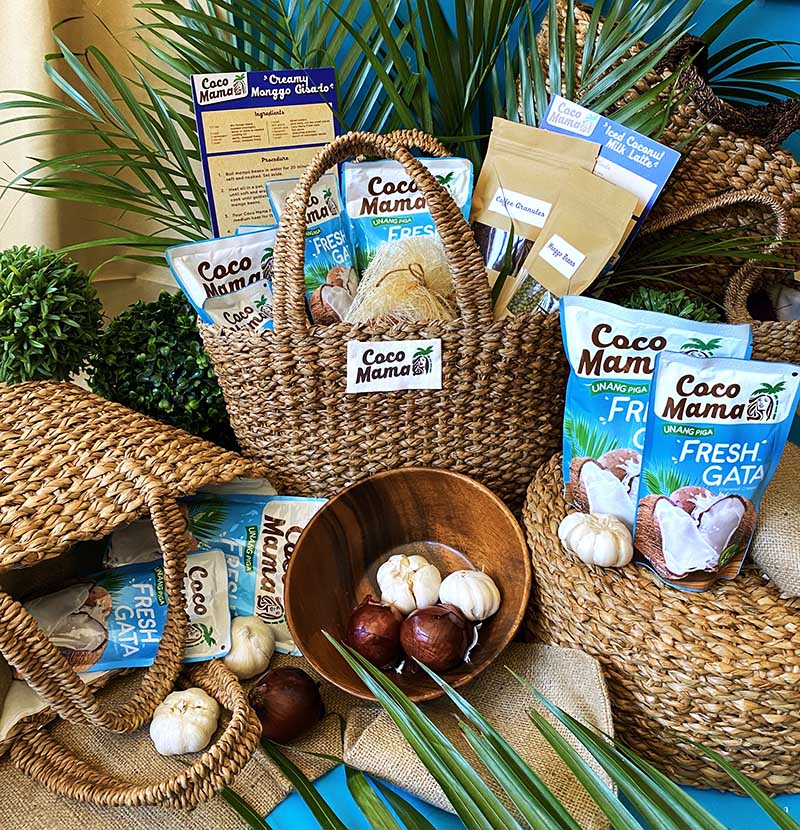 The hassles of "kayod" and "piga" are now over with the new Coco Mama Fresh Gata! It's freshly packed in a convenient pouch which you can easily store in your pantries. Proudly made in the Philippines using the country's finest coconuts, every pack of Coco Mama Fresh Gata contains coconut cream made from freshly pressed coconuts. Now you can have the "unang piga" quality any day, any time!
It's definitely a great cooking staple you can use for your usual gata favorites – ginataang sitaw at kalabasa, chicken curry, and gising-gising. You can also use it to make your beloved desserts and kakanin like ginataang bilo-bilo, biko, maja blanca and ginataang mais.
Aside from the "gata" classics, you can also add Coco Mama Fresh Gata to your other savory and sweet dishes, giving it that fresh gata twist that will surely delight your family! Love making adobo? Switch it up a bit and add gata. What about elevating your monggo guisado to a creamy veggie dish? Tired of your usual coffee? Go dairy-free and enjoy the natural sweetness of coconut in your iced latte! Indeed, the possibilities are endless with the new Coco Mama Fresh Gata!
Here are some Coco Mama Fresh Gata recipes you #gatatry!
ADOBONG BABOY SA GATA
Ingredients:
500 grams pork belly, cut into 2-inch cubes
1 teaspoon salt
1 teaspoon cracked black peppercorns
2 dried laurel leaves
2 tablespoons cooking oil
1 whole garlic, peeled and sliced
1/8 cup vinegar
1/8 cup soy sauce
¼ cup water
1 siling haba
1 200 ml pack Coco Mama Fresh Gata
Procedure:
Marinate pork belly in salt, peppercorns and laurel leaves. Refrigerate for 30 minutes.
Heat oil in a pot. Cook garlic until golden brown. Remove from oil and set aside.
In the same pot, brown marinated pork belly. Add fried garlic back to the pot. Pour in vinegar, soy sauce, water and green chili pepper. Simmer for 15 minutes.
Pour in Coco Mama Fresh Gata. Simmer again slowly over medium heat for 10 minutes or until pork is tender and fully cooked.
Transfer to a serving plate and serve hot.
Makes 3-4 servings.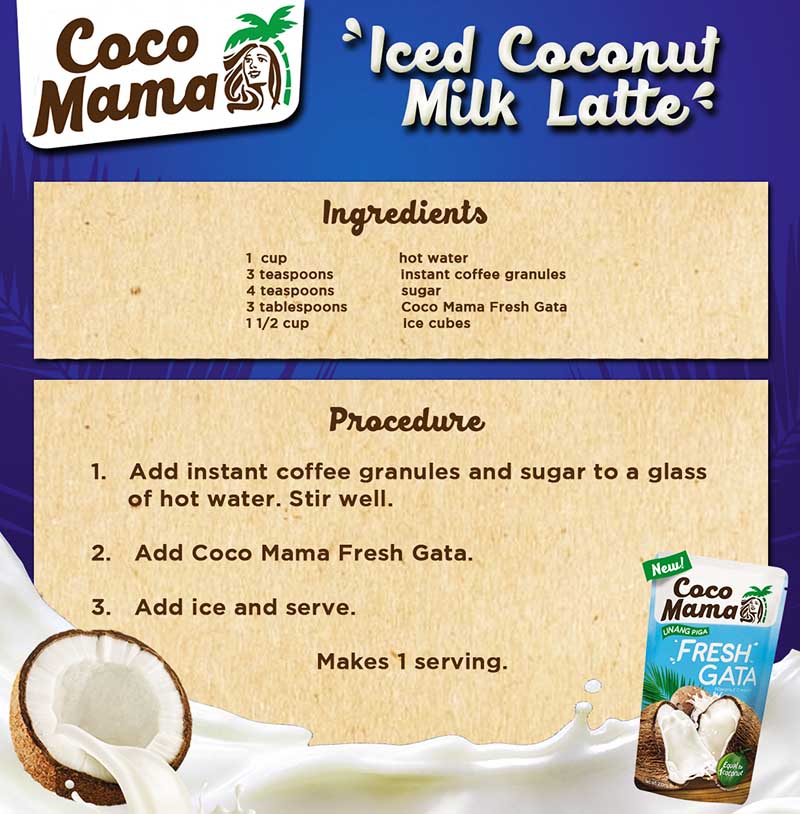 ICED COCONUT MILK LATTE
Ingredients:
1 cup hot water
3 teaspoons instant coffee granules
4 teaspoons sugar
3 Tablespoons Coco Mama Fresh Gata
1 ½ cup ice cubes
Procedure:
Add instant coffee granules and sugar to a glass of hot water. Stir well. Add Coco Mama Fresh Gata. Add ice and serve.
Makes 1 serving.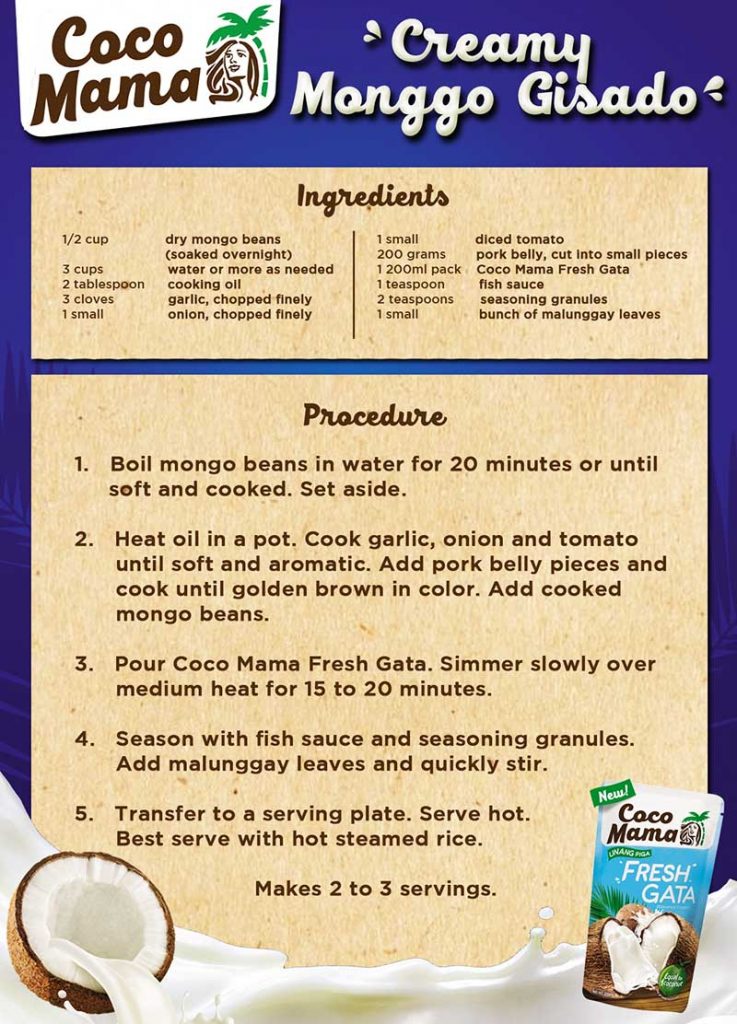 CREAMY MONGGO GUISADO
Ingredients:
½ cup dry mongo beans, soaked overnight
3 cups water or more as needed
2 Tablespoons cooking oil
3 cloves garlic, chopped finely
1 small onion, chopped finely
1 small diced tomato
200 grams pork belly, cut into small piece
1-200 ml Coco Mama Fresh Gata
1 teaspoon fish sauce
2 teaspoons seasoning granules
1 small bunch malunggay leaves
Procedure:
Boil mongo beans in water for 20 minutes or until soft and cooked. Set aside.
Heat oil in a pot. Cook garlic, onion and tomato until soft and aromatic. Add pork belly pieces and cook until golden brown in color. Add cooked mung beans.
Pour Coco Mama Fresh Gata. Simmer slowly over medium heat for 15 to 20 minutes.
Season with fish sauce and seasoning granules. Add malunggay leaves and quickly stir.
Transfer to a serving plate. Serve hot. Best serve with hot steamed rice.
Makes 2-3 servings.
To know more, like Coco Mama on Facebook
@CocoMamaPH on Instagram and
Hits: 977