A TASTE OF THAI: A culinary jewel, Thai food shines bright even in Philippine shores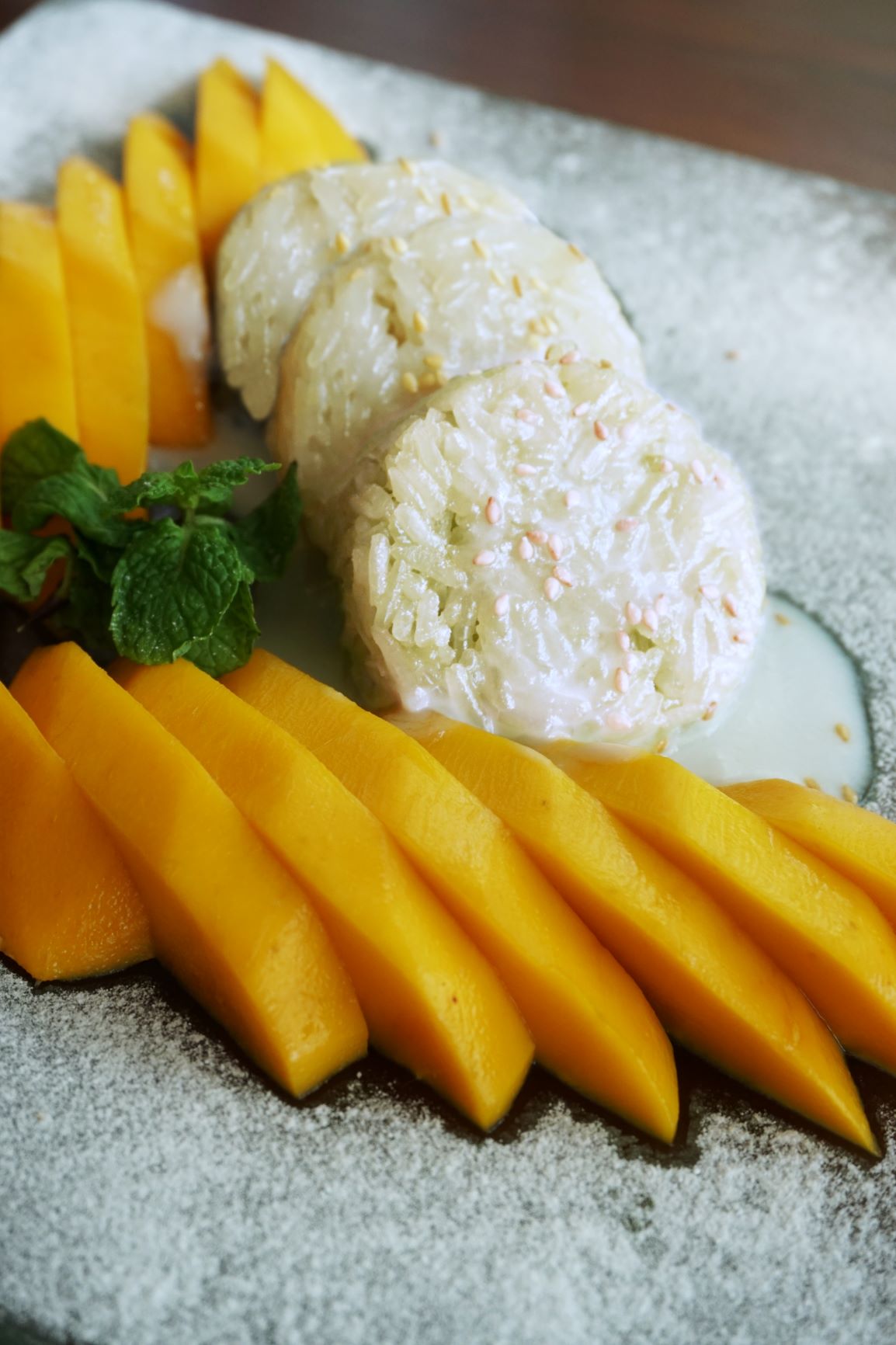 Why do you travel? Some travel to shop, some people travel to sight-see. But it's in countries like Thailand where you will find a great number of people who travel to eat.
Thailand is one of the world's most beloved culinary capitals. Their dishes are known to be rich in flavor and heartily satisfying, yet they remain to be one of the most inexpensive cuisines.
Delicious Thai food can be had at a fancy restaurant in swanky parts of town, in the food court of one of Thailand's many malls, or simply by the street—everyone's favorite place to sample Thai gastronomy.
Indeed, eating Thai food is an experience in itself. But throughout the years, good and authentic Thai food has taken the world by storm—so much so that Thai Select was established, an official seal of approval given to Thai restaurants and processed Thai food.
This encourages Thai restaurants all over the world to improve and perfect their craft of making Thai cuisine. While you wait to return to Thailand, you can still satisfy your palate as it craves the spicy kick out of Tom Yum soup, the meaty bite of Pad Kra Pao, or the peanut-y goodness of classic Pad thai wherever you are in the world.
Great news—even the Philippines has great Thai food offerings. Since leisure travel is not yet permitted, Filipinos can still enjoy a wealth of Thai dishes in various restaurants in Metro Manila, to give you a taste of the wonderful flavors Amazing Thailand has to offer.
Here are some of them: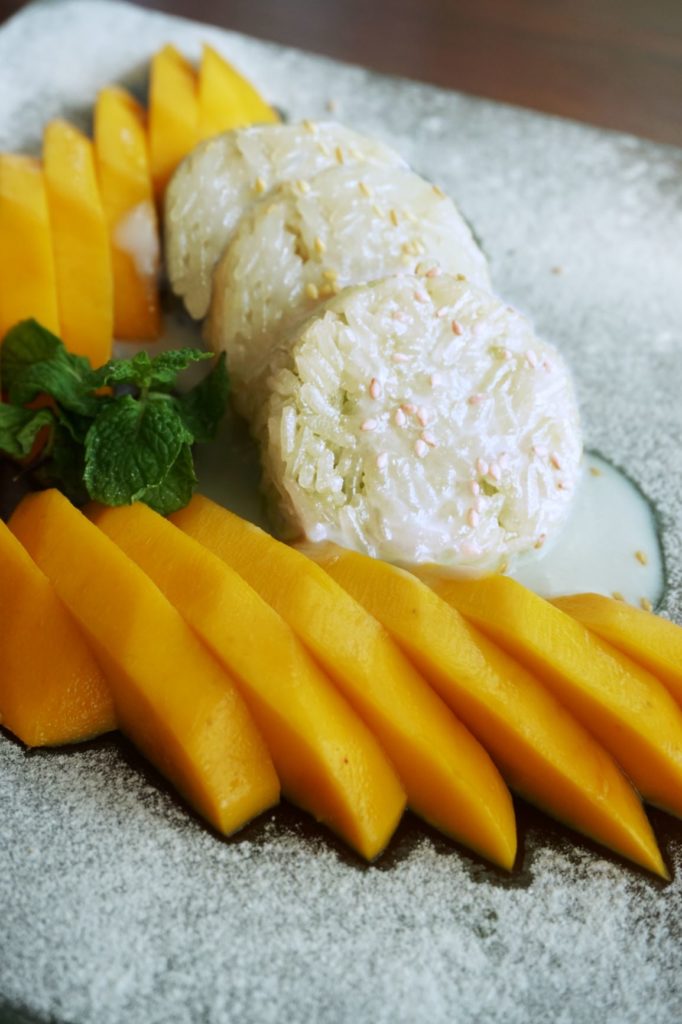 Khao Niew Mamuang (Mango Sticky Rice) at Mango Tree
More famously known as mango sticky rice, this classic Thai dessert is best enjoyed by
consuming all elements in one bite. Savor the refreshing taste of ripe mango paired against sweet glutinous rice, topped off with a lip-smacking coconut slurry that binds both elements together. Glutinous rice is a dessert staple beloved in all of Thailand.
Get your fill of mango sticky rice at Mango Tree, a world-renowned Thai restaurant franchise that offers one of the most indulgent Thai dining experiences in the Taguig area.
Mango Tree is located at 7th Avenue cor., 30th Street, Bonifacio Global City, Taguig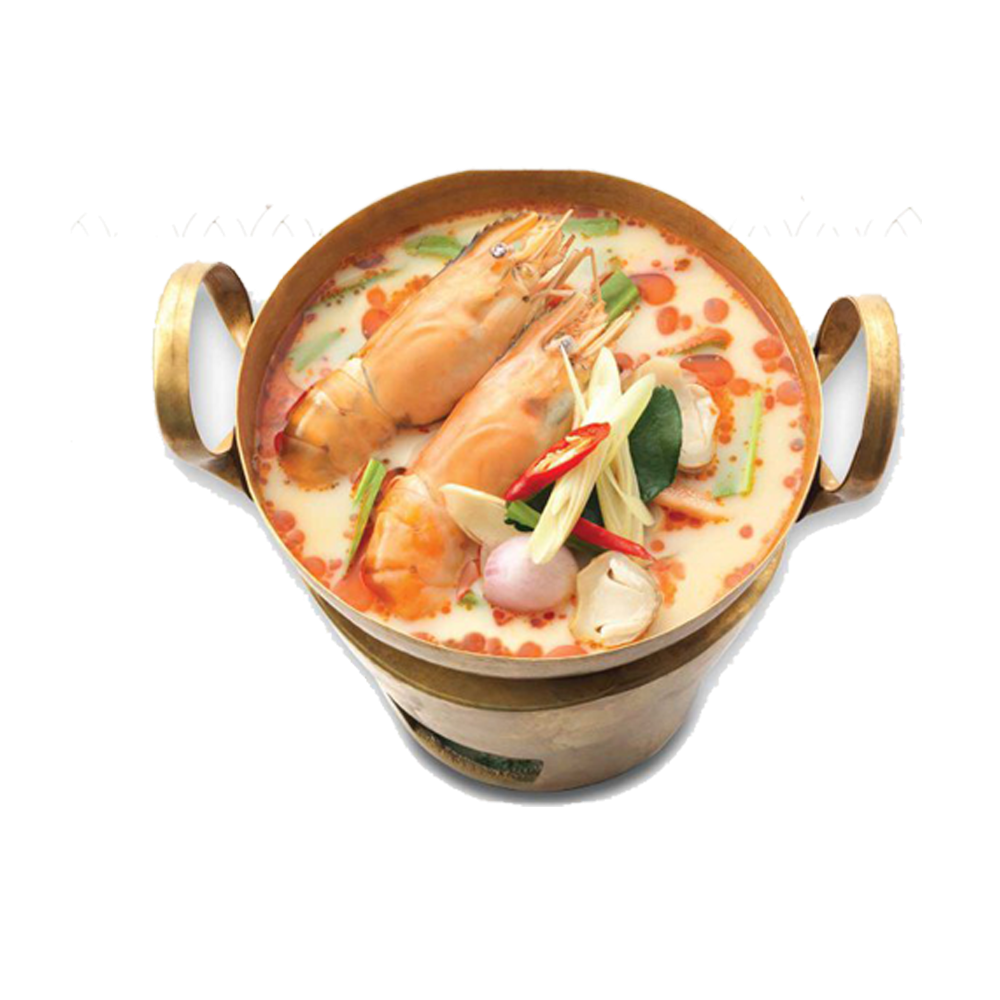 Tom Yum soup at Nara Thai Cuisine
Known for its hot-sour-herby sensation, Tom Yum is a filling soup dish that is a staple in any Thai food feast.
Originating in Central Thailand, this soup's broth is unlike any other: a mix of lime leaves and lime juice, fish sauce, peppers, galangal (a ginger-like root) and the subtle yet noticeable hint of lemongrass.
Shrimp is Tom Yum's resident protein, as there is an abundant supply of the delicious crustacean in the Chao Phraya River.
A classic Thai soup would naturally merit the mention of a restaurant that originated in Thailand itself. Nara Thai Cuisine was voted one of Bangkok's Best Thai Restaurants, and has branched out to several countries across Asia.
Nara Thai Cuisine is located at SM Megamall Fashion Hall.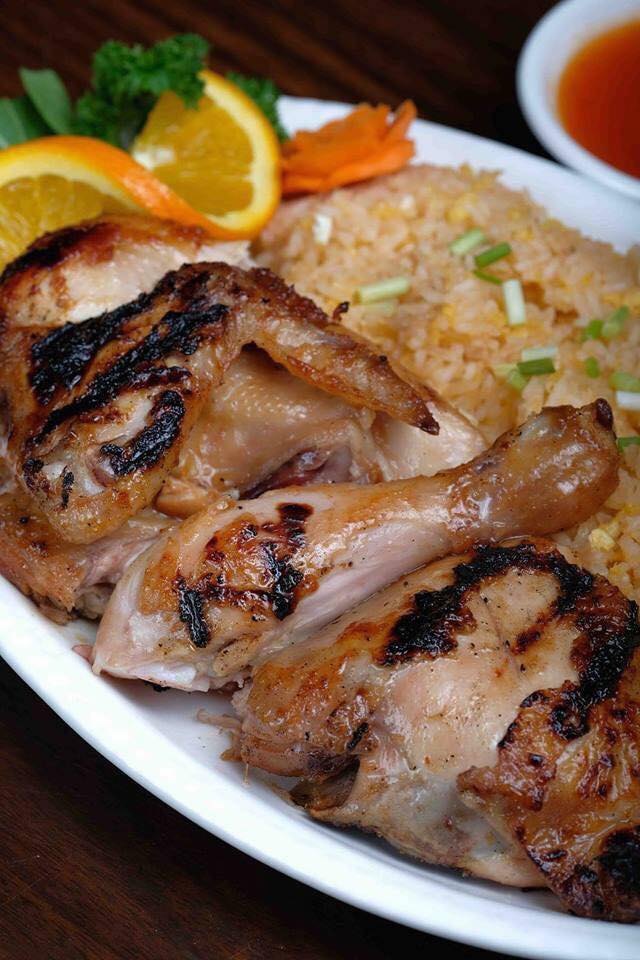 Gai Yang at Thai BBQ Original Restaurant
Meaning "grilled chicken" in Thai, Gai Yang is a Thai way of cooking chicken that originated in the Northeastern or Isan part of Thailand. It has made its way to all parts of the country as a street food choice that both locals and tourists love.
Gai Yang is not your standard grilled chicken as the meat is marinated in flavorful ingredients that make the dish distinctly Thai: fish sauce, cilantro, garlic, turmeric, lemongrass, and chilis, among others. It is then grilled over a traditional charcoal grill.
Since a trip to the colorful streetside food kiosks in Thailand is an agenda reserved for the future, a trip to Thai BBQ Original Restaurant might just satisfy everyone's craving. They serve a mean Gai Yang, hefty with meat and served with rice.
Thai BBQ Original Restaurant is located at Georgetown BGC Food Hub and Georgetown Tiendesitas Food Hub.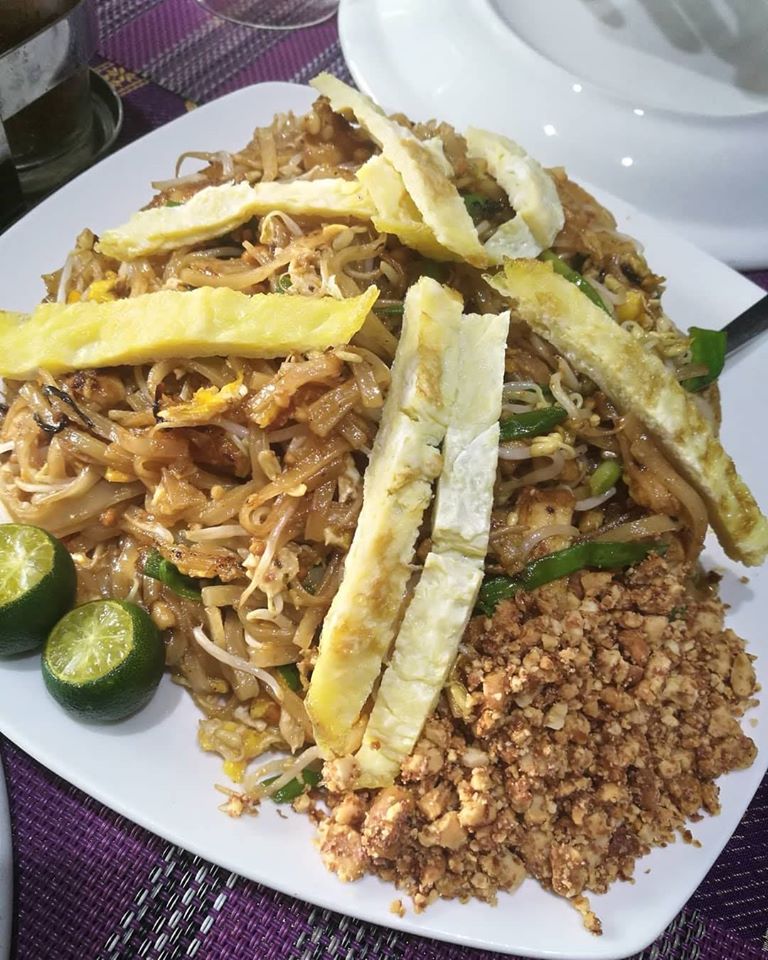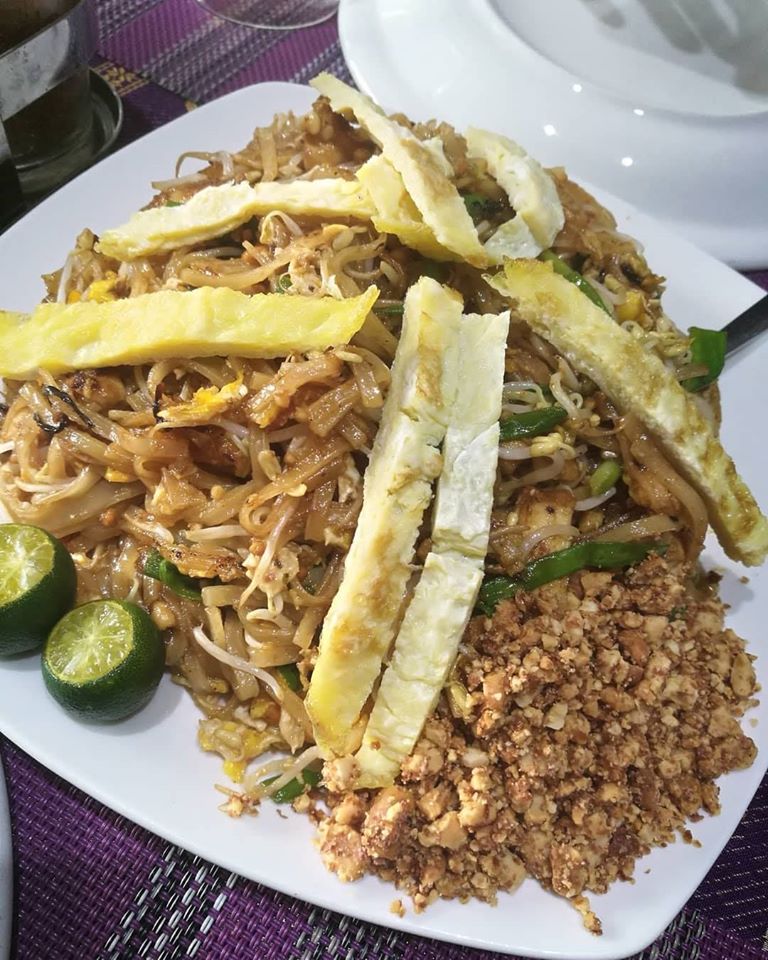 Pad Thai at Krung Thai Moo Ban
What's not to love about Pad Thai? Another Thai street food classic, the dish has won over various palates the world over with its signature flat noodles, engulfed in a variety of rich flavors from its tamarind-based sauce, crushed peanuts and the fresh sensation of crunchy bean sprouts. However, Pad Thai's interesting taste is almost matched by its colorful origins.
It was invented in the 1930s by then Thailand Prime Minister Plaek "Phibun" Pibulsonggram to promote an image of unity and nation-building in Thailand.
As such, it was literally created to be the national dish of the country, mandated to be sold in street corners—its recipe more or less standardized as a means of uniting the country.
Ask Marikina locals where the best Pad Thai can be found in their area and they will lead curious tongues to Krung Thai Moo Ban. This restaurant is one of Marikina's best-kept secrets and has been serving Thai food for years.
Krung Thai Moo Ban is located at 76 Liwasang Kalayaan Street, Marikina Heights, Marikina City Metro Manila
Pad Kra Pao Moo at Siam Sukh Jai Thai Home Cooking
A stir-fry ground pork dish using Thai basil, Pad Kra Pao is best served with steaming hot rice and a toasty fried egg. A very popular street food dish during lunchtime, Kra Pao is said to be the default dish of Thai folks who cannot decide what to get for lunch. Likewise, this dish is a sure hit for Filipinos who can't part with their beloved rice.
Siam Sukh Jai Thai Home Cooking serves an excellent Pad Kra Pao Moo. True to the restaurant's name, it's like being served a hot dish straight from a Thai home.
Siam Sukh Jai Thai Home Cooking is located at 2/L, S Maison, Marina Way, Mall of Asia Complex, 1300 Pasay City.
All restaurants mentioned above are now open for either dine-in, take-out or delivery.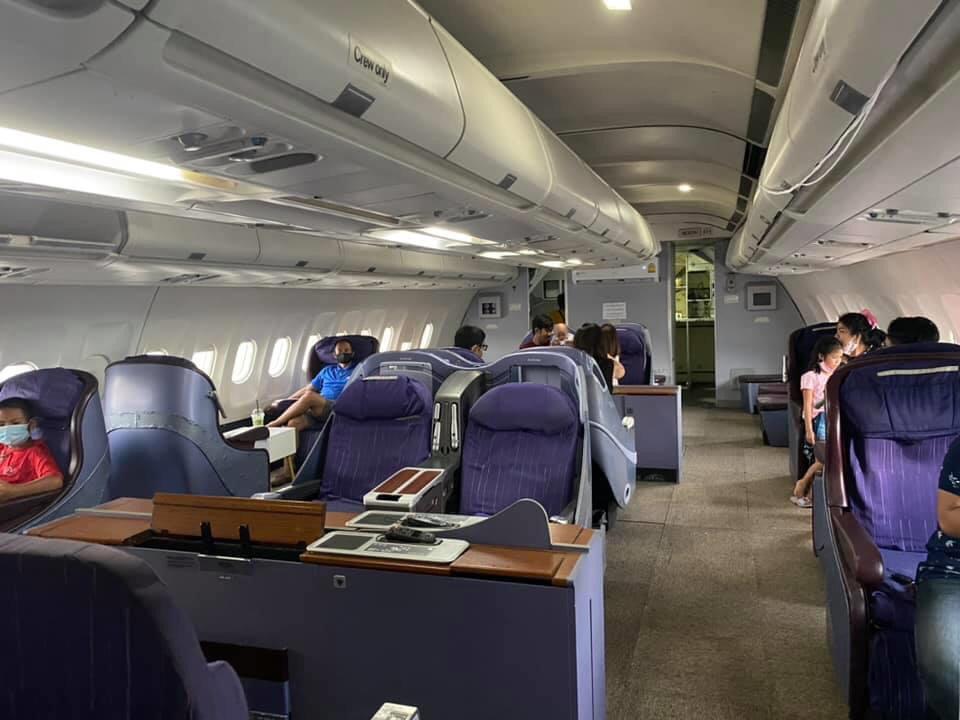 COFFEE WAR
Daydreaming your next food trip in Thailand? Whet your appetite with this new restaurant, a must-include in your bucket list of Thai eats. Coffee War is a concept restaurant in Chonburi, where Pattaya is located, an hour away from Bangkok. Why take the drive, you ask? Coffee War owes its novelty to its ambience. This restaurant is situated in a real airplane!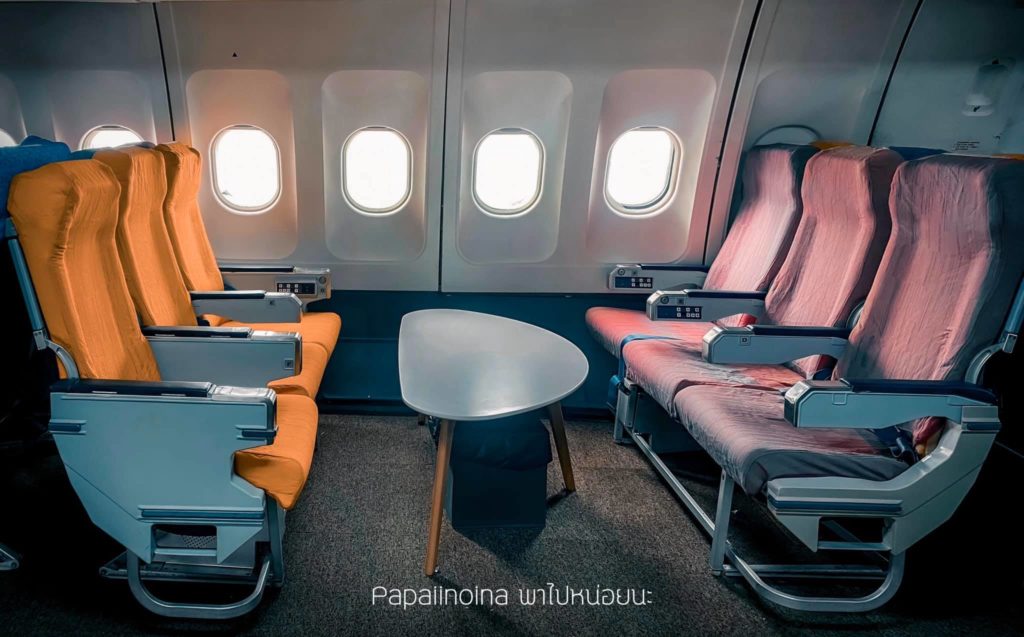 A retired commercial plane was transformed into a restaurant, only slightly renovated so guests can still feel like they are enjoying in-flight service.
Have a coffee, a cup of ice cream or choose from any of its sweet and savory treats to satisfy your hunger and wanderlust.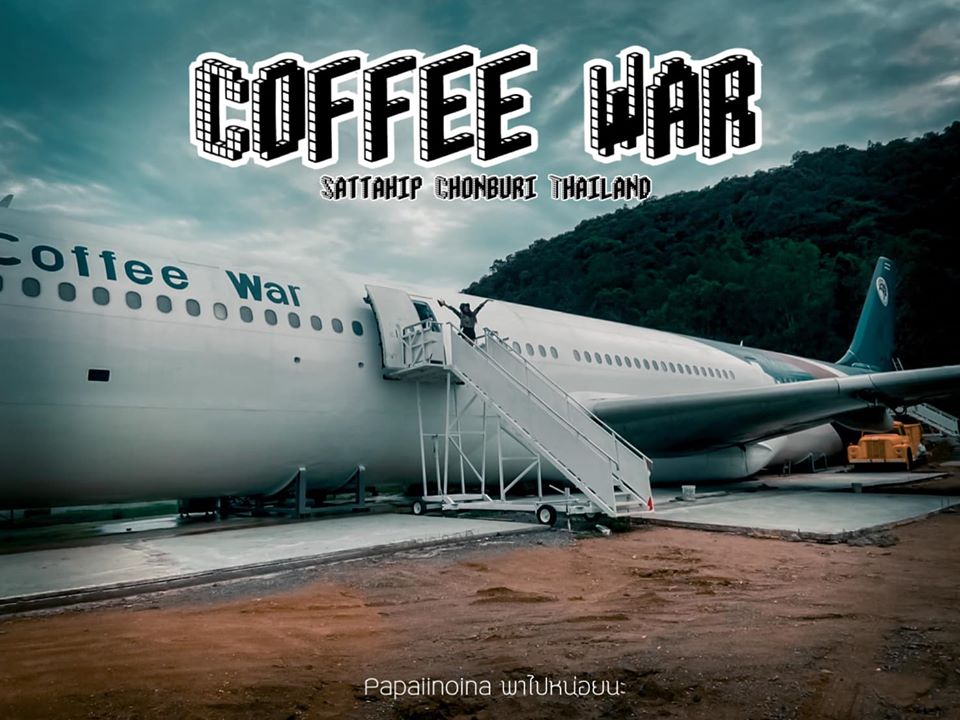 For more information on Thai restaurants in the Philippines and in Thailand, follow the Tourism Authority of Thailand on INSTAGRAM @TATPhilippines, or download the Thai SELECT app on Google Play and the App Store.
Hits: 302