Big in Japan, Now in Bagong Ilog (Ramen in a bowl) – by Bernard Testa
Finding the Balance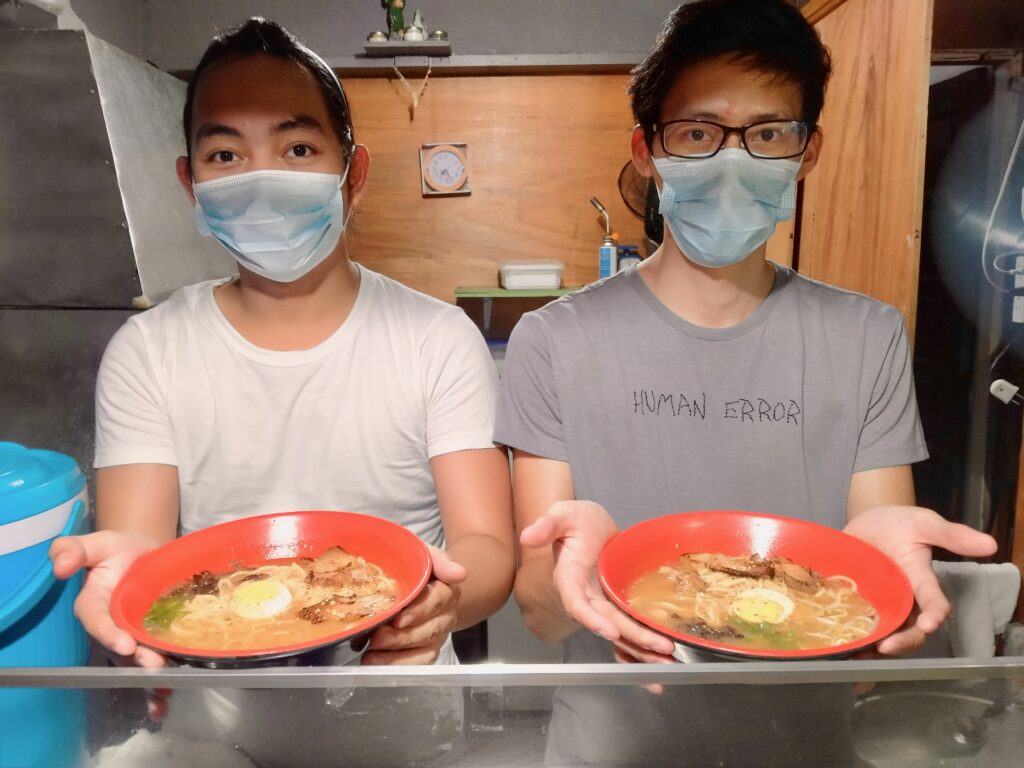 Arjay Macatangay and Aries Riñosa, both CPAs, started their business ventures in their college days. Buying and selling, investing money among other things since they are in the business of numbers. They graduated in 2016 and were planning another venture when Covid-19 put the world to stand still. 
In January 2020 they opened a TAPSILOGan joint in Pembo, Makati. In the early Tapsilog days, they are taking off slowly because of an heirloom fried rice recipe but the venture only lasted for only 3 months because of TAAL's fury. Then by March lockdown happened. No businesses and human activity were allowed except for front liners which have claimed a number of lives as well as the infected.
Their small investment has been drained to the pipes. No 'ayuda' for them in the coming months, so they only have their own backs to survive the pandemic. They try to find the balance in living the post-pandemic days and having opened up a small business to cater to the burgeoning taste buds that has been suppressed by the lockdown quarantine restriction.
When the government eased the restriction early this year, it has made them rethink their business plan. Making a sound investment and taking the opportunity after the lockdown.
Turning Japanese.
During the lockdown, Arjay watched culinary channels, food vlogs, and YouTube How to? videos and came up with a new idea of ramen or soba that is authentic in taste but with a Pinoy twist.  To Arjay's passion for cooking and Aries fondness in Japanese food 'balance' the business idea side of it. Balance is also what they wanted to end the quarantine effects on people's lives and businesses. 
Balance is an accounting term.
A Taste of Japan.
A year after, January 2021 when business was allowed, their hiatus proved to be on their side when they opened up the Ramen house in Bagong Ilog, Pasig City. It is picking up already trying to have a balance in their loss during the previous year, but another lockdown has hit the town. 
They have to make adjustments in marketing, social media platforms and since they are good in numbers, it gave them the balance they wanted, they have refined the soup based to attain the 'umami'  taste in their ramen and put their new gig in the business of hearty meals in Bagong Ilog (New River).
The just-concluded Tokyo 2020 Olympics opened up the land of the rising sun to the world again. The best tasting ramen, soba, udon, sushi, and tempura are just another icing on the cake.
The precision and work attitudes of the Japanese proved to be mettle in the post-Olympic gig.
A ramen house on this side of Pasig is worth every slurp of the bowl. You don't need to go to Tokyo or Kyodo to have a taste of that 'umami' in the clear broth of their 12-hour soup base.
The Nyuriba Ramen, (Japanese slang version of New River when googled) offers authentic ramen Monday to Saturday and can have it delivered while piping hot through courier service within the vicinity.
Hits: 987