"Let's Get The Party Started" as TikTok Music Night Returns with #HouseParty
Manila, Philippines – September 14, 2021 – The TikTok Livestream stage is lighting up again as TikTok Music Night continues into September with the theme of #HouseParty. On September 17, 2021, at 7.30 p.m. (GMT+8), TikTok users are invited to get the party started with a range of heart-thumping dance and electronic music from some of the greatest artists in Asia and beyond.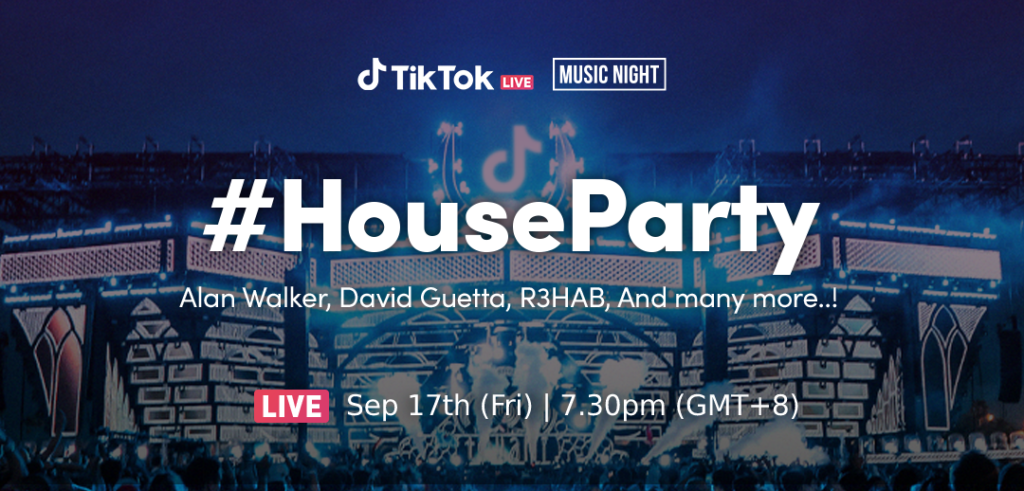 As dance music continues to take the world by storm, TikTok Music Night #HouseParty promises to keep on beat with performances from global megastar DJ artists Alan Walker, David Guetta, and R3HAB, to famous artists from across Asia such as Orange (Vietnam), SILVY (Thailand), Dipha Barus (Indonesia), Shaun (Korea), 新しい学校のリーダーズ a.k.a. ATARASHII GAKKO! (Japan), CORSAK (China) and MJ Kuok & MYRNE (Singapore).
In addition to world-renowned performers, the stellar line-up includes bbno$ (United States), Weird Genius (Indonesia), Violette Wautier (Thailand), and Lesha (Philippines) – artists who've successfully launched their music career on TikTok and got discovered through the platform.
The Livestream event will be broadcasted exclusively on the TikTok app on September 17, 2021, at 7.30 p.m. (GMT+8) via @TikTokMusicNight.
Pumped to find out who will be performing? Check out the full line-up below:
TikTok Music Night first started in October 2020 and has since expanded to other countries across Asia, including the Philippines. This is the 9th edition of TikTok Music Night, and TikTok is proud to be a platform for emerging and established musicians alike to reach new fans. Recent editions of TikTok Music Night featured internationally-acclaimed artists like vault boy, Pentatonix, Lauv, Conan Gray, MAX, and Pink Sweat$.
Hits: 307