Mega Global celebrates 3rd National Sardines Day with successful Mega Bigay Sustansya Program, business updates and first-ever Mega Sardines Piso Sale
As the Philippines marks this year's National Sardines Day, Mega Global Corporation, the company behind Mega Sardines, the leading sardines brand in the country, honors it through a program that supports undernourished children nationwide, even as it focuses on innovations and expansions that will help drive the company move forward.
Mega Global Celebrates 3rd National Sardines Day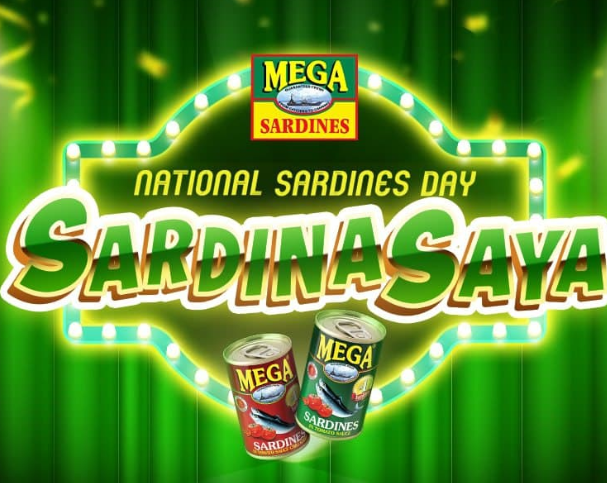 To add more meaning to the National Sardines Day Celebrations, Mega Global showcased its various initiatives that would help elevate not just the Philippines' sardines industry, but the economy and people's lives as well, at a roundtable event held on November 23 to kick off the celebration of the holiday on the 24th. Alongside this, it has also shared the successful results of the Mega Bigay Sustansya Program, which was done in partnership with Reach Out Feed Philippines (ROFP), reflecting its deep malasakit for Filipinos.
Marvin Tiu Lim, Michelle Tiu Lim-Chan, Chris Fernandez, executives of the Mega Global conglomerate, alongside Dawn Marie Cabigon, founder and director of Reach Out Feed Philippines were present at the event to discuss how the Mega Bigay Sustansya program will bring long-term gains to its program beneficiaries.
Mega Bigay Sustansya (MBS) is a CSR program led by the Mega Tiu Lim Foundation that hopes to give a meal planning and distribution program to over 881 children nationwide. The program has supported children in six provinces nationwide for sixty days. Children ages 4 to 12 have received house-to-house delivery of meals every day that included at least one sardines meal, made using Mega Global's nutrient-packed high-quality sardine.
"Mega Bigay Sustansya is one way for us to support communities who need us the most. Canned sardines is one of the Filipinos staple foods throughout the years and through this program that target to feed malnourished children all over the country, we hope to use the same staple product to nurture the health of these children and sustain it through leave-behind materials that will help them prepare nutritious meals in the long run," Marvin Tiu Lim, Chief Growth and Development Officer of Mega Global said.

On top of the updates on Mega Global's MBS program, Mega Global executives have also shared in the discussion how they strived to continue elevating the sardine industry through innovations and the building of new infrastructures. These expansions would maintain the double-digit growth of the company in 2022, allow it to create a more sustainable avenue in producing their products, as well as create new products that will surely be a hit to its customers.
For the past 46 years, Mega Global has been leading the way in supporting Filipino communities through its investments in the sardine industry, which has provided job opportunities for thousands of Filipinos. The company continued to upgrade its Zamboanga facility, where its state-of-the-art operations, including its can-making plant and offices, are based. As part of its sustainability endeavors, it is using solar energy for its warehouses.
Mega Global also discussed details about a new plant in Batangas that will be opened next year. Located in Sto. Tomas, Batangas, will house state-of-the-art technology in manufacturing using sustainable energy sources and is expected to help add dynamism to the economy as it continues to recover from the effects of the pandemic.
Mega SardinaSaya: Game Show Bonanza
On November 24, Mega Global will also be celebrating National Sardines Day with an online game show bonanza. Kicking this off is an Instagram and Facebook challenge that will determine the players for the much-awaited Pera or Sardinas game during the online event which will be broadcast live on Mega Sardines's Facebook page and Shopee app.
The game show bonanza will have three major segments representing the tagline of Mega Sardines: Sarap, Saya, and Sustansya. For the Sarap segment, Mega Sardines' ambassadress Judy Ann Santos-Agoncillo will do a cooking demo that will serve as an introduction to new dishes that mommies can easily create for their loved ones.
For the Sustansya segment, the audience can learn about the Mega Bigay Sustansya program, the company's nationwide feeding program being undertaken in communities around the country with the help of its partner, Reach Out Philippines Foundation.
Lastly, there will be a series of virtual games for the Saya segment where fun games such as Pera or Sardinas, Call A Ka-Mega, and Trivia Game will be available for the audience to participate in. There will also be a grand raffle, where they have the chance to take home a wide selection of prizes.
For added fun, Mega Sardines is launching a Tiktok Challenge where participants can show off their moves and have some fun in the process of creating videos to win prizes. Mega Sardines is also holding an eye-popping piso sale in Shopee for Mega Sardines in Tomato Sauce, Tomato Sauce with Chili Added, Corned Sardines, and Mega Fried Sardines in Tausi–definitely a sale that will have customers rushing to add to cart!
Get ready to join and have fun on National Sardines Day with Mega Global! Check out Mega Sardines's Facebook page for more information.
Hits: 449