Forget your ex; the return of Taco Bell's Baja Chalupa is the only comeback you'll need in your life
Since the opening of its first store in the country, Taco Bell has been continuously bringing Mexican-inspired food experiences to Filipinos, introducing new dishes and reintroducing some every now and then to keep things exciting for foodies. And now, the brand is bringing back one of its most beloved offerings: the Baja Chalupa!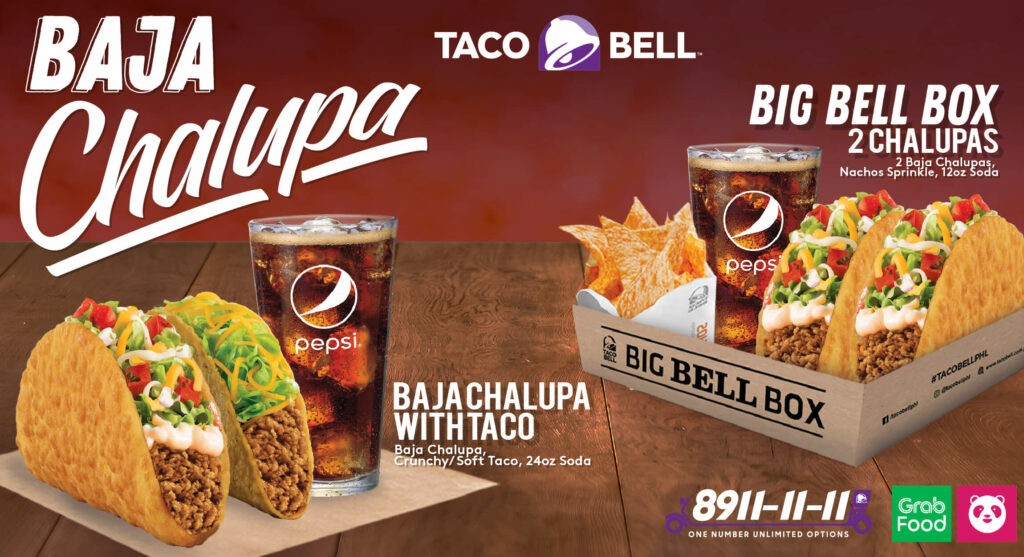 Experience a different kind of taco with this all-time favorite! It's made with Mexican-style seasoned ground beef that is topped with a special sauce for even more flavor, and then garnished with shredded fresh lettuce, diced tomatoes, and grated cheddar cheese, all nestled in a thick, yet crispy and chewy chalupa shell that is warmed to perfection.
The Baja Chalupa is priced starts at P149 a la carte, and you can make it a full meal with a side of nachos sprinkle and a 12oz cup of refreshing soda for an additional P70. But if that's not enough to satisfy your craving, you can also go for one of the two new sets featuring the Baja Chalupa—or both, we won't judge!
First is the Baja Chalupa + Taco set, priced starts at P279. You'll never go wrong with a serving of Baja Chalupa that's made even more exciting with a serving of Taco Bell's classic Crunchy/Soft Beef Taco. The set also comes with a 24oz cup of refreshing soda for a meal that will give you a bang for your buck!
On the other hand, there is the Double Chalupa Big Bell Box, priced at P379. Help yourself to not just one, but two servings of Baja Chalupa and a side of nacho sprinkles, and then wash it all down with a 12oz cup of ice-cold, fizzy soda. It's a meal that will surely satisfy even the hungriest of eaters!
The Baja Chalupa will be available until supplies last, so order now if you don't want to miss this unique taco experience. Enjoy your favorites from Taco Bell anytime by visiting the nearest branch near you for take-out orders, or call the 8911-1111 hotline and have them delivered straight to your doorstep! You can also order through Taco Bell's official delivery partners GrabFood, foodpanda, and Pickaroo!
Don't miss out on the latest updates, offers, and deals by giving Taco Bell a like and following the brand on Facebook, Instagram, and Twitter!
Hits: 3554