The FIRST EVER FLOATING PLAYGROUND in the NORTH is Ready to Make a BIG SPLASH ON JANUARY 30
Paoay Lake Water Park is the FIRST EVER FLOATING PLAYGROUND in the North!  4,200 sqm of inflatable fun with OVER 30 OBSTACLES for the ULTIMATE experience! It is floating on the waters of Paoay Lake, located in Barangay Suba, Paoay, Ilocos Norte.
GET READY FOR AN EXPERIENCE OF A LIFETIME!
Climb, jump, and slide on a MASSIVE inflatable playground! Loaded with fun obstacles such as classic playground elements with a watery twist: Tarzan swings, monkey bars, giant slides, wiggle bridges, fun walkway ladders, crazy ramps, and don't miss the giant Inflatable Pool sitting in the middle of the floating island!
For an action-packed experience on the lake, dare to try the waterpark's insanely fun signature inflatable obstacles such as the 10-meter High Tarzan swing and a Human Launcher for your best cannonball! Oh, the thrill of being LAUNCHED RIGHT UP IN THE SKY!
And get this, Paoay Lake Water Park is the HOME OF THE WORLD'S FIRST EVER SQUID GAME-INSPIRED INFLATABLE OBSTACLE! Choose your path on the bridge and make sure not to fall in the water! For those who are obsessed with the show, this is the closest you can get to get the Squid Game experience without the life-threatening consequences of course!
ESCAPE TO BALI IN THE NORTH
The feed-worthy I'M IN Lounge offers a STUNNING lake scape – boasting 120 BLUE & PURPLE Bali-inspired umbrellas giving you an idyllic Santorini setting.
STRATEGICALLY LOCATED AT THE PAOAY LAKE
The waterpark will not only enhance the natural heritage that is Paoay Lake but also provides sustainable livelihood and income generation opportunities to the locals amid the pandemic. The Food Park will house small business owners selling their products and services. To give chance & to support multiple local businesses, selling at the Food Park is open to all and will be scheduled accordingly.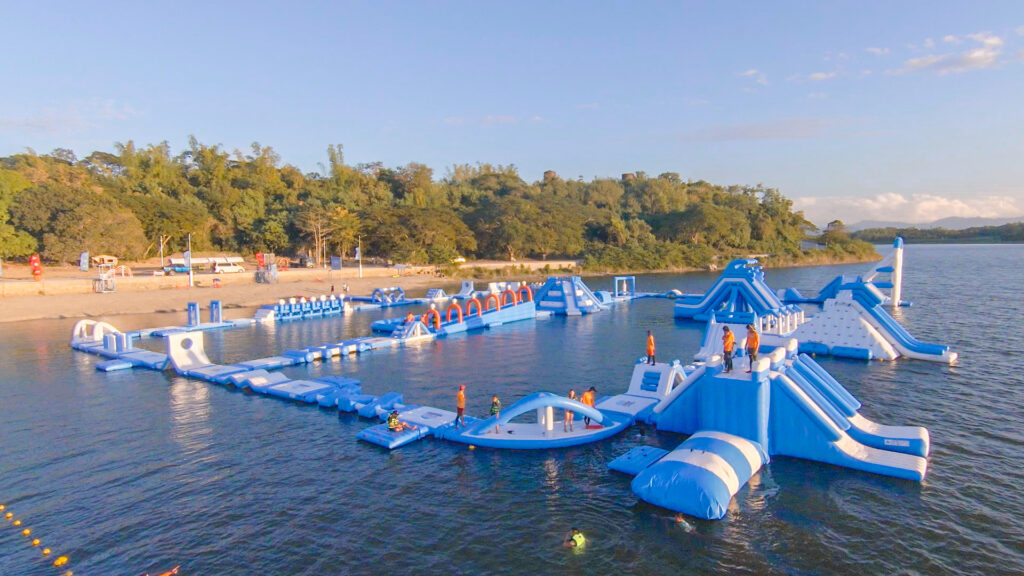 The said demographic has been long eyed by the local government to unlock its potential to boost eco-tourism in the Region & maximize local economic benefits while directing financial contributions to the conservation and beautification of the natural heritage. The waterpark will change the way people enjoy Paoay Lake by adding a BIG extra to the open waters.
The Paoay Lake Water Park's Inflatable Island underwent environmental impact assessments and has been granted consent to operate. With coordination and under the strict guidance of the necessary government authorities, the water park aims to promote sustainable tourism. Intended to have a low environmental impact, the waterpark is manufactured to be independent from constant air inflation meaning minimum energy consumption. Furthermore, the waterpark fosters socially responsible travel, which involves zero fuel so as to not have a personal carbon footprint nor foment water pollution.
WHO CAN ENJOY PAOAY LAKE WATER PARK?
The young and the young at heart can all come together for a fun and unforgettable experience with their family, friends, and even strangers! This park is suitable for kids and adults! Of course, #1 priority is safety! Lifeguards are on duty, and everyone must wear a life jacket (No worries! Life vests are supplied!)
WONDERING WHAT TO WEAR? READ ON!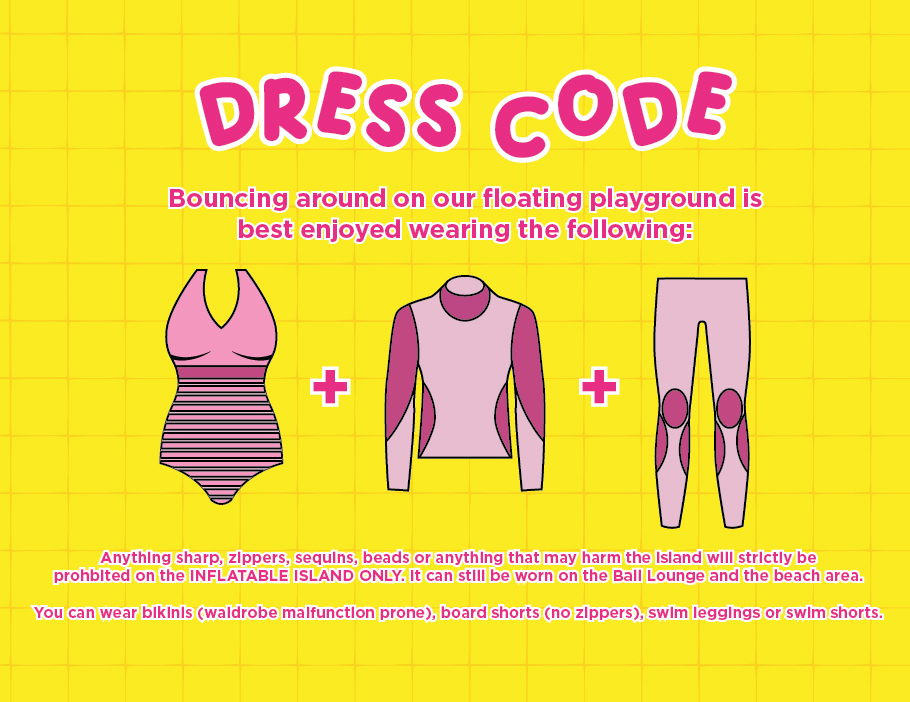 For the best bouncing experience, we recommend wearing rash guards and swim leggings/shorts. This is a wipeout workout – you will slip and slide so you better have the best outfit to match it!

We also still do recommend bringing bikinis and/or board shorts so visitors can take their Instagram Feed Goals at the I'M IN Lounge before going into the fluffy playground!
PARK SCHEDULE & TICKET PRICES!
HURRY! BOOK NOW BEFORE SLOTS RUN OUT!
Paoay Lake Water Park access starts at 8:00 am and ends at 6:00 pm. You can choose your Inflatable Play Pass access! Two-hour (Splash), Half-day pass (Spray) is from (morning) 8:00am – 12:00pm or (afternoon) 2:00pm – 6:00pm, and whole day unlimited inflatable play (Soaked)
All play passes (two-hour, half-day, and whole day) have WHOLE DAY ACCESS to the I'M IN lounge and Food Park. Visitors must arrive 30 minutes before their scheduled time to make room for the signing-in process, safety instructions, and life vest fitting.
EARLY BIRD PROMO ON GOING! Save up to P100 on Play Passes!
SPLASH: P349 from P399 Regular Rate
SPRAY: P399 from P499
SOAKED: P499 from P599
Advance reservation is highly recommended so book your slots now at www.theinflatableisland.com
Hits: 558