The Komo digital banking experience: keeping you in control even when on the go
With places to be and things to do, it's not that simple to insert new tasks into one's already busy day. From long working hours, to finishing chores, to setting time for leisure, it's clear that we need time-saving solutions in our everyday lives. With modernization still a global trend, using digital banking services is an ideal life-hack.
When it comes to finances — paying bills, visiting a branch, or needing cash while you're going out — we all have needs that must be met. This is why having a mobile service that gives you control and lets you bank whenever you need to is crucial in the new normal.
Komo, powered by EastWest, is the digital banking service that can go beyond meeting your needs while seamlessly fitting into your on-the-go lifestyle. With numerous easy-to-use features, Komo ensures you meet your daily banking needs without interfering with your schedule. Beyond the basics, Komo also offers you tools that can help you build money management habits, setting you up for total control not only of your time but also your finances.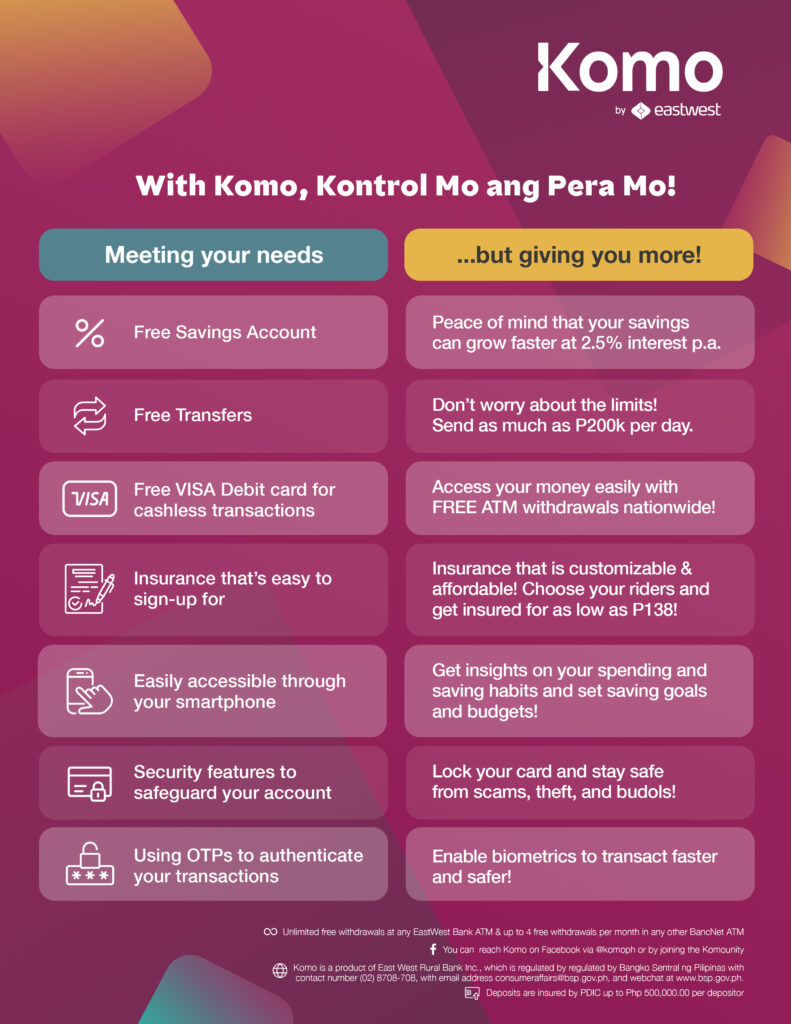 Real banking on the go
As a fully digital platform, Komo is always available whenever you need it. In need of a savings account? Save time and effort from going to a branch and lining up. Instead, open an account for free in just minutes whenever and wherever you are with just 1 valid ID, the Komo app, and a stable internet connection. Just download the Komo app for free on your iOS or Android device Market and you are all set.
Ever experience being on vacation and suddenly needing cash? Each Komo account comes with a free VISA debit card that enables you to do cashless transactions and lets you withdraw for free nationwide — without worrying about withdrawal fees! Speaking of traveling, on the app you can generate your own authorized bank certificate which allows you to apply for visa applications without visiting your branch.
Ever have problems waiting for an OTP because of poor SMS network issues? Wth Komo, you can always transact even when your SMS OTP is delayed! Using biometrics, you can authorize transactions with just your face ID or fingerprint for a quicker and more secure experience!
Securing your present and your future
Get peace of mind that your savings are actually growing. At a 2.5% annual interest rate, Komo allows you to park your money and lets it earn faster than traditional institutions.
Transactions and log-ins are already secured with your biometrics via the app for a safe, seamless, and OTP-less experience, but Komo takes security one step further by allowing you to lock your card via the app. So when you're traveling abroad, or always out and about, or generally magastos, you can rest easy knowing you can safeguard your account from theft, fraud, and even budols!
Lastly, Komo offers you the opportunity to build your own insurance plan. Gone are the days of having to go to a bank or needing to talk to an agent — in just a few taps you can get comprehensive protection that meets your lifestyle and your budget (as low as P428 per year!)
Building solid money management habits
Saving up for a rainy day or that next vacation? Tired of trying to set goals and budgets but not being able to stick to them?
Komo not only grows your money faster but also helps you build smarter money habits. With tools like Analytics and Personal Finance, you get to track your expenses, gain insights from your cash flows, and visualize your savings goals progress. On just one free app, you're able to build better decisions when it comes to money management.
Juggling work, leisure, and urgent needs can be challenging. Komo's here to make banking convenient and hassle-free, allowing you to meet your financial needs while you're on the go. More than just an app, Komo is the perfect choice for your money-smart journey in this new normal. Just tap this link and download Komo today!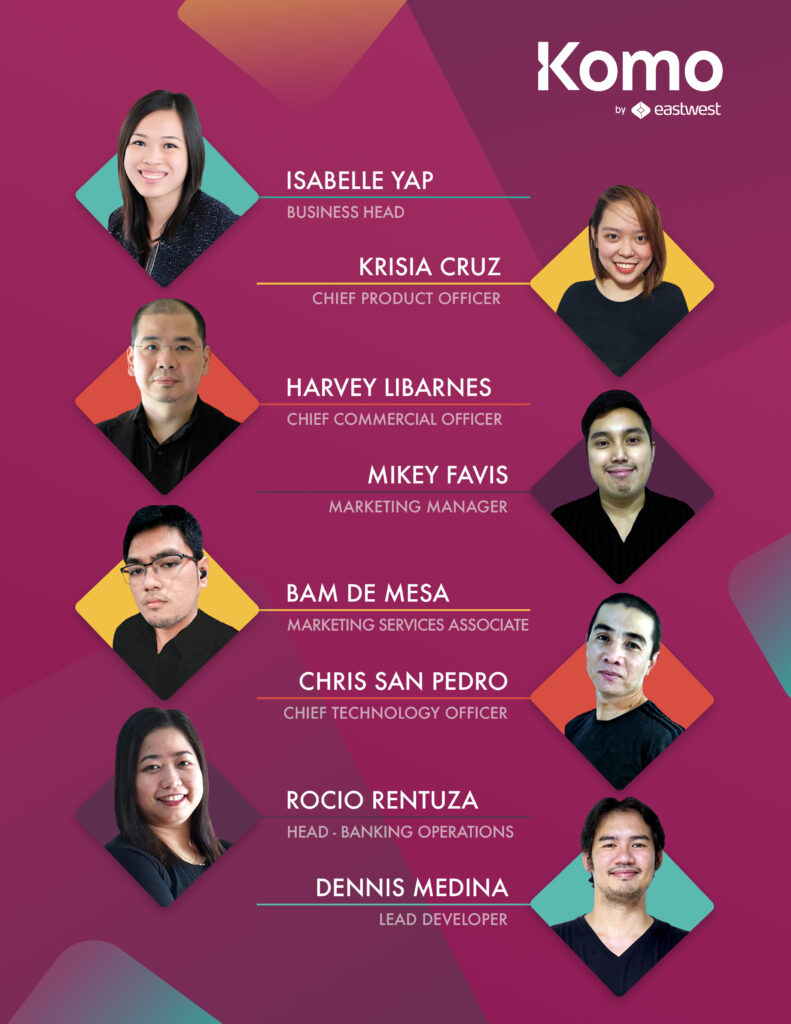 Hits: 434