4 Reheating Tips for Better Microwave Cooking
Knowing how to reheat food properly using a microwave is a valuable skill, especially for people that are always on-the-go. Besides the convenience of having food ready in minutes, reheating also allows you to free up space in your fridge, reduce food waste, and have a second chance at savoring the flavors of last night's takeaway. No matter how much of a whiz you are when it comes to cooking, it takes the right know-how to reheat your leftovers in a safe and skillful way. And even if you've got a brand new microwave oven, haphazard reheating practices could result in food that is flavorless, too cold, dried out, or even unsafe to eat.
Some people have mastered the art of reheating through trial-and-error, but there are certain rules for ensuring that reheated dishes retain their texture, flavor, and edibility. Before sending your still-good takeaways straight to the garbage, try these tips first so you can microwave-cook them like a real expert.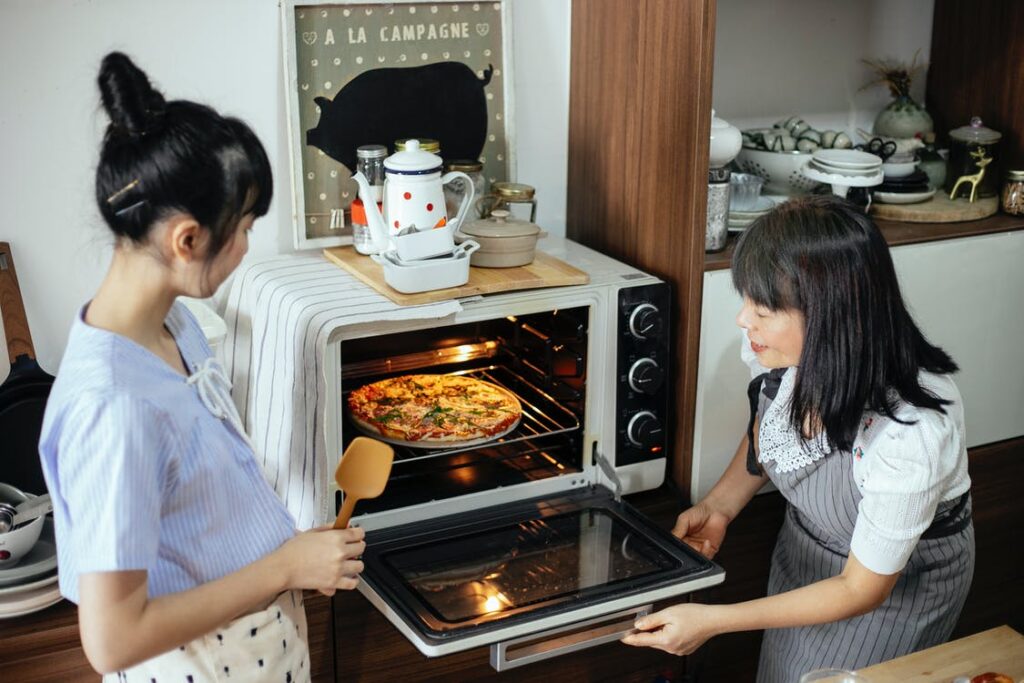 Spread Your Food Evenly
The key to tasty leftovers is well-dispersed heat. Avoid piling food on top of each other so that the microwave can heat your meal through the middle and not just the outer edges. It's best to spread your food in a single layer to ensure equal heating across all components of the dish.
If you're reheating a burger, make sure to warm up the patty and buns separately as each component will have different heating requirements. For multi-course meals, it's best to start with dense food items such as pork chops. Remove raw ingredients such as fresh herbs and vegetables prior to reheating and add them back to the dish before serving to maintain the meal's freshness.
Use the Right Containers
We've all heard that using aluminum foil for reheating can be dangerous, but did you know that you should also be wary of keeping plastic containers and metal handles away from your microwave as well? If you plan to heat food in the containers they were originally stored in, first check the packaging labels to ensure that they are microwave-safe.
For plastic containers, it's best to avoid using them for dry foods to prevent the infusion of toxic chemicals that come with melted plastic. You should also avoid single-use plastic containers designed for condiments such as yogurt, margarine, and cottage cheese. If you're going to use plastic wrap, make sure that the wrap doesn't touch the food. You should also ensure that steam can properly escape by wrapping the food lightly.
Styrofoam can be safe to use as long as you instantly stop heating once the food is warm. Paper is also safe to use for reheating except for newspapers, which are unsanitary, and brown paper bags which can easily catch fire. Other materials to avoid are cracked ceramics and metal pans, which are inefficient in heating food.
Practice Correct Timing
When it comes to reheating, it's best to do it in intervals. To make sure that radiation properly penetrates the dish, try cooking in intervals of 30 seconds to a minute. A total reheating time of 3 minutes should be the sweet spot for soups, interjected with pauses every 60 seconds to stir the contents and prevent cold spots. Doing this can also help retain the flavor of dishes with butter- and oil-based sauces.
For most meals, 2 minutes on a high setting is ideal, especially if you want to avoid giving meat a tough and chewy texture. You should also add an extra minute for letting the dish sit. If the meal isn't warm enough for your taste, try setting your microwave on high and heat the dish for another 30 seconds. For baked goods, prolonged reheating results in an undesirable leathery texture. Around 45 seconds is a good ballpark for reheating your favorite desserts.
Provide Enough Moisture and Covering
Microwaves have a tendency to dry out food, causing unwanted results such as gummy noodles and burnt cheese. Before putting your leftovers in the microwave, add a bit of water or sauce to prevent moisture from escaping. For dishes with rice, add a tablespoon of water and set your microwave on high for 1 minute and 30 seconds. You can also place a damp towel over your plate to retain moisture in your food. Other alternatives include wax paper, white paper towels, parchment paper, and microwave-safe plastic wrap. Paper towels and napkins can also prevent sogginess when placed under pizza as the paper absorbs moisture and oils.
If you're reheating pasta, try pouring 1 tablespoon of vegetable oil or olive oil on top of the dish and reheating it for 1 minute at a low temperature or around 30 seconds on high. This will prevent the pasta from hardening and drying out. Make sure to cover your container before reheating to prevent the sauce from splattering inside the microwave.
Turn Up the Heat—Mindfully!
Microwave ovens are among man's greatest inventions for getting food hot and ready to eat with little effort or time required. With enough patience and foresight, anyone can master the art of reheating with these ubiquitous kitchen appliances. Before you pop in last night's extra servings to your microwave, make sure to follow these tips to ensure that your food remains safe, warm, and tasty as you relax at home.
Hits: 512