Bravo to delightful celebrations with Conti's
Cakes are not just desserts. They are also a symbol of celebration or expression of strong feelings such as love, adoration, or gratitude. For some people, cakes are special not only for the taste but also for the personal meanings or stories they carry in their lives.
These are some of the sweet people and delightful stories that popular cake brand Conti's Bakeshop and Restaurant have served these past 25 years.
For Mary Buensuceso's mother, the iconic Conti's Mango Bravo captures one of the best things that her hometown is known for. "Taga-Guimaras siya, so every time na kinakain niya 'yung Mango Bravo pakiramdam niya nasa Guimaras sya. Narereminisce nya 'yung pagkabata niya. Kaya favorite talaga niya ang Mango Bravo." ("She's from Guimaras, so every time she eats Mango Bravo, she feels like she's in Guimaras. She's able to reminisce her childhood. That's why Mango Bravo is really her favorite.)
That's quite an endorsement from a native of what's considered the home of the best mangoes in the Philippines. The cake has become a favorite of Mary and her brother, too, and they look forward to enjoying it as a family on their mother's birthday. "Talagang nasa satisfy kami," Mary stresses. ("We are really satisfied.")
More than that, Mango Bravo has become special to them because it's "like the celebration of the life of our mom every year." Mary's mom is a breast cancer survivor and, knowing full well that the illness can recur at any time, the family is overjoyed at every birthday she gets to mark.
"Every year is like a celebration of life," Mary notes. "Natatawid namin 'yung years na kasama siya, and kasama namin siya every single day. So, we make the occasion special and napili namin yung Conti's na maging part ng celebration ng family. Happy kami pag birthday ng mom ko kasi super happy din siya." (We're able to go through the years with her, and we're with her every single day. So we make the occasion special, and we chose Conti's to be part of the celebration of the family. We're happy when it's my mom's birthday because she's also super happy.")
For university professor Mye Icamina-Maravilla and her family, the Mango Bravo has been a part of birthday and other celebrations for over a decade now. She became an instant fan on first bite in 2009. "Wala kasing ibang ganung klase ng lasa ng cake at ganung klaseng creation," she notes. ("There's no other kind of cake flavor and that kind of creation." )
Mye is such a fan of the unique cake that she found a unique use for it – as her wedding cake. "While most would like to have a multi-tiered cake for their wedding, we stuck to what we love most," she explains about the decision to go with Mango Bravo when she and her husband, who is also a Mango Bravo fan, tied the knot in 2018.
The move initially came as a surprise to their guests at the wedding, but it did not take long for the closer relatives to realize how it made perfect sense for Mye and her husband as the Mango Bravo has been part of all their celebrations.
Mye also wanted to practice what she preached as a teacher. "I used to teach Marriage and Family Life and one of the things I kept stressing is that marriage is more valuable than the wedding. Kaya tinatry ko ding i-live out yung mga tinuturo ko. ("That's why I try to live-out what I teach.") When we decided to use Mango Bravo as our wedding cake, gusto naming sabihin na (we want to say that) it is the essence, it is the thought that counts. It is the value that matters."
But it also boiled down to taste. Mye and her husband ditched the usual fondant cake after attending a relative's wedding. "Ang ganda ganda niya tignan pero hindi namin nagustuhan 'yung mismong cake. So naisip namin why would we waste our money sa ganung klaseng cake." ("It's really beautiful to look at but we didn't like the cake itself. So we thought, why would we waste our money with that kind of cake.")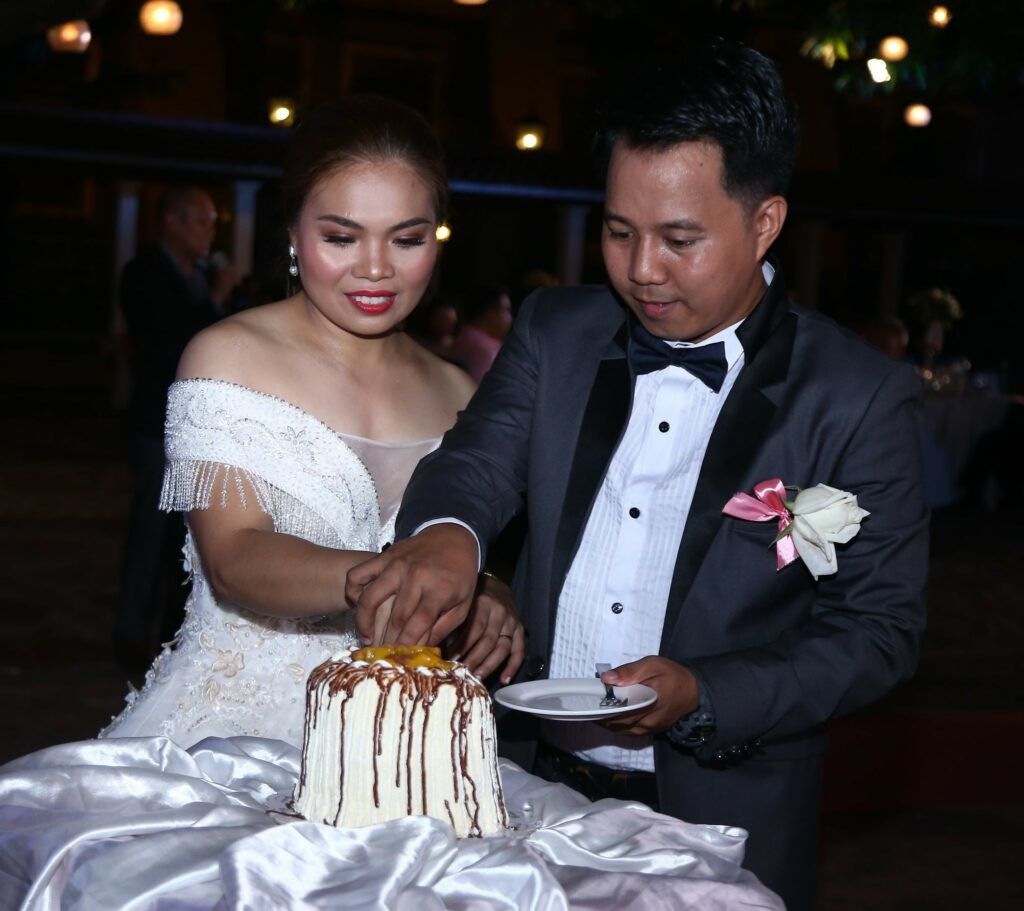 Sharing special occasions with family was also at the heart of young Conti's fan Anjanet Panelo's unforgettable 21st birthday. It marked the first time the family celebrated a birthday with a cake, after years of having pancit and ice cream.
Being a new professional, it was also the first time Anjanet took care of the handa herself. "My first job. Hard earned money ko, (My hard earned money)" she notes. "It was also our first time eating Conti's cake."
What made the Mango Bravo they shared more special was that it was a gift from her older sister. Anjanet was so touched because, like her, her sister had also just started her career. "Kahit kaunti pa lang ang ipon, 'yung best seller talaga ng Conti's ang pinili." ("Even though [her] saving are still small, [she] chose the best seller of Conti's.")
She recalls with so much fondness the experience of enjoying their first Conti's cake. "Excited kami kaninin. Unang kagat mapapaiyak ka talaga kasi mapapaisip ka na dati pinapangarap mo lang makakain ng ganung cake, ngayon kaya nang makabili gamit ang perang pinaghirapan. After all sacrifices and struggles, finally we were able to celebrate even small wins, celebrations made sweeter with Conti's." ("We were so excited to eat. The first bite will really make you cry, because you're only wishing for that kind of cake before, but now, you can buy it with your hard-earned money." )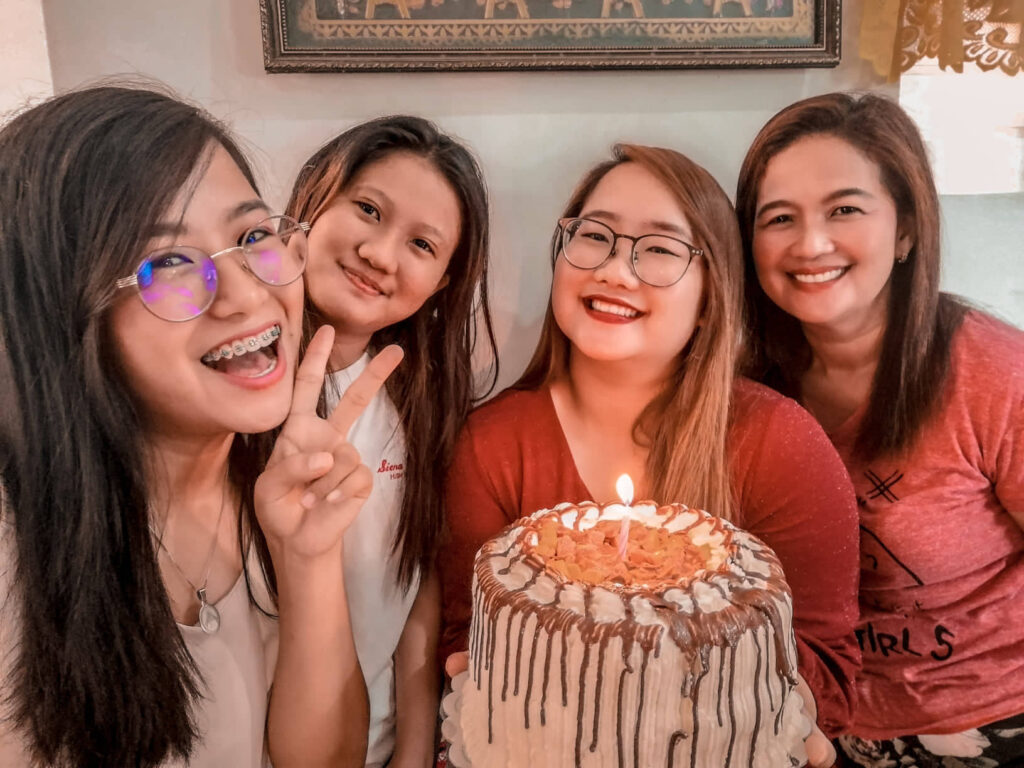 Nineteen-year-old Dane Austria had some sort of a similar surprise from her sister last year. The student was not exactly in a celebratory mood when she woke up on her 19th birthday. She had already been feeling the pinch of the pandemic restrictions that had put her graduation on hold. She also wasn't sure she'd be able to celebrate her birthday with her family.
But when she got out of the shower, her sister asked her to go to the dining room right away. She got a big surprise when she saw her family there, and with them, her favorite cake. "I was surprised and overwhelmed seeing them," Dane recalls. "They really turned my gloomy day into a bright and colorful one."
From an intimate birthday meal with family to a big wedding party, Conti's make all kinds of celebrations more delightful with its one-of-a-kind cakes that are all baked and crafted with love and suited to the taste of Filipinos. To know more about Conti's Bakeshop & Restaurant, visit their website at http://www.contis.ph/ or check out their Facebook (@contisph) and Instagram (@contis_ph) pages. Other pages bearing our name and images are fake. They do not in any way represent the brand.
Hits: 457