MAGGI ramps 2023 campaign for Filipino households with skills-building initiatives in sarap-sustansya cooking and food security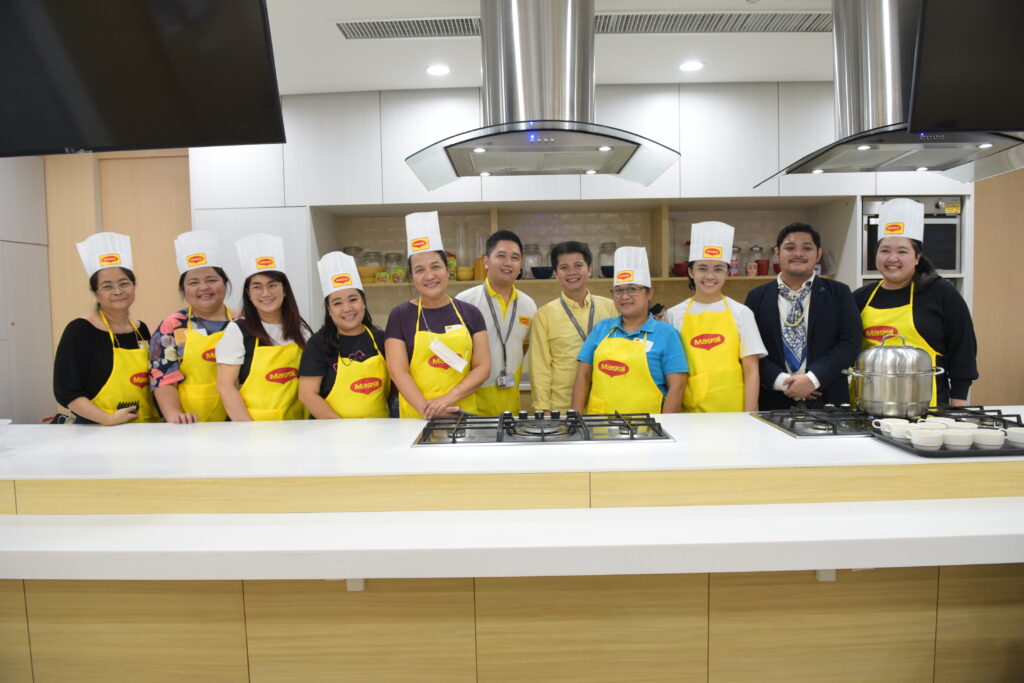 MAGGI, the trusted ally of homecooks, kicks off its "Ang Nagmamahal, Nagma-MAGGI" campaign, its latest effort to show how cooking nutritious and delicious food can make a difference in the lives of loved ones.
Centering around the power of food in improving the lives of communities, the campaign will include MAGGI's collaborative synergies with the Department of Agriculture (DA) and the Department of Education (DepEd), which in 2023, will focus increasingly on teaching families about achieving food security in the home, while striving for zero-waste in the kitchen.
More importantly, the campaign will aim to bring people together through food by enabling more interactive collaboration among the community of MAGGI homecooks.
Using MAGGI's online channels and face-to-face activities, MAGGI is providing a robust platform and year-round opportunities that provide online and onsite opportunities to equip moms and young cooks with culinary knowledge and skills.
"MAGGI believes that the simple act of cooking can make a big, positive impact to our everyday lives," said Kurt Santiago, Service Pillar Manager, Nestlé Philippines.
"Unfortunately, due to a number of factors such as limited skills, time and budgets, cooking can be a task that poses mental, physical and even emotional effort. This is why MAGGI is committed to share simply good recipes and tips that enable homecooks to serve sarap sustansya meals to their families and make a difference to the lives of their loved ones every day."
In 2022, through the help of the DA Bureau of Plant Industry (DA-BPI), MAGGI established the MAGGI Sarap Sustansya Garden at the Nestlé Lipa Integrated Coffee Center (LICC).
Since then, MAGGI has been conducting vegetable planting demonstrations via Facebook Live and onsite visits.
MAGGI will soon be providing vegetable gardening workshops as an exclusive perk for active subscribers of its Sarap Sustansya Kusinaskwela group, which will also include a zero-waste demonstration on how vegetable cuttings can be re-grown, and how kitchen scraps can be used as compost.
MAGGI also partnered with DepEd in 2022 to start educating kids at a young age the value of home cooked meals in this age of food deliveries and technologies.
Our young cooks can realize that food bonds the family and is center to each home, a distinct value of pinoy families.
To make the partnership exciting, MAGGI conducted a Virtual Cooking Competition, teaching students the value of preparing nutritious and delicious dishes.
This collaboration will continue in 2023, with pilot projects that will emphasize food security and the importance of vegetables in children's diets.
Other benefits of being part of the MAGGI Sarap Sustansya Kusina community – the biggest community of homecooks – is access to recipe inspirations on tasty and nutritious food.
MAGGI regularly shares free recipe books each month, and also hosts live cooking demos on Facebook led by the head of its Culinary Team, Chef Erik Magtanong.
With the easing of pandemic restrictions, on-ground cooking workshops are also underway, such as the cooking demo with the Philippine Army Officers' Ladies Club, during which MAGGI shared family meal ideas that are affordable, yet nutrient-rich and flavorful.
MAGGI will continue to invest in adding new features to its social and online platforms.
Its website, for example, recently added a MyMenuPlanner function that simplifies meal planning for homecooks by recommending dishes for breakfast, lunch, snack or dinner on a daily, weekly or monthly basis.
MAGGI will further streamline its recipe services to provide personalized content to its Facebook followers and its website subscribers.
And, as commodity prices continue to rise, MAGGI is committed to help families enjoy sarap-sustansya meals through All-in-Onederful recipes are tasty, healthy, and budget-friendly.
Follow MAGGI on Facebook, YouTube, and join its online community of homecooks to stay updated on upcoming activities and new recipe inspirations.
Hits: 223