New Belmont Hotel Mactan to Open this Holiday Season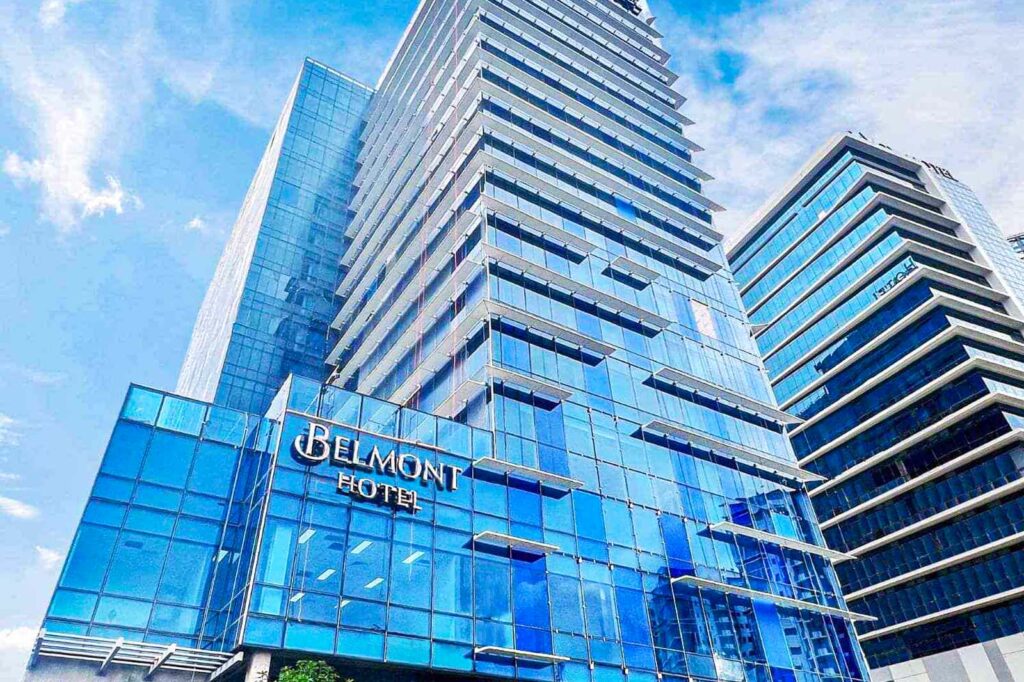 This Christmas, mark your calendars and book your stays now as Belmont Hotel Mactan welcome guests on its soft opening starting Dec. 16, 2022.
Leading the 1.9 billion worth property with 550 rooms is General Manager, Johnson Del Valle.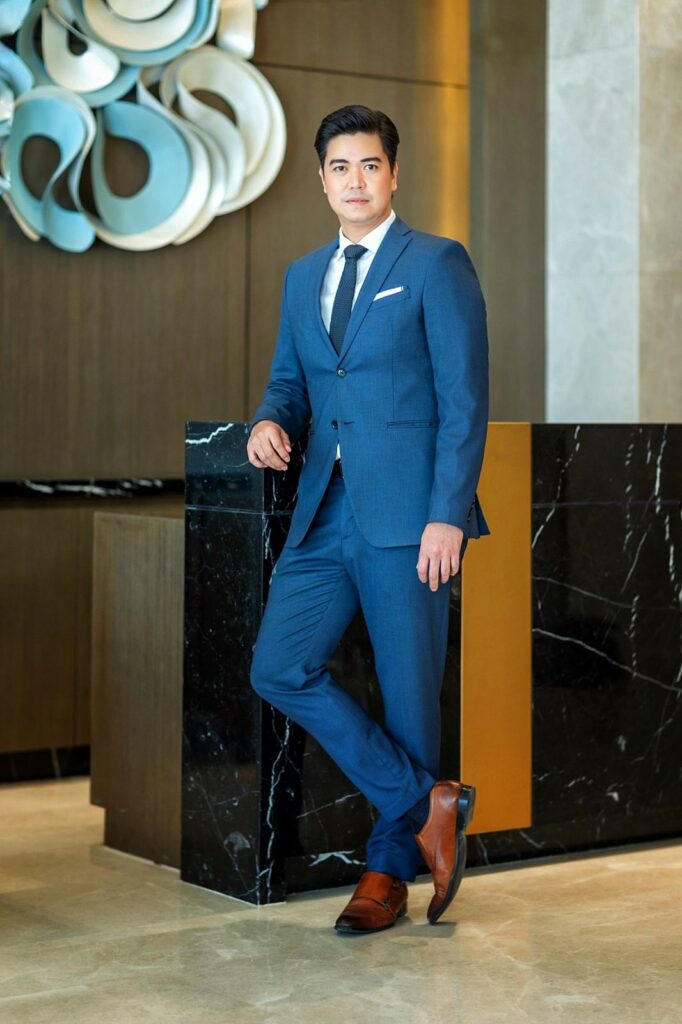 With two decades of local and international hospitality experience under his belt, he shared, "Choosing Belmont Hotel Mactan means enjoying a seamless business travel experience in a location that allows you convenient lifestyle options with quick and easy access to and from the city."
He also added, "At the Belmont, we aim for guests to experience an engaging, efficient, and enriching stay while our soon-to-be patrons accomplish their goals."
Come over and Fly to Cebu
Guests arriving in Cebu via the Cebu International Airport will only take at least 15 minutes to reach Belmont Hotel Mactan Newtown.
Leading up to the actual property, guests will surely find it efficient to note that the hotel is located within the heart of a lifestyle and business hub, The Mactan Newtown Township by Megaworld.
The estate provides everyone with various dining establishments, coffee shops and convenience stores alongside mixed-used condominium towers and office spaces.
The township also offers guests the luxury of enjoying its very own front beach plus staying close to notable tourist sites much like the Mactan Shrine Park where the iconic 20-meter statue of Lapu-Lapu stands.
At a grand perspective into the near future, Belmont Hotel Mactan standing right beside Savoy Hotel Mactan, both under the Megaworld Hotels and Resorts management, are poised to cater more to MICE events and attendees with the soon-to-rise Convention Center that's going to be built right across the two hotels.
Allow Cebu to inspire your stay
Belmont Hotel Mactan's architectural design follows a block modern contemporary layout with elegant wide glass windows that constitutes a majority of its exterior layout.
The total building stands 20 stories high which is approximately 65 meters tall with a total area of 26,540 sq.m from ground to top floor.
Stepping inside, the hotel becomes a tribute to Cebu's festive culture, landmarks, and marine life as showcased through numerous art installations in its public areas.
Modern industrial style using warm-toned marble stones, wood veneers, and gold metal finishes topped off with distinctive free-form chandeliers give off elegance and a sense of sophistication.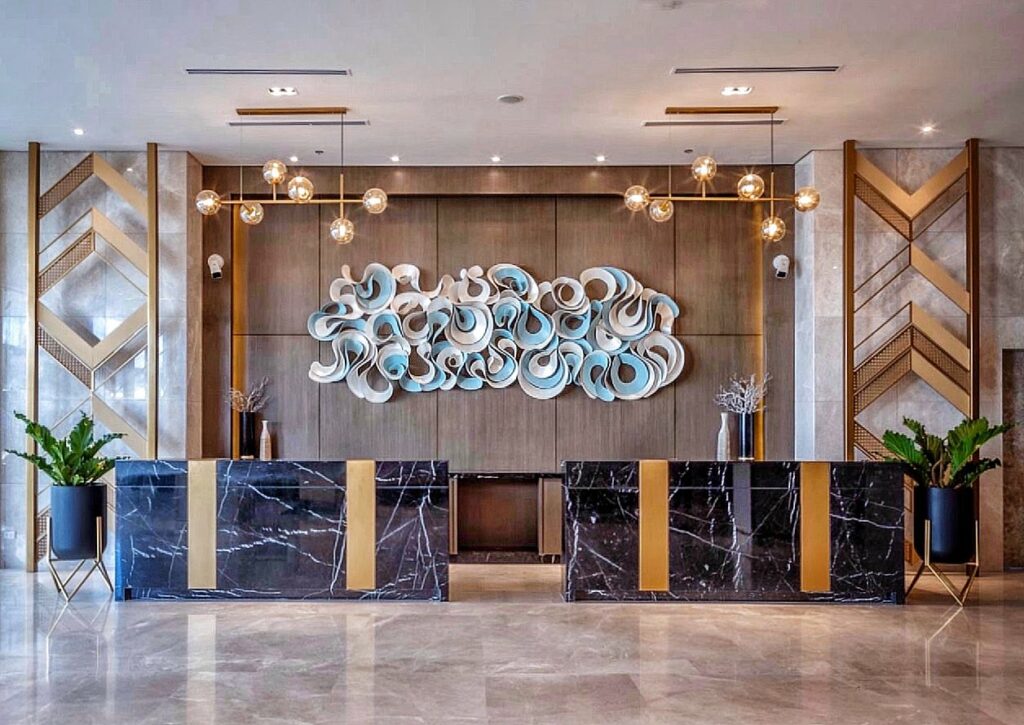 Local crafts and materials such as solihiya (hand-woven patterns) are prevalent in the main lobby lounge, zabana bar lounge, and Belmont Cafe through artworks, furniture, and wall features.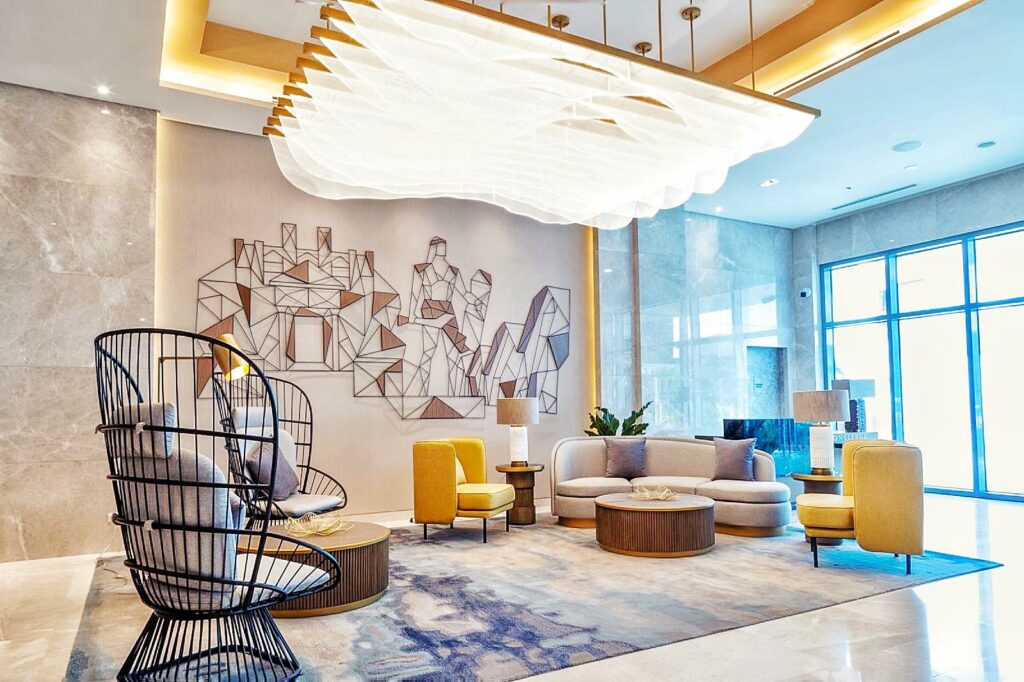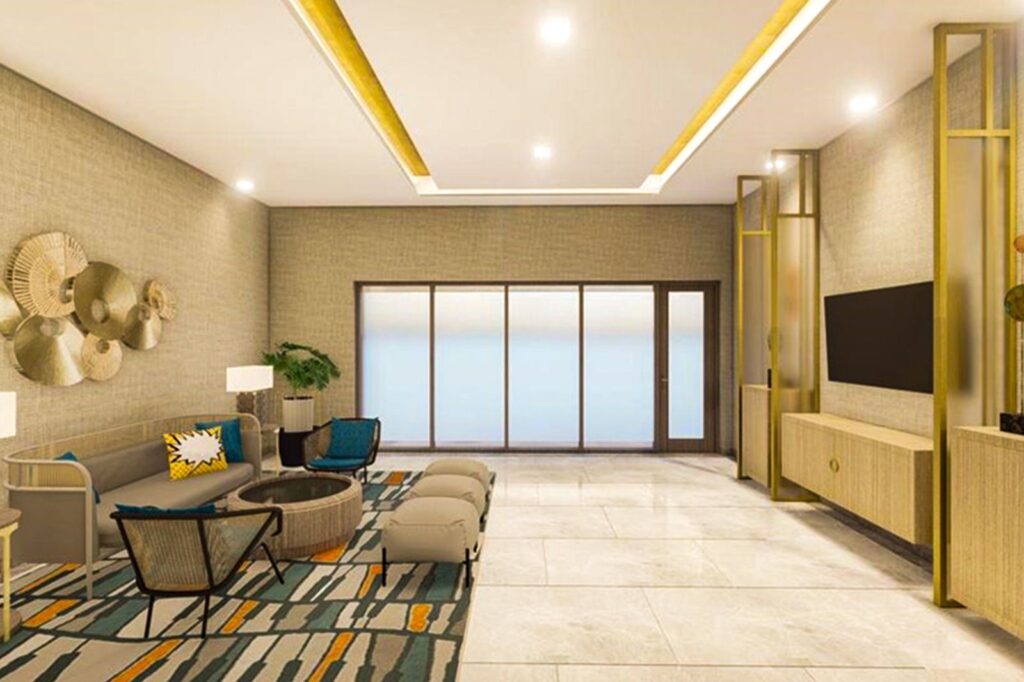 In total, Belmont Hotel Mactan has three room categories namely: the Junior Suite room at 50 sq.m, the Deluxe Premier room at 36 sq.m with 7 of which are dedicated for guests with special needs and lastly the Superior Deluxe Queen or Twin at 26 sq.m.
Rooms are edgy and chic with its modern-industrial style.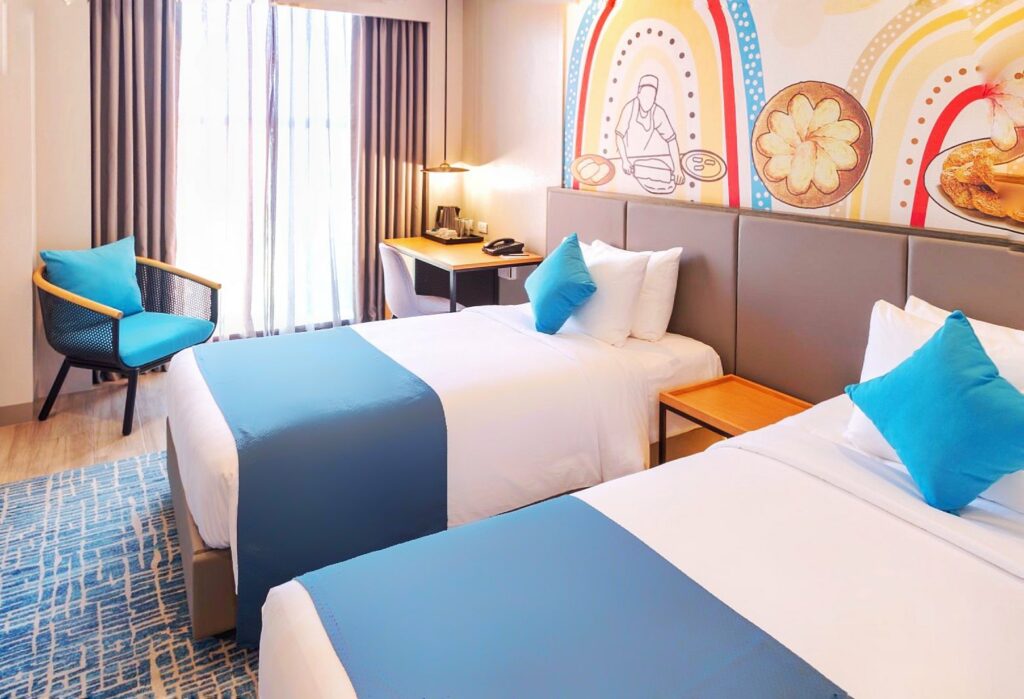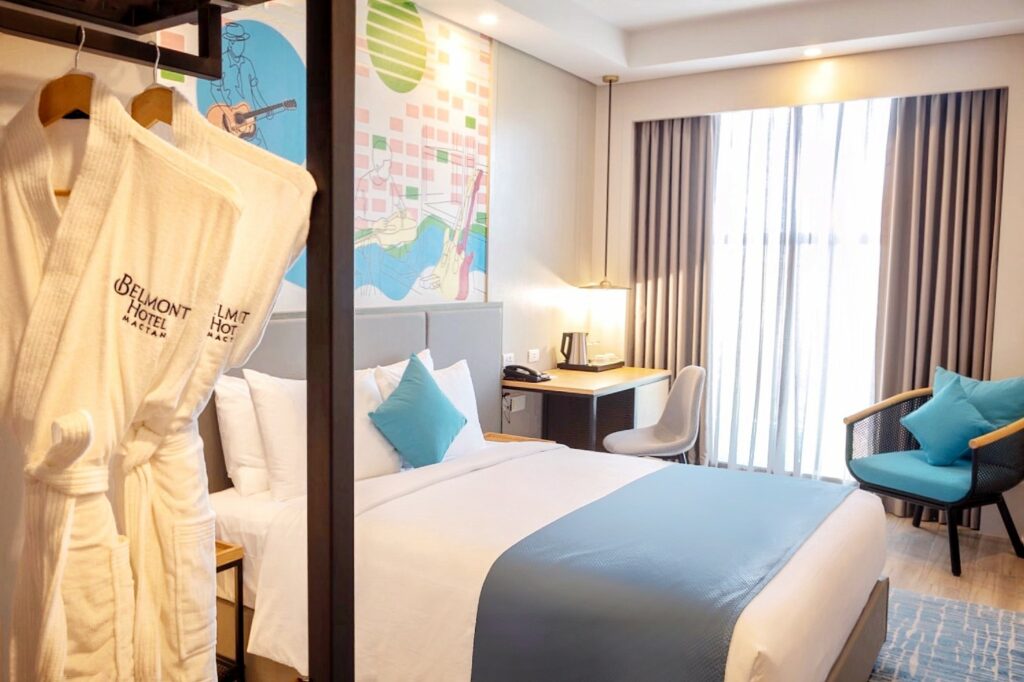 Accommodations have a combination of material finishes of black metal and wood for wardrobe and furniture, ceramic wood planks as flooring, concrete décor paint finishes for the TV accent and drapery with sheers.
Very loyal to its theme, all colors and design elements are applied and curated meticulously in the soft furnishings – pillows, beddings, area rugs, furniture upholstery and specifically for the wall art.
Every suite is treated differently for the guests' extra experience and exudes a fresh and young vibe through the vibrant and modern minimalist printed artworks on headboards featuring Cebu's weaving industry, delicacies, tourist spots and the famous Sinulog Festival.
After a day of business and exploration, guests can look forward to coming home to their rooms with hotel quality orthopedic beds with its 3-zone pocketed spring mattress with high density foam for padding and quilts for comfort and support under layers of 400 thread count beddings paired with bed pillows made of Korean Fiber.
Rooms are also equipped with open wardrobe shelving with 2 bathrobes and iron with ironing board, work desk and chair complete with pen and notepad, mini fridge, telephone, 42" smart flat screen televisions with cable and a safety deposit box.
Guest toilet and bathrooms are complete with a rain shower head and handheld shower consul, and as well as shampoo, conditioner and body gel pump dispensers.
Granite sink countertops also display shaving, vanity, and dental kits right beside water glasses for guests to use.
Stay on top of your game
Before officially starting the day or right before capping it, guests can head out to the active area located at the 3rd floor where they can do short laps or take a refreshing dip in the Swimming Pool.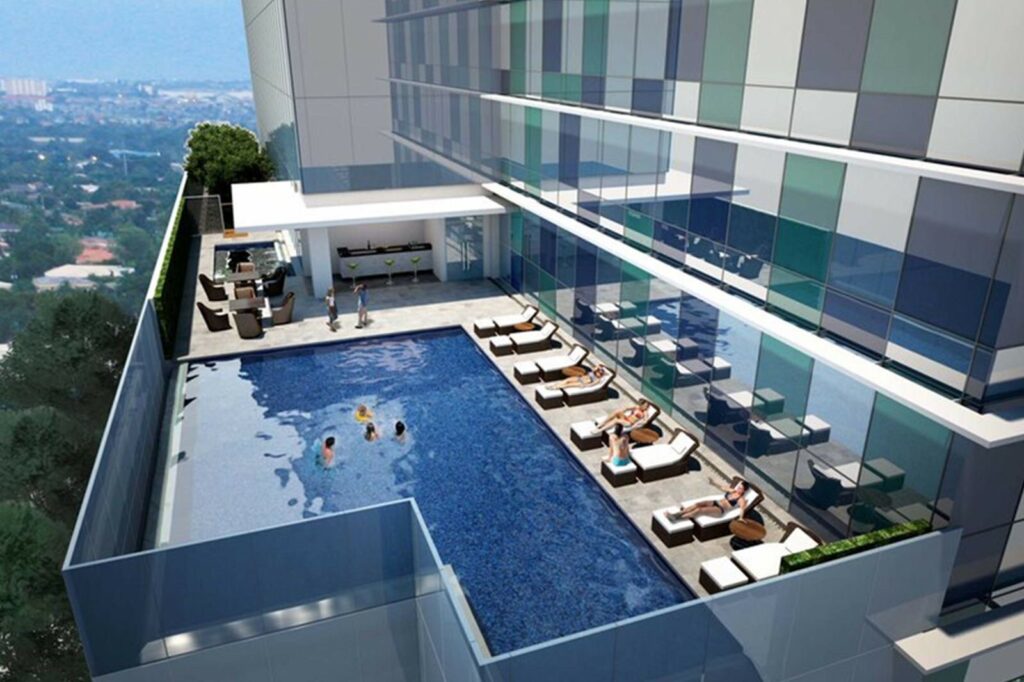 The adult pool is 5ft. deep with a panoramic view of the Hilutungan Channel.
Separately, a dedicated kiddie pool at 3ft deep is also available for toddlers to wade-in and enjoy.
On the same floor, guests will also find the fitness center with modern touchscreen treadmills, free weights, and other cardio and muscle-strengthening machines.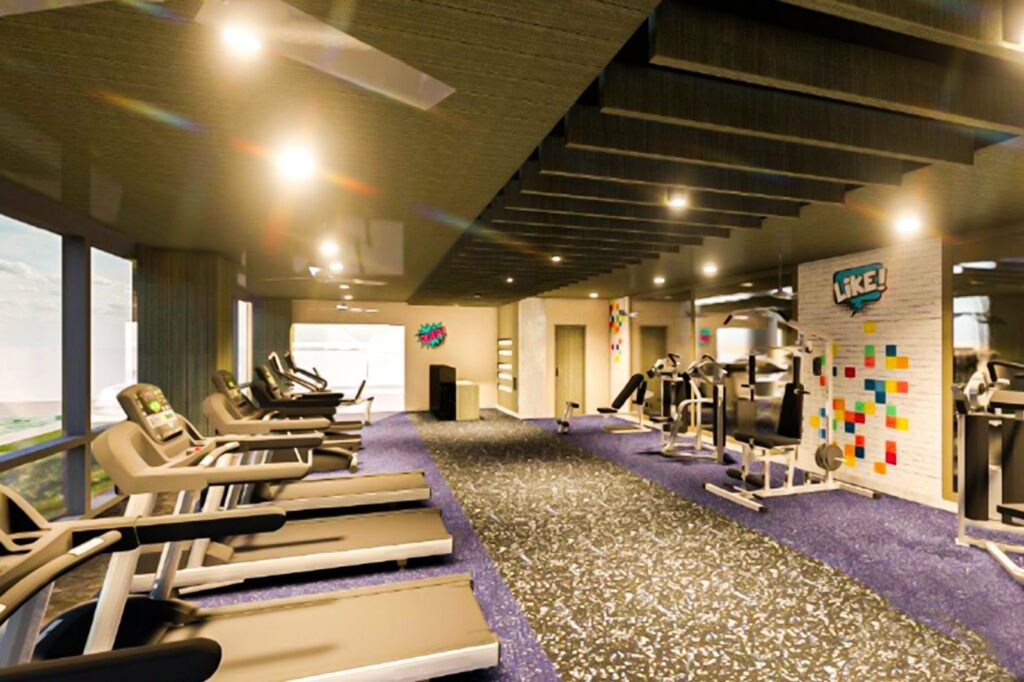 To add, separate male and female locker rooms with individual wet and dry sauna are also provided to help keep guests focuses and at the top of their game.
Meet your goals
Belmont Hotel Mactan has four function rooms located at the 2nd floor.
This facility comes with a connecting pre-function or foyer area to add to an events' arrival experience.
The meeting room is available for an intimate number of 10 people.
The facility is equipped with a 52" screen tv and surround sound system for the guests' audio-visual needs.
Two separate function rooms good for 40-50 persons each is also available.
State-of-the-art audio-visual facilities like projectors and screens are ready for guest use.
Function rooms also features large floor to ceiling glass windows to usher in natural light.
Lastly, guests may also book a ballroom fit for at least 100 guests for classroom set-up is also made possible for specific events.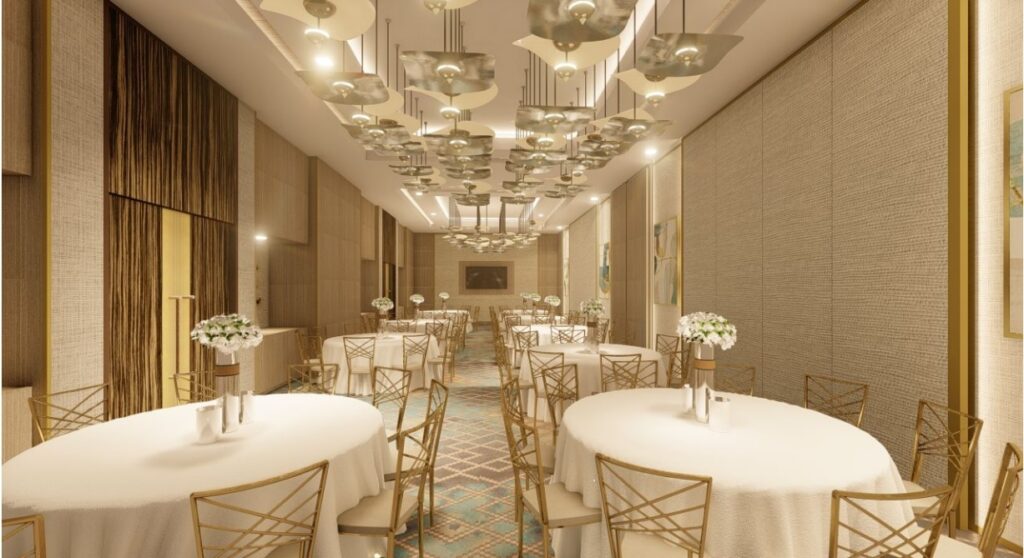 All function spaces showcase 4 meter high-ceilings and stylish interiors with elegant lighting fixtures that helps set the mood for any occasion or gathering.
Dine and Enjoy
Belmont Hotel Mactan houses three dining outlets.
Upon arrival, hotel guests will right away see the Zabana Bar and Lounge that's adjacent to the check-in counter at the ground floor.
Here, guests can enjoy their cocktails, wines, and beers along with short orders and quick bites while easing in through the day and watching their go-to sports or news channels.
The entire facility can cater to 16 to 20 guests with couch seating areas while exhibiting a wall of locally made guitars.
Bar stool seating is also available right within the main bar.
Next, is the Belmont Café that's perfect for breakfast and thematic dinner buffets and as well as all day dining options.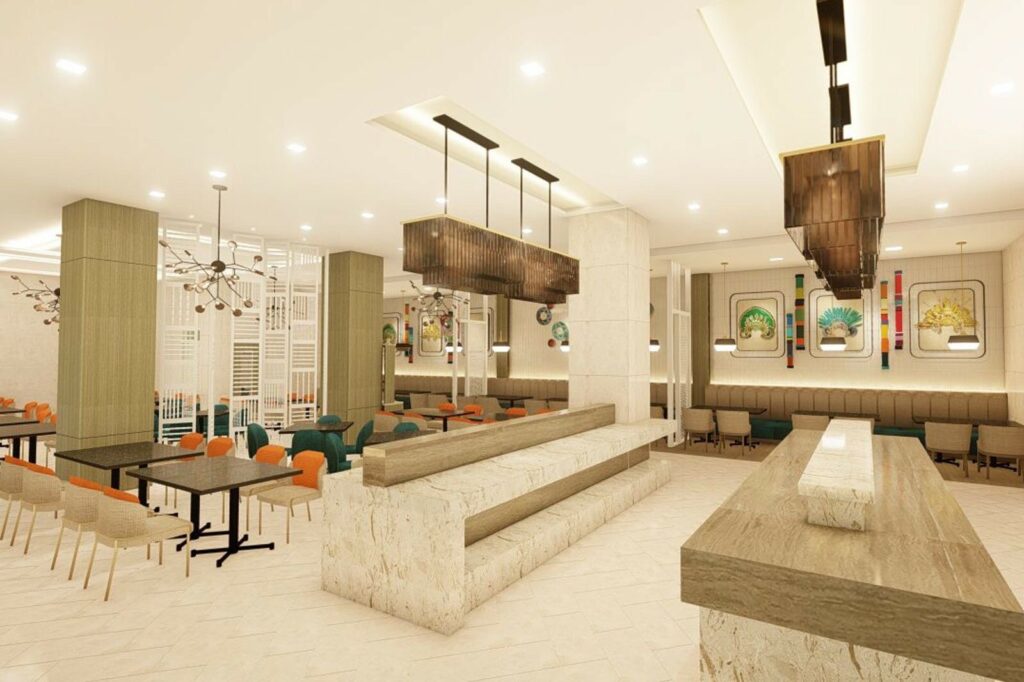 It has a 155 maximum seating capacity with a private dining room for 10 people perfect for corporate meetings.
Couch seating for families and other get-togethers is also available.
Ergonomic bar countertops with charging ports are also ready for diners looking for a quick bite while working on their laptops.
Generally, the Belmont Café offers Filipino and continental cuisines provided in their breakfast and all-day menu options.
Lastly, while guests enjoy their time at the pool, they may also order food and drinks from the Float Bar.
It is a spot for the "chill and drink" moments.
This is set for an exquisite night of cocktail drinks and refreshing beverages during post-dinner nightcaps to help you relax.
Megaworld Hotels and Resorts, the Philippines' largest homegrown hospitality chain, officially adds Belmont Hotel Mactan to its growing portfolio for Cebuanos and guests coming from all walks of life.
Of all things that's exciting this season, "We're happy to officially announce that we now have 12 properties, 6 brands, and 4,500 rooms to date", as shared by Cleofe Albiso, Managing Director of the hotel chain giant.
Book Now
As a pre-opening hotel Belmont Hotel Mactan newtown invites you to stay and try out the new hotel for a soft opening overnight rate of Php 3,998 in their superior deluxe rooms with breakfast for two.
Book your stays now through www.belmontmactan.com.ph you may also call 520-4100 for inquiries or email info@belmontmactan.com.ph.
Hits: 268