Around The World at F Café
By Magnolia Silvestre | Photography by Alysa Salen
Chef Eugene San Juan, Executive Chef of F1 Hotel Manila, says the secret to cooking is "time, preparation, and temperature". He deftly spreads the crepe batter on the pan. "The timing has to be right. When the temperature is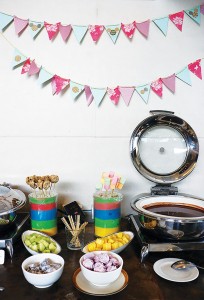 still warm, the crepe is still pliable, so you can form it into a cone, which will then hold its shape as it cools." The crepe is crispy and chewy, and certainly an interesting twist to the normal crepe in most buffets.
A veteran chef with decades of experience, Chef Eugene says his plans for F1's F café is that each food in the buffet will be represented by a different country. The result is that you can taste the world's flavors on your plate whether it's a flavorful spicy Laksa or the intriguingly named Tanigue in Cleopatra Sauce, which is a traditional brandy cream sauce usually paired with fish. This reflects Chef's Eugene's history. The veteran chef relates that he initially cooking wasn't his passion. "I wanted to go to the military. My dream was to be a captain of a ship," he explains. "I wanted to travel." He may not have been a captain, but he eventually fulfilled his dream of travel.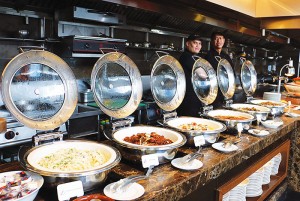 A stint at the then Philippine Village Hotel eventually led to an opportunity to work for the Sheraton group in the Middle East. At this point, he was so young that he needed a written consent from his parents allowing him to work abroad. Culinary wise, he barely knew how to cook, his duties confined only to the cold kitchen, but he was literally thrown into the fire and he was assigned to the hot kitchen. "It wasn't my choice," he recalls. "I didn't know anything, but it was a good challenge, and I may not have known it then but it was good for me." He even picked up some pastry knowledge along the way.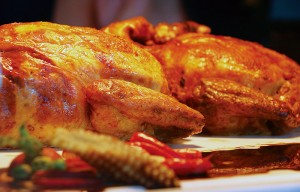 And so he found himself not only enjoying his job, but being rewarded well for it. It was then that he decided he wanted to learn the craft more seriously and thus poured himself into the work, "I studied and experimented. I learned the basics of food prep, units and measurement, still not knowing that I could become a chef someday. I was still just a line cook." He eventually moved up to Chef de Partie.
When he returned from the Middle East in 1990, he became Executive Sous Chef at the then Century Park Sheraton, where he was essentially an all around master of all trades in the kitchen. He was basically an Executive Chef in all duties except in name. Back then, it was the practice in hotels that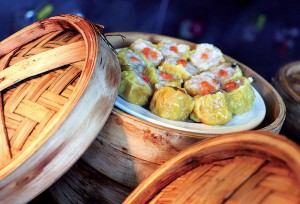 the Executive Chef title was conferred only on foreign chefs.
Chef Eugene found himself abroad once more, in Europe this time, because an Austrian restaurateur asked him to help run his restaurant in Austria where he prepared Asian and European cuisine. It was here in Europe that his knowledge about food and wine was further honed. But apart from food, he also became aware of the country's high regard for the environment. "I appreciated the way they treated nature, and the way they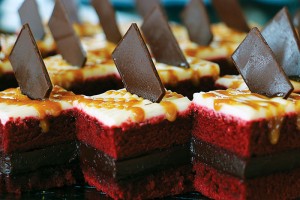 respected old buildings" he relates.
By the time he headed the kitchens at the Manila Polo Club, he was given the salary equivalent to that of a European chef. "It's about gaining the trust and confidence of your employer," says Chef Eugene. The Polo Club at this time was the premier the premier destination for weddings, and Chef Eugene presided over the preparation of a lot of big ones.
In 1996, he became the first Filipino Executive Chef at the Manila Hotel, where he remembers serving three dignitaries and celebrities, among them, President Bill Clinton, Michael Jackson and Indonesian President Suharto.
An adventure to take his skills on a luxury cruise ship beckoned, and thus he set off once again, this time to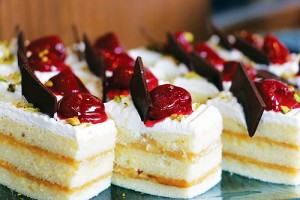 Scandinavia. Seeing Greenland became one of the most profound moments of his life. "If you wanted to see how God created the world, this is the only place where I felt it," declares Chef Eugene. "The water is clear, deep blue, but it's glossy ice. You toss a coin, and you think it will sink in the water, but it is crystal clear ice." The land where the sun never sleeps also gave him a surprise. "I wondered what they looked like; only to find out they look like us. Akala nila Greenlander din ako," he laughs.
And so, after his travels around the world, he now finds himself at F1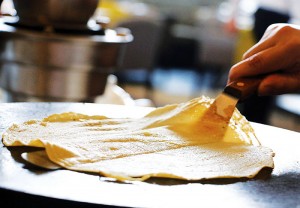 Hotel, a Filipino run company and a Filipino chef at the helm. Chef Eugene brings all his knowledge and skills at the table and in the kitchen. "The way I see it, we are the caretakers of knowledge," he says. The computer generation has an advantage with technology, but what I have is tradition and skill, that's something you can't learn through the computer. And this is what I want to pass on." ▄
Hits: 55