Savor Good Food for Every Mood with Eastwood Café+Bar's New Menu Offerings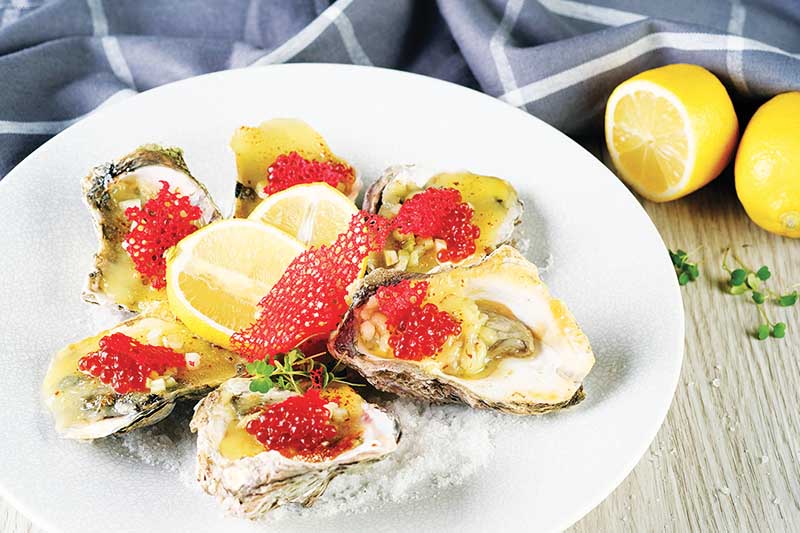 Restaurant fads come and go but the essentials for an enjoyable dining experience remain the same—great tasting food, attractive presentation, generous servings, warm and efficient service, and delightful ambience, all at value for money prices.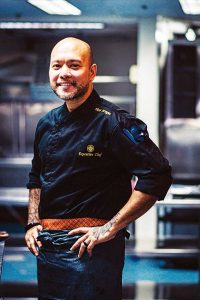 Ever since Eastwood Café+Bar (EC+B) opened last year as Eastwood Richmonde Hotel's all-day dining restaurant and bar, its goal has been to strike that balance between style and practicality. The restobar is as straightforward as can be, yet its no-frills à la carte menu is neither plain nor unsophisticated. With the resourceful and innovative Executive Chef Victor Barangan at the helm, expect the kitchen to serve up unique new dishes bursting with novel flavors from the EC+B's revamped menu selections.
"While putting together the new menu, our direction was to make it as authentic and uncomplicated as can be, using familiar names, highlighting the quality ingredients, and making sure there is a good mix of cuisine so that there is something for everyone," explains Chef Vic. He continues, "We upgraded a lot of the ingredients from the previous menu, making sure we source locally whenever possible. To be honest, we just wanted everything to be simply better than what we had before."
Fresh Creations
Eastwood Café+Bar debuts a number of original and exciting must-try items that showcase the best of Filipino ingredients, feature global flavors, and are healthy to boot! The first to get some well-deserved attention from diners is the Red Cabbage Chicharon, which is vegan-friendly and an ingenious, nutritious alternative to the usual cracklings. The Adlai Bisque is a hearty soup made with gluten-free rice substitute straight from the fields of Mindanao, and seasoned with shrimp bits, vegetables, and cream.
Quite unassuming are two unique salads filled with invigorating flavors—the Compressed Watermelon Salad (sous vide watermelon, basil water, cheese, and balsamic vinegar) and Dapithapon (carrot hummus, black quinoa, and roasted vegetables).
While most restaurants use imported sea bass, Chef Vic gives the Philippine sea bass or Apahap the distinction of being a house specialty. Served whole with torched Choron sauce, the Baked Bass is definitely a seafood entrée not to be missed. Meat lovers, on the other hand, can opt for the Lamb Carbonade which is a stew of slow-cooked lamb shanks, onion soubise, and beer sauce.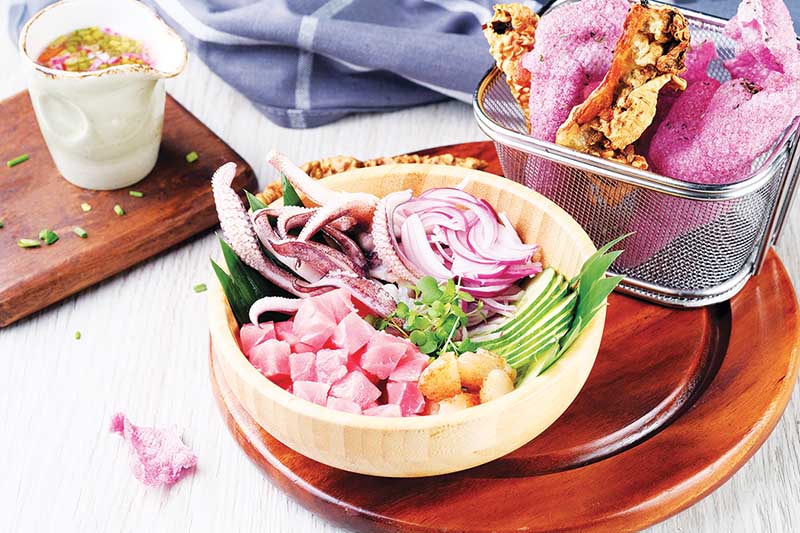 Reinventions And Richmonde's Best
Popular fare get a delicious twist like Baked Oysters topped with mozzarella cheese and spinach; tuna ceviche turned to Cevichow with its deconstructed form and the addition of special spices and sidings; and a Filipino classic given a Western touch in the Bibingka Waffle with its egg and coconut waffle, and salted egg cream.
Turning the ordinary into extraordinary dishes worthy of the Richmonde and Eastwood names, Chef Vic modified best-selling classics to transform them into Eastwood Café+Bar's signature items. These are the RFC or Richmonde Fried Chicken, Richmonde Burger, Eastwood Club Sandwich, Richmonde Salad, and EFT or Eastwood French Toast.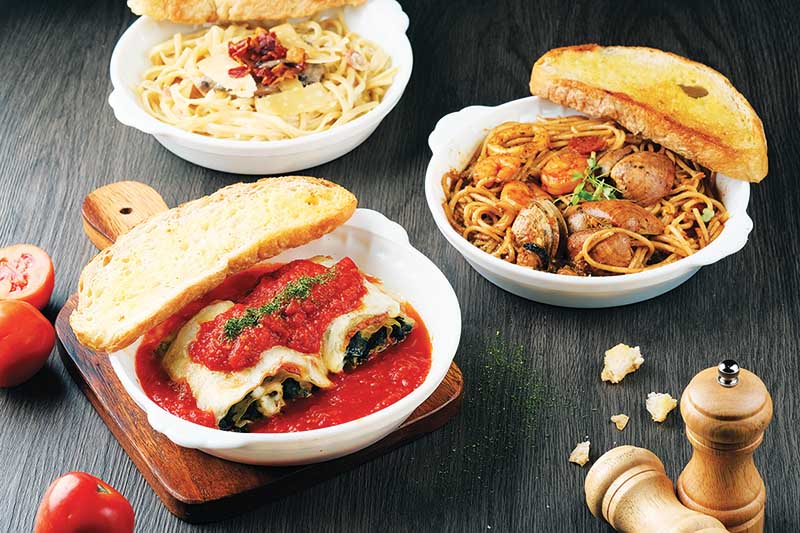 Crowd Favorites and House Specialties
You simply can't go wrong with the Kare-Kare, Chicken Inasal, Sinigang, Lechon Liempo, and Crispy Pata! Well-loved international dishes like Nasi Goreng, Grilled Salmon, Poutine Truffle, assorted pastas and varied crafted pizzas, were also given yummy upgrades.
Wholesome Plates
EC+B's new menu offers an array of tasty meat-free and vegan options for health buffs. Using QuornTM products made of MycoproteinTM, a nutritionally healthy protein source that is meatless and naturally low in saturated fat and high in fiber, Chef Vic created guilt-free versions of nuggets, sausage pizza, burgers, and bangers and mash.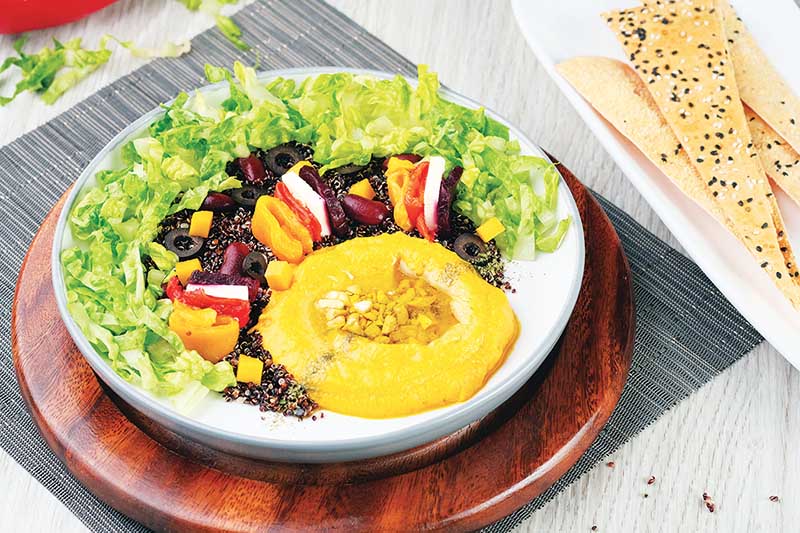 Value for Money
With an average check that is much less than other hotel restaurants, you are sure to get more bang for your buck at EC+B. According to Food and Beverage Manager Dave Bañez, "At Eastwood Café+Bar we hope to exceed guests' expectations and not leave them wanting. This is how we ensure they get their money's worth."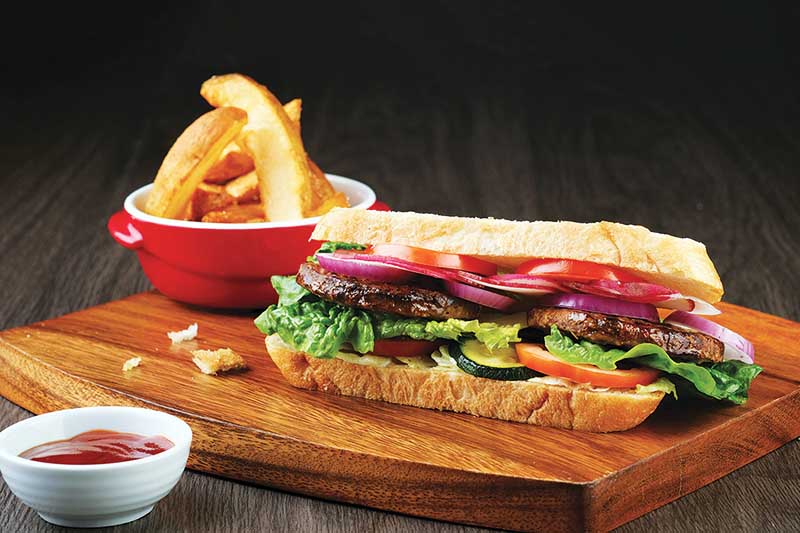 Limited Offerings
Eastwood Café+Bar is rolling out a slew of dining deals so you can start enjoying good food for your every mood, any time of the day!
From now until October 31, 2019, get 20% off across all items in the à la carte menu. This "Delicious Discount" is available daily, from morning 'til night.
On weekends, "Kids Eat Free!" For a minimum food and beverage spend of at least P1,000, accompanying children aged 12 years old and below can avail of a complimentary dish from the menu's Kids at Heart selections. This promotion is available every Saturday and Sunday until November 30, 2019.
Join the global movement of "Meatless Mondays" with Eastwood Café+Bar partner, QuornTM, and improve your nutrition while reducing your carbon footprint, plus get a free vegan soup and wholesome drink with every order from the menu's Healthy Options. This is available all Mondays until November 25, 2019.
Discover the distinctly delectable changes in Eastwood Café+Bar's menu now! For inquiries and reservations, call +632 570-7777 or +63 917 821 0333.