Delightful Tropical Treat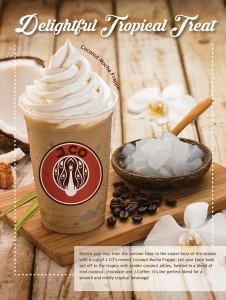 J.CO has always been known to change the game by coming up with unusual coffee flavors that are always a hit such as Café Avocado, Tiramisu Frappe, and White Chocolate Espresso Frappe.
            This June, J.CO did it again! Let your tastebuds sail off to the tropics in tender coconut jellies, swirled in a blend of iced coconut, chocolate, and J Coffee. Coconut Mocha Frappe is the perfect blend for a smooth and mildly stifling beverage. To complete the tropical experience, pair it up with the mouth-watering Dazzling Queen, J.CO's newest donut filled with a berry-coconut cream and topped with strawberry chocolate and dried coconut flakes.
Hits: 36