SAFE EVENTS AT THE FARM AT SAN BENITO
As a top eco-luxury destination and a pioneer in green weddings & events, The Farm at San Benito has created a perfect place to hold safe events. With the utmost care, responsibility, and creativity of everyone at The Farm, guests are ensured of lasting memories of celebrations and intimate gatherings.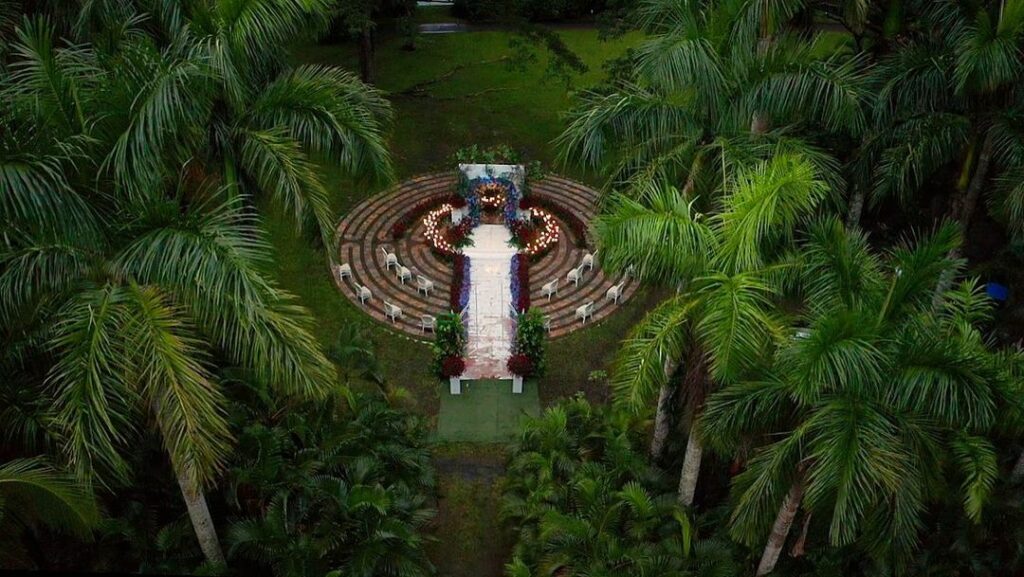 Located in Lipa, Batangas, The Farm's safe haven and healing environment use a multi-modal approach against COVID-19 to protect guests and employees at all times. It has set up its onsite COVID testing center (RT-PCR and antigen nasal swab tests) administered by integrative medical doctors and licensed health professionals. In addition, the employees are required to undergo Covid testing regularly. The Farm also offers ichroma™️II immuno-analyzer diagnostic machine which determines the level of antibodies against COVID. All facilities at The Farm are sanitized by Sanivir Smoke Disinfectant, which is proven by international laboratories to effectively eliminate all types of virus including coronavirus on surfaces and in the air. The Farm is also the first in the country to use BetterAir solution that disperses environmental probiotics in all its enclosed spaces to create a clean, pathogen- and allergen-free healthy indoor environment.
With all these safety measures in place, The Farm was certified by the Healing Hotels of the World with a Healing Certificate and safety seal from the Philippine Department of Tourism and World Tourism Council. These recognitions are a reflection of the highest level of excellence in safety, sanitation, and commitment to healing on a holistic level.
"The Farm at San Benito always maintains to be relevant to the safety and well-being of our guests, even in times of celebrating momentous occasions. We always go back to our core mission of providing an environment where everyone can be safe and keep in mind that health is wealth. Here at The Farm, we have created a sanctuary not only for those who want to seek healing and peace but also for those who wish to find joy through celebrations. And what we offer here is entirely a complete and unique experience from the delectable wellness cuisine, an eco-sustainable green environment and healing space with strong positive energy radiating around the property" says General Manager, Preet Singh.
Nestled in a 48-hectare property, it paints beautiful scenery to capture memorable moments with its picturesque background and stunning spots. The Farm partnered with acclaimed event planner La Belle Fete Weddings & Events company that transformed five (5) iconic spots to create astonishing venue design inspirations made of organic and sustainable materials built around the five elements of nature.
These ideal event venues within the resort, each represented these elements and were designed by top master event stylists – Ginger Event Styling – The Lagoon: A Breath of Fresh Air; Blooms Event Styling – Secret Garden: Wonders of Water; Dave Sandoval – Amphitheater: Eternal Flame; Gary Dacanay – The Mango Tree, Earth's Enchantment and Randy Lazaro – Labyrinth, Ethereal Space. The overall concept, planning, and coordination were done by La Belle Fete.
Adding to the wonderful creation of these event stylists is transforming a magnificent table setup and centerpieces into a work of art. Tablelove by Pinky is the official in-house tablescapist of The Farm that creates a simple dining experience with carefully hand-picked cutleries and table accessories to a higher level that is delightful to the eyes.
When it comes to food, as part of our holistic approach to wellness, The Farm ensures guests will also enjoy nourishing food to feast upon. The Farm's wellness cuisines—vegan, vegetarian, and pescetarian advocates plant-based, locally sourced, organically-grown, and adopts farm-to-table philosophy to create a sustainable celebration.
ABOUT THE FARM
A GLOBAL LEADER IN HOLISTIC MEDICAL WELLNESS
The Farm at San Benito—a proud member of CG Hospitality is an eco-luxury, holistic, medical wellness resort located in Lipa City, Batangas, which is a 90-minute drive south of Manila. It rests on 48 hectares of the lush green environment with life-sustaining microbiome ecology, stunning view of the majestic Malarayat mountains, pure fresh air, and strong positive energy radiating around the property.
The Farm has been honored with over 80 prestigious international awards including "Best Medical Wellness Resort in the World" from SENSES Germany which made its mark as one of the leading medical wellness destinations in the world.