When Sharing Isn't Caring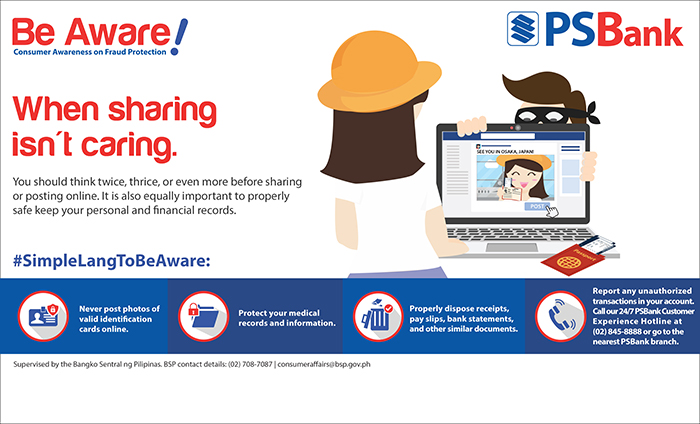 Filipinos comprise one of the largest digital communities in the world. We thrive on increased connectivity and communication, primarily via social media. It has never been easier to share content online as it is today, from articles from our favorite sites to moments from our everyday lives.
With increased sharing, however, comes a bigger target on your back, which cybercriminals will be happy to hit. They are always on the lookout for any bit of personal information that they could abuse. Your identity might get stolen, huge loans might get credited to your name without your knowledge, and your whereabouts can be traced, leaving you vulnerable to all sorts of crimes.
As such, PSBank reminds everyone that it is important to review the information that we share and post online. Moreover, the Bank says that it is also equally crucial to safe keep personal and financial records properly.
Here are some tips on what you can and cannot share in a public domain:
Never post photos of valid Identification Cards online. Once scammers and cybercriminals get hold of a photo of any of your valid IDs (e.g. PRC, TIN, SSS), they can use your personal information in these IDs to apply for big loans. Keeping photos of your IDs in your phone is also discouraged.
Do not fill up your profiles. While it becomes more convenient from your friends and relatives to know your whereabouts if you post your address and contact details, you also leave yourself vulnerable to hackers and criminals. Also avoid posting your complete birthdays, your exhaustive employment history, and your complete family lineage in social media.
Refrain from posting all of your travel plans or photos, particularly while you are still in the middle of your trip. Not only do you let potential cybercriminals know your current location, you also indirectly tell them that your home residence is currently unattended and vulnerable. Just share some (not all) of your photos after you have arrived back home.
Do not post photos of extravagant or expensive purchases. Yes, buying that dream car or watch may be a fulfilling experience that makes you happy, but don't get so excited that you act carelessly. Posting indicators of wealth attract scammers and criminals.
Protect your medical records and information. Cybercriminals may use your personal medical details to gain benefits for themselves—drug purchases, false insurance claims—and you may end up paying for all of these. Do not post any medical details online, and properly dispose medical records, prescriptions, and other similar documents.
Properly dispose receipts, pay slips, bank statements, and other similar documents. Shred or dampen these documents, or do anything that could make the details unreadable.
When going out, bring only the necessary cards, IDs, and/or official documents. It is unwise to stuff all your cards in one wallet. Bring only what you need for the day.
"We live in an increasingly connected world where information is created and shared at a fast pace," says PSBank First Vice President for Information Security Dan Jose D. Duplito. "We must be wary of information we carry with us and post online, because even one small personal detail could become the last missing piece that fraudsters need to compromise your identity or online accounts," he added.
Hits: 67