Avida Land x Rags2Riches: A collaboration on sustainable and inspired living
Nowadays, more and more people are now looking at living a lifestyle that incorporate their passions, careers, and creating a positive impact on the communities around them. On its 25th year, Avida Land partners with one of the country's social entrepreneurs to promote a lifestyle that truly inspires.
It has been seven years since a new business partnership and innovative business model rose out of the fringes of Metro Manila's underprivileged communities in Payatas, Quezon City.
Shanties have given way to concrete houses, kids have returned to schools, and more dreams are becoming reality with the help of Rags2Riches (R2R) – a business concept that empowers women in urban poor communities to become highly-skilled artisans who produce high quality clutches, bags, accessories, and home décor, among other things.
"This is not just about me or my business partners succeeding in this venture, from the start it is a business designed that our success will impact more on the women that we tap, on their families, on the community," said Reese Fernandez-Ruiz, president of Rags2Riches.
As Avida Land celebrates 25 years of inspired living, one of its highlights is a partnership with globally renowned artisanal brand Rags2Riches in creating a specially designed line of home accessories, which will be showcased at the Avida Land showroom in Glorietta starting August 12, 2015. Dubbed as the Live Inspired Collection, the line evokes the various lifestyles inspired by Avida Land showcasing stylish mats, coasters and throw pillows.
As a social entrepreneurial venture, Rags2Riches ensures that each product is attributed to the artisan who painstakingly weaved and stitched the product to life.
"The story of our brand aims to inspire more people to pursue their passion and to create a positive impact on the community surrounding them," said Ruiz-Fernandez. "Living your dream life is not just about you, it can also be in a way that by living your dream life, you also let others live the lives they only once dreamed about."
Avida Land has been designing living spaces that allow individuals to engage in their passions – from music to the arts, climbing the corporate ladder, and other possibilities.
"It has always been the thrust of Avida Land to promote sustainability in all its developments. And this thrust is something that our partnership with Rags2Riches underscores. We admire how Rags2Riches has put the Philippines on the map with its world class products that do not only promote sustainability with the materials used, but also a sustainable relationship with the communities they partner with," said Tess Tatco, Avida Land head for marketing.
Aside from the special Live Inspired line, Rags2Riches and Avida Land will also have Red Letter Day Popup Weaving Workshop at their showrooms in Glorietta 4 and Vertis North on August 15, while the Avida showroom in Evoliving, Nuvali will host the weaving workshop on August 16. A Rags2Riches shopping party is scheduled for valued Avida clients on August 18 at the Avida showroom in Glorietta 4.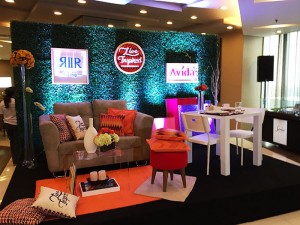 Visit an Avida Land showroom nearest you and discover lifestyles of passion and inspiration.  The Live Inspired Collection can be viewed at Avida Showroom Glorietta until September 12 and pre-orders will be accepted in all Rags2Riches outlets and online store, www.rags2riches.ph.
About Avida Land
Celebrating its 25th year as a consistently top-ranked developer for the mid-market segment of the industry, Avida provides sure, secure and sensible developments as it continues its mission to provide an enriched living experience to more Filipinos. For inquiries and appointments, visit their website at www.avidaland.com, email corporate.sales@avidaland.com or call (+632) 848 5200 (within Metro Manila) and 1-800-10 848 5200 (outside Metro Manila).
About Rags2Riches
R2R (Rags2Riches, Inc.) is a global social enterprise based in Manila, Philippines.
R2R is in the business of weaving joyful stories into things that matter. They create sustainable fashion and home accessories out of upcycled scrap cloth, organic materials, and indigenous fabrics. Each of these items are joyfully created with their life partners: empowered and highly-skilled artisans living in the urban poor communities across the Philippines. Visit www.rags2riches.ph for more details.
Hits: 107