In Heat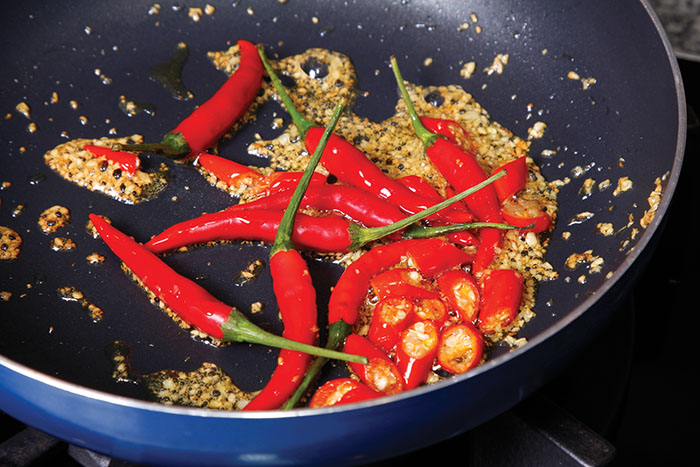 38…39…40. No, those aren't the waistlines of the Cook Magazine team, they're the daily temperature readings during the month of May in our country. Add in a good dose of humidity and we can probably be in the record books for the largest bain marie in existence. If it gets any hotter and any more humid, we'd be able to make leche flan outdoors. Seriously, the summers tend to get a bit more brutal every year and although most of us are lucky enough to be holed-up in air-conditioned offices, a few minutes outdoors will slap you back into the reality that it is getting close to unbearable during the summer.
Our recipes this month are geared towards helping the body cope and cool down. Chef Editha Singian shows us different shakes and coolers using grapes of different varieties. These drinks are meant not only to refresh, but to replenish lost nutrients during the stifling summer heat. Chef Day Salonga takes the other route to combat heat. Fighting fire with fire, Chef Day uses cayenne pepper in his chicken recipe to get the body warm and sweating. This method of eating hot and spicy food during hot days is quite common in our neighboring countries, using spicy food to let the body cool down by sweating. My recipe for Cereal Prawns also uses the heat method, inspired by my recent trip to Singapore. Using a local cereal milk drink and adding curry leaves and chilies, I have shared the recipe for one of my favorite Singaporean dishes which uses locally available ingredients and takes less than 30 minutes to prepare and cook. Our food and lifestyle columnist Sabrina Artadi shows us how to get the kids to eat healthier without losing the pleasure of eating their favorite things. Chef Redj Baron brings summer to our tables with beach fare.
Last month was also quite eventful in the local culinary scene as the country hosted Madrid Fusion Manila, bringing Spain's top chefs to our shores, including Chef Elena Arzak, regarded as the world's top female chef. Margaux Salcedo gives us an inside look at the main event as well as the other activities involving the visiting chefs. Our jet-setting contributor Tenten Geocaniga brings us to Toulouse and not only eats foie gras and cassoulet for us, but takes us around this gem of a French city.
As is usually the case, we at Cook look at every opportunity to eat and eat some more. Hot and humid? Let's eat. Sweaty and uncomfortable? Let's eat some more. We hope that our collective katakawan rubs off on you, our dear readers as you enjoy reading and hopefully trying our recipes. Bring on the heat!
Hits: 193