Go healthier and guilt-free with Purefoods Sexy Chix Chicken Chunks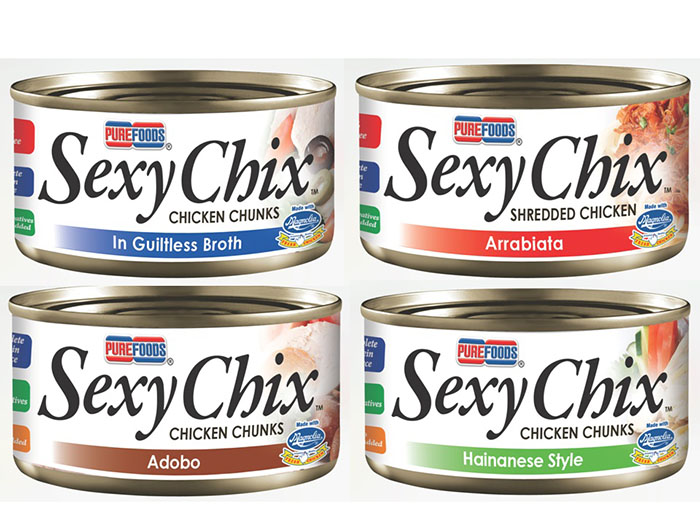 Chicken is one of the most well-loved meat choices in the world and it is popular for a number of reasons. Its versatility and countless nutritional benefits are as many as the tasty recipes and dishes that can be served from its meat. Chicken is light on the stomach yet a great source of protein with its lower fat content. The uncomplicated taste and juiciness of chicken makes it one of the most effective culinary ingredients for a wide variety of dishes. Adaptable, widely available, and reasonably affordable, chicken perfectly blends and complements almost anything. It's no wonder there are so many chicken recipes out there because it perfectly fuses with other ingredients.
Making this tasty and guilt-free meat even more appetizing is Purefoods Sexy Chix Chicken Chunks, which has reinvented the healthy chicken to make it even more delightful and more convenient for the health-conscious, because it's in a can!
It is made out of skinless and boneless chicken breast and thigh diced into chunks and marinated using the finest ingredients, herbs and spices to create a flavorful, ready-to-eat chicken dish. It's a sexier way to eat chicken because it has no added preservatives and it's your champion source of lean meat, low fat protein – ideal for the on-the-go you.
Purefoods Sexy Chix Chicken Chunks are available in three (3) exciting variants: Guiltless Broth, steamed and seasoned breast chicken chunks in mouth-watering broth; Hainanese, succulent chicken chunks infused with delicious ginger flavor; and Adobo, chicken chunks with specially seasoned sauce, bringing the savory comfort of Pinoy's home-cooked favorite. Also available, Purefoods Sexy Chix Arrabiata – juicy chicken shreds, with a tangy, Italian tomato-based flavor. These are best enjoyed with rice, bread, crackers, salads, and even with pasta!
Start making your meals more rewarding with Purefoods Sexy Chix Chicken Chunks, truly a perfect partner for your healthy lifestyle.
Hits: 289