Kiwa Korean Grill Dining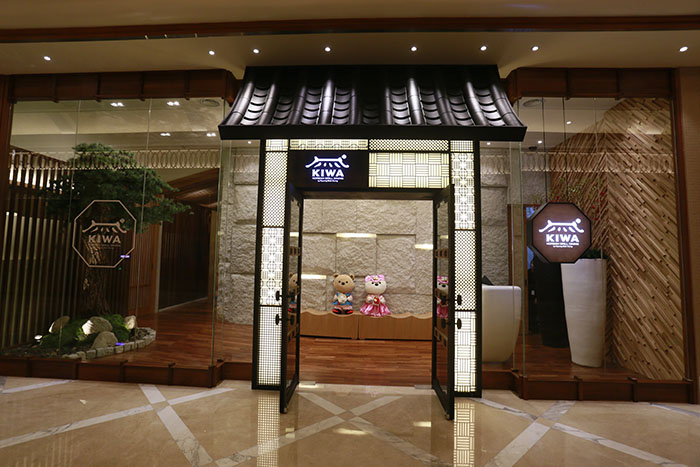 Kiwa Korean Grill is scheduled to have its grand launch on January 28, 2016 but the restaurant has been operating quietly since December 24, 2015.
"The training process took awhile because the staff had to learn a different culture, a different way of doing things. Plus we are in a first rate facility, so much is expected of us," disclosed Chief Executive Officer, Ed Reyes.
"Our objective is to provide the best of everything. Definitely fresh ingredients. We are using grade A+ beef, the best that is available. Unfortunately, Korean beef cannot be exported so what we serve is from Japan and the US.  Our service standard is a lot higher than other restaurants. A team flew in from Korea to train the Filipino staff and several of our mainstays are Koreans.  We follow strict 5-star hotel sanitation rules and regulations. Everything has to be sealed, covered, labelled and stored at the right temperature. The golden standard of restaurant hygiene operations in the country is Solaire and we follow that standard," he continued.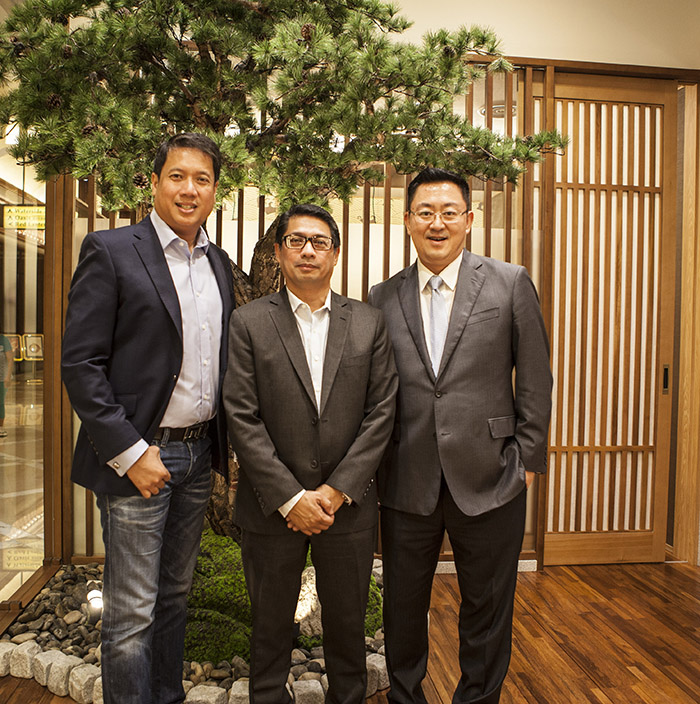 "Our kitchen is top-notch, all imported from Korea. We have a state-of-the-art exhaust system under the restaurant so all the smoke is ventilated under the floor. It is the best technology in Korea, so when you dine at Kiwa you will not smell like smoke and barbecue," claimed Chief Finance Officer, Noel Corpus.
The interiors were done by a Korean firm. "We wanted something traditional yet modern and chic, something sophisticated but still cozy, something that would make our guests feel welcome," Chief Operating Officer, Eddie Park described.  After all, Kiwa means traditional Korean roof tile, those used for Korean homes. And as a restaurant, Kiwa aims to be a shelter, a place that provides a comfortable environment for relaxation and leisure.
The look they wanted was achieved by utilizing a lot of wood assembled in different patterns and combined with stones. Each corner of Kiwa makes a great backdrop for photographs. A much coveted row of booths affords a stunning view of the Manila Bay.  "What you see here is also all pretty much from Korea — the chairs and tables, even the stones," stated Corpus. The restaurant can accommodate a total of 184 persons.  It has eight private rooms which are expandable and can seat 8 to 48.
During the recent exclusive press lunch, the guests were presented with a parade of appetizers which included the Chadolbaegi salad (assorted vegetables topped with seasoned, pan-fried beef brisket along with pear and yuzu sauce), Pumpkin salad (mashed pumpkin mixed with assorted nuts and assorted seasonal vegetables with sesame seed dressing), Baebaek Kimchi (rolled white kimchi placed inside whole pear), Haemul Pajeon (pancake mixed with seafood, spring onion and assorted vegetable with spicy soy sauce with sesame oil on the side),  Japchae (seasoned soy sauce-based pan-fried glass noodles with beef and fried assorted vegetables) and Gobachi (platter of scallops sashimi, steamed shrimp, salmon sashimi, steamed octopus and marinated tomato).
For the main course, the servers got busy grilling the Yangnyeomgalbi (grilled marinated beef ribs with Kiwa's special sauce) and Samgyeopsal (grilled seasoned pork belly). Unlike other Korean restaurants, you don't do your own grilling at Kiwa. The meal ended with traditional Korean tea.
Kiwa's menu is a collaboration of their Korean chefs, headed by chef Gi Won Park. The taste of each dish is noticeably clean and refined.  "The recipes are authentic  however, sometimes we have to change the service sequence. In Korea, the rice, soup and noodles are served after the grilled meat.  Because we believe that if you eat rice, you cannot truly taste the meat. But Filipinos demand their rice with the main course so we have to accommodate that," explained Park.
They are most proud of their specialties, the Yangnyeomgalbi and Sogalbiijim (beef short ribs cooked in a soy sauce seasoning with ginseng and assorted vegetables). Other best sellers so far are the Chadolbaegi Salad and Galbitang Bansang (Korean traditional beef short ribs soup with beef, radish, onions and assorted vegetables). From the appetizer list, the Tomato-Yangsangchu salad (seasoned seafood in a whole tomato salad) is fast becoming a favorite.
"We realized that there is a void that needed to be filled. The Korean population in Manila has been rapidly increasing. We also have a large number of Korean visitors in Solaire. And the Filipinos are now eating Korean food. Despite the K-Pop fever, there is no Korean fine dining barbecue set-up in the country," Reyes rationalized their decision to open Kiwa. "There is nothing like this in South East Asia," injected Park.
By their grand opening on January 28, Kiwa promises to have more on their menu.  Lined up are special items such as lobster tail and Japanese wagyu.  At the same time, there are plans to add lunch sets that are in the P500-P700 range. Those who enjoy drinks can look forward to dishes that are perfect for soju and other rice wines.
Since Kiwa is open as early as 9am, they will be releasing six varieties of breakfast sets,  each to include a soup, rice and three to four side dishes, which is what Koreans typically eat in the morning. "We have a birthday breakfast tray with seaweed soup, it's what we drink on our birthday. It is believed to help improve blood circulation. In Korean tradition, seaweed soup is the first thing given to a woman who has just given birth. If you go to Kiwa on your birthday, instead of a birthday cake, we will give you complimentary seaweed soup upon presentation of a valid ID," announced Park.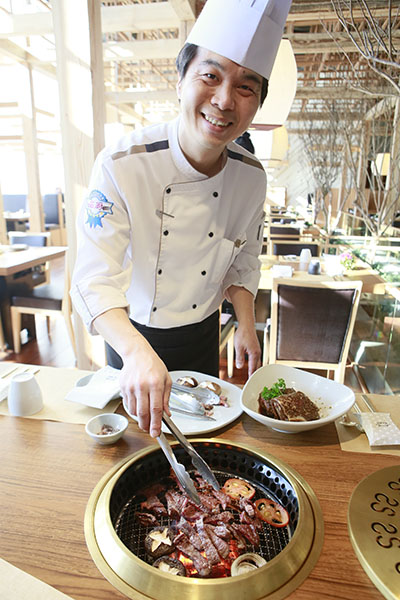 A full course menu at Kiwa is priced at around P3,000. This is a composition of appetizer, sashimi and appetizer assortment, the grilled main course, pancake, stir-fried glass noodles,  vegetables, rice, soybean paste stew or taster cold noodles plus dessert. Regular lunch sets start at P1,500 and rice sets go from P800 up. Serving sizes are very generous.
Kiwa Korean Grill is open from 9am to 12mn, from Sunday to Thursday and 9am to 12 midnight on Fridays and Saturdays. Weekend hours will be extended to 2am after the grand opening on January 28. It is located at Solaire Resort & Casino, 1 Aseana Avenue, Paranaque City.  For inquiries and reservations, call (+632) 888 8888 or log on to www.kiwa.com.ph.  Kiwa Korean Grill is also on Facebook, Instagram and Twitter.
Hits: 109